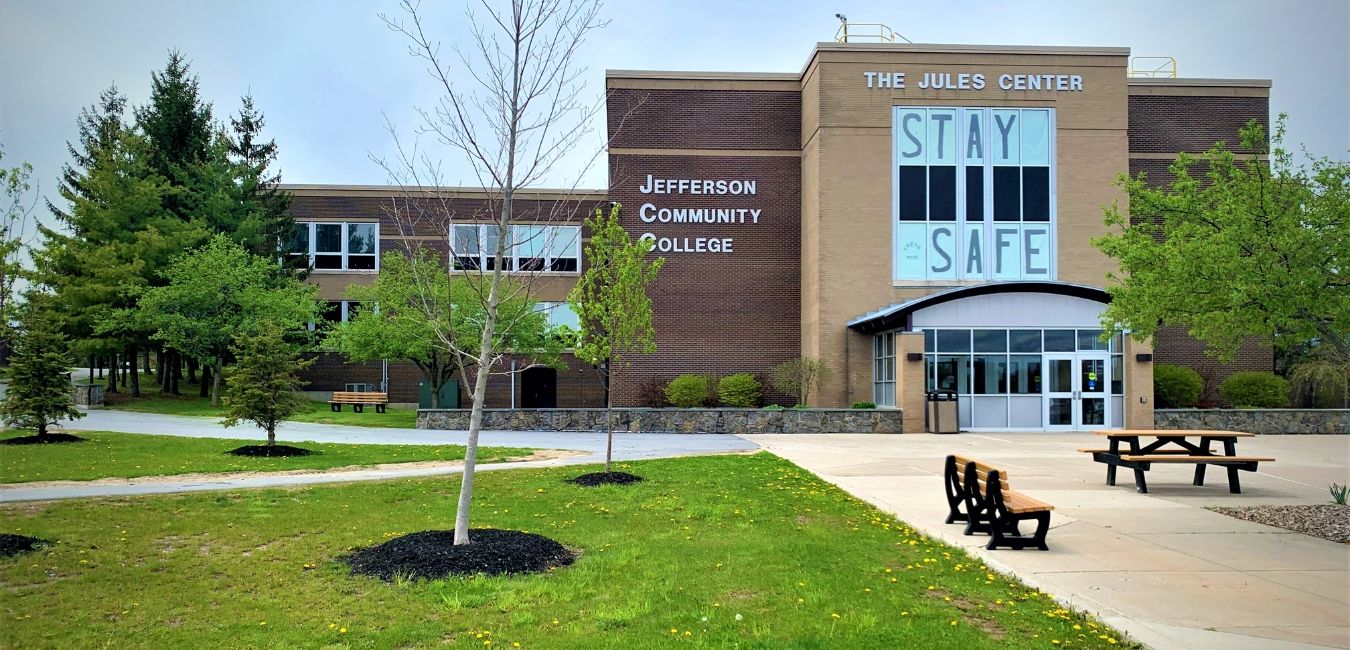 Welcome Back!
Let's stay safe!

Our number one priority is the health and safety of students, faculty, staff and the greater college community.
Vaccinations for Students: We anticipate, prior to the start of Fall Semester, 2021, that New York State will require all SUNY students attending in-person classes to be vaccinated against COVID-19. We will update this space as we obtain more information. Read the Governor's full press release here.
Community Note: For county-operated vaccination clinic information visit Jefferson County Department of Public Health.
How and When You Can Reach Us: Offices will be staffed during regular business hours on Monday-Thursday. Staff will work remotely on Fridays - with the exception of the Library which is open to students on Fridays. Whether working remotely or on campus, College staff are available via phone and email during regular business hours. Contact information is available on our online directory.
Safety Protocols: Face coverings are required on campus in all common/public areas and when interacting with other individuals even with proper social distancing and when outside. Guests must also complete a health screening form upon arrival at your campus destination. If you have traveled out of state, please be sure you have followed NYS Travel Advisory guidelines before coming to campus. If you are not feeling well, we kindly ask that you refrain from coming to campus. Rather, we will happily connect with you online or over the telephone.
Protocol for In-Person Appointments: We look forward to meeting you in a safe and healthy environment. For the foreseeable future, we encourage prospective students and visitors to make appointments in advance of your visit. While walk-in service is permitted, scheduled appointments will help to reduce population density and waiting in lines. When your appointment is confirmed, you will be advised as to the process for when you arrive on campus.
Virtual Appointments: Offices will continue to offer and encourage virtual appointments whenever feasible, either online or via telephone.
Please keep in mind that Jefferson's plans are subject to change due to new information, guidance and/or direction from the department of health, the State and SUNY. It's a good idea to check this website for the most up-to-date information before coming to campus. This page is your primary hub for updates, new procedures for accessing and visiting campus, and resources to help the campus community transition back to college life.
Campus information and updates
Library: The library is open to students and students of JHEC partner colleges. View the most up-to-date information on our library page. Health screening form completion is required for admission. Face coverings are required for non-vaccinated individuals. Regular visits to the Library by students who are non-vaccinated will require weekly Covid testing.
Computer Access: The Library has space for students to attend Zoom or Collaborate classes, WIFI, and students can use library laptops and desktops which are equipped with cameras and microphones. Computers are also available for sign-out and use on the first floor of the Deans Collaborative Learning Center. A SUNY STudent ID must be presented. Note: The open computer lab in the Jules Center is currently closed.
Bookstore: The Bookstore is open Monday–Thursday from 9:00 a.m. to 3:00 p.m. and Friday 9:00 a.m. to 12:30 p.m. Textbooks and academic materials can be ordered online.
Fitness Center - Summer Hours: The Fitness Center is open Monday-Friday from 9:00 a.m. - 1:00 p.m. AND Monday-Thursday from 4:00 p.m. - 7:00 p.m. All students, faculty, and staff must create an account with IMLeagues to reserve your time slot in the Fitness Center.
Facilities Rental: Campus facilities are not currently available for use/rental by external organizations.
Campus Care: To inquire about childcare for the Spring Semester, please call (315) 786-6583.
Health & Wellness Center: The Health & Wellness Center on campus is operated by the North Country Family Health Center and is open its regular hours. Please call (315) 786-1042 for appointments.
Please continue to monitor your College email and www.sunyjefferson.edu for further updates.
Jefferson's reopening plan has been approved by SUNY and is available for your information. It is subject to change at any time. We will evaluate the College's reopening process weekly and make changes as necessary, as we continue to monitor guidance from the NYS Department of Health, the Jefferson County Control Room and Public Health Office, the Centers for Disease Control and SUNY. The coronavirus pandemic is an evolving issue, and the College will keep our constituents up-to-date as we put appropriate protocols in place to minimize potential risks to students, faculty and staff.
External Resources

Samaritan Medical Center Resource Line: (315) 755-3100, 7 days per week, 8:00 a.m. - 9:00 p.m.
New York State Coronavirus Health Hotline: 1-888-364-3065