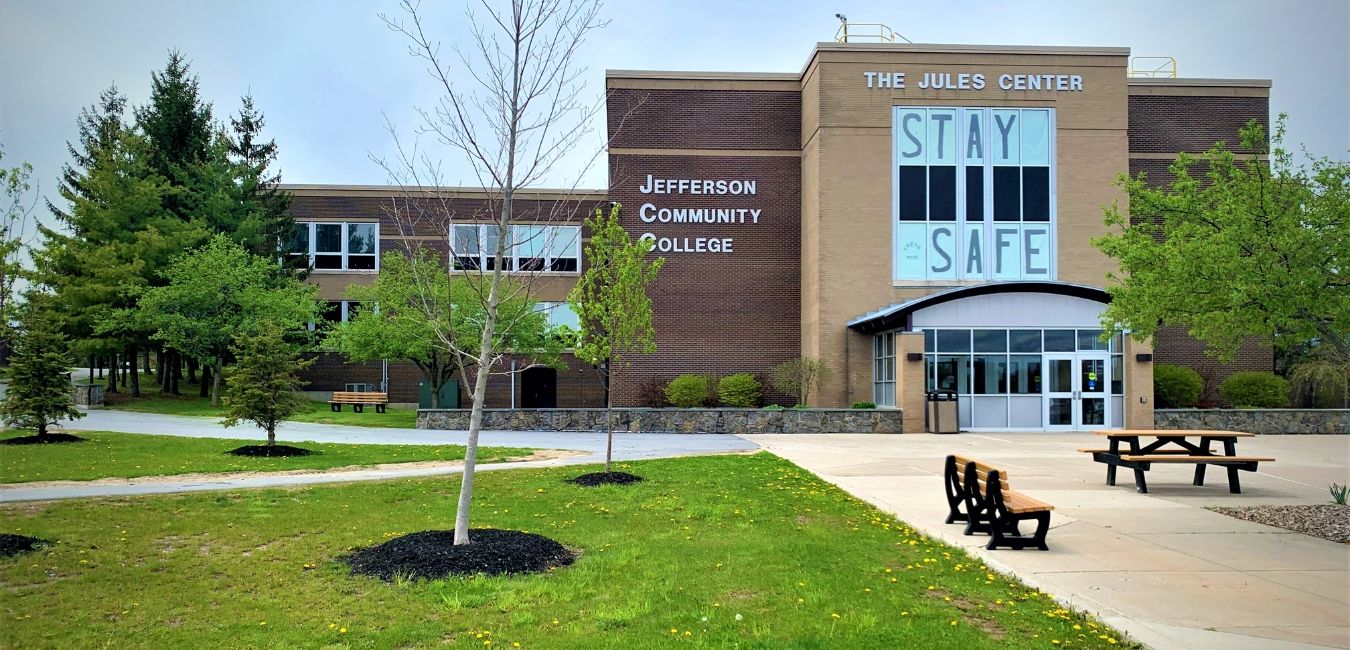 Welcome Back!
Let's stay safe and get back to business!

As we transition back to campus during the coronavirus pandemic, our number one priority is the health and safety of students, faculty, staff and the greater college community. While we are looking forward to opening our doors and welcoming students and community members back to campus, we are beginning with phasing in College departments and staff only, during the month of July. During this time, offices will not be open to the public except by limited, scheduled appointments (see below).
We are planning to reopen to the public on August 3. Jefferson's plans are subject to change due to new information, guidance and/or direction from the state and SUNY.
The details and processes relating to how we open to the public and students are still being finalized. More information will be forthcoming. This page is your primary hub for updates, new procedures for accessing and visiting campus, and resources to help the campus community transition back to college life.
Campus information and updates
How to Reach Us: Whether working remotely or on campus, staff are available via phone and email during regular business hours. Contact information is available on our online directory.

Summer Hours: Staff will be available from 8am-4pm, Monday-Thursday and 8am-12:30pm on Fridays through July 31, 2020. Regular hours resume on August 3, 2020.
Fall Semester: Registration for fall semester classes is open. Classes begin August 31. We are offering a combination of remote online, remote online live (where students and instructors meet together on a regular schedule), and a limited number of in-person classes and labs that will incorporate social distancing. Many classes will include a combination of learning formats. For detailed descriptions of the different class formats, please visit our academic-related FAQ.
Safety Protocols for In-Person Appointments: The offices noted below will begin offering in-person appointments beginning July 13. We look forward to meeting you in a safe and healthy environment. For this reason,

all in-person appointments must be scheduled in advance

; no walk-ins will be permitted at this time. When your appointment is confirmed, you will be advised as to the process for when you arrive on campus. Face coverings and social distancing are required.
Appointments with Enrollment Services Staff and Education Planners: Admissions, student records, financial aid and education planning staff are available for online and in-person appointments, Appointments may be requested through the Virtual Kiosk or by calling (315) 786-2437.
Testing Center Appointments: The Testing Center is now open for in-person placement testing, CLEP and DSST testing. Appointments are required and can be made Monday-Thursday from 8:00 a.m. – 11:00 a.m. and from 1:15 p.m. – 3:00 p.m. Remote testing is still available as well. Please contact the Testing Center at thetestingcenter@sunyjefferson.edu with any questions or to schedule your exam.

Accommodative Services Appointments: In-person and online appointments can be made Monday-Thursday from 8:30 a.m. -3:30 p.m. On Fridays, only virtual appointments are available. To schedule an appointment please email jccaccommodations@sunyjefferson.edu with your name, phone number, and your requested time and day for the appointment.

Library Materials - Curbside Pick-Up: To request books or other library materials, contact the library via email library@sunyjefferson.edu or by calling (315) 786-2225 during business hours. You will be given a day and time to pick up your materials. This service will be available Monday-Thursday from 10:00 a.m. -12:00 p.m. and 1:00 p.m. - 3:00 p.m. A SUNY card is required to borrow materials. Library materials can be returned to the drop box located in the first floor lobby of the Deans Collaborative Learning Center, Bldg. 15. All returned materials will be quarantined for 3 days as per Reopening Archives, Libraries, and Museums (REALM) Information Hub.
Professional Development Workshops: A variety of online training opportunities are available while in-person workshops remain suspended.
Kids' College: In partnership with Black Rocket, Kids' College programs are offered online this summer.
Health & Wellness Center: The Health & Wellness Center on campus is operated by the North Country Family Health Center and is open its regular hours. Please call (315) 786-1045 for appointments.
Please continue to monitor your College email and www.sunyjefferson.edu for further updates.
Jefferson's reopening plan has been approved by SUNY and is available for your information. It is subject to change at any time. We will evaluate the College's reopening process weekly and make changes as necessary, as we continue to monitor guidance from the NYS Department of Health, the Jefferson County Control Room and Public Health Office, the Centers for Disease Control and SUNY. The coronavirus pandemic is an evolving issue, and the College will keep our constituents up-to-date as we put appropriate protocols in place to minimize potential risks to students, faculty and staff.
External Resources
Samaritan Medical Center Resource Line: (315) 755-3100, 7 days per week, 8:00 a.m. - 9:00 p.m.
New York State Coronavirus Health Hotline: 1-888-364-3065