Strategic Planning

It is an exciting time at Jefferson Community College as we close out our current Strategic Plan 2014-2020 and begin to develop the next strategic plan that will lead the College through 2025. Jefferson has a Strategic Planning Committee comprised of constituents from across the campus community and has engaged with CampusWorks Inc., a strategic planning consultant specializing in community colleges and other institutions of higher education.

The strategic planning process is designed to be collaborative in nature and over the next several months the College will host a variety of events to gather input from community members, students, faculty, staff and area business leaders. Work is well underway and our goal for completion is October 2019. We hope you will help us by providing your input to Jefferson's Strategic Plan 2020-2025. We will post news, updates and information here throughout the process, please check back often.
Timeline
Fall 2018: Engaging stakeholders and assessing the internal and external environment.
Spring 2019: Defining the ideal student experience, aligning our values, and identifying strategy.
Summer 2019: Setting objectives and planning for implementation.
Early Fall 2019: Presenting the strategic plan to the campus and community.
For Faculty/Staff
Visit our Facebook Workplace site for best practices, details and document sharing, posting. Log on myJCC to access the group.
Committee Members
Josh Canale, Co-Facilitator
Megan Stadler, Co-Facilitator
Dr. Ty Stone, College President
Judy Gentner, Board of Trustees
Trevor Bradish
Corey Campbell
Linda Dittrich
Jack Donato
Dan Dupee
Jerilyn Fairman
Tom Finch
Karen Freeman
Terrence Harris
Michael Lennox
Monica Papagni
Kim Sell
Rebecca Small Kellogg
Lynn Sprott
Kim Stearns
Sheree Trainham
Irene Wilder
Strategic Planning Events
All College employees are invited to join Kevin David from CampusWorks to provide feedback on the draft mission, vision, values, and strategy statements that have developed through the course of several workshops. Focus groups for staff and faculty will take place as follows:
Thursday, May 2 from 2:30 - 4:00 p.m., Jules Center Amphitheater (6-002)
Friday, May 3 from 2:00 - 3:30 p.m., Jules Center Amphitheater (6-002)
Members of the Strategic Planning Committee and the Strategic Plan Workgroups will gather to review the impact statements collected at the Future Summit, and the data collected through the environmental scan process. The outcome of these facilitated discussions will be draft strategy statements. These statements will be reviewed by College leadership and subsequently shared with internal constituents for feedback and commentary via survey.
All college employees were invited to complete an online values survey and take part in a workshop to discuss institutional values that will guide the camps in working to achieve the priorities identified in the next strategic plan.
March 18th was a tremendous day for Jefferson Community College as we hosted our first ever Future Summit. More than 150 members of our North Country and college communities spent the afternoon at Jefferson taking part in this signature, strategic planning event.
Attendees enjoyed a keynote address entitled "Building a Student-Ready Institution through Guided Pathways and a Comprehensive First Year Experience" by Dr. Michael Baston, president of Rockland Community College. Following the keynote was a series of EdTalks by Dr. Kate Schiefen, Provost and Executive Vice President of Academic Affairs from Genesee Community College, Dr. Sydney Beeler, Vice President of Enrollment Management at Westmoreland County Community College and Dr. Rodmon King, Chief Diversity & Inclusion Officer at SUNY Oswego. EdTalks topics included innovative strategies for enrollment growth, partnerships among school districts colleges and employers; and weaving diversity, inclusion and equity into the fabric of our institution.
To all who attended the Future Summit, thank you for your time, your engagement and your thoughtful discussions about the future of Jefferson. We look forward to sharing a draft of the 2020-2025 Strategic Plan in early summer and we hope you will continue the conversation with us as we move forward in the strategic planning process.
In February, the Strategic Planning Committee and campus community took part in an a comprehensive Environmental Scan Workshop. In the fall, the Strategic Planning Committee created nine work groups to conduct in-depth analysis of emerging trends in a number of key areas. During the Environmental Scan, each work group will share their results in a brief presentation. Following the presentations, Kevin David from CampusWorks will facilitate discussion and solicit input on which topics Jefferson's internal and external communities should hear more about at the Future Summit in March. In addition, Kevin David will lead a discussion on the College's Mission, Vision, Core Values and Traits of Excellence.
In one of the first of many strategic planning activities, Kevin David of CampusWorks lead nearly 100 faculty, staff and students through a Student Experience Workshop in January 2019. The goals of the Student Experience Workshop were to examine how the College's student services, technology and processes may be utilized to the fullest potential to fulfill its mission and also to identify a vision for the ideal student experience at Jefferson Community College. After gathering input on a draft Student Experience statement from across campus, the Student Experience statement was finalized in April.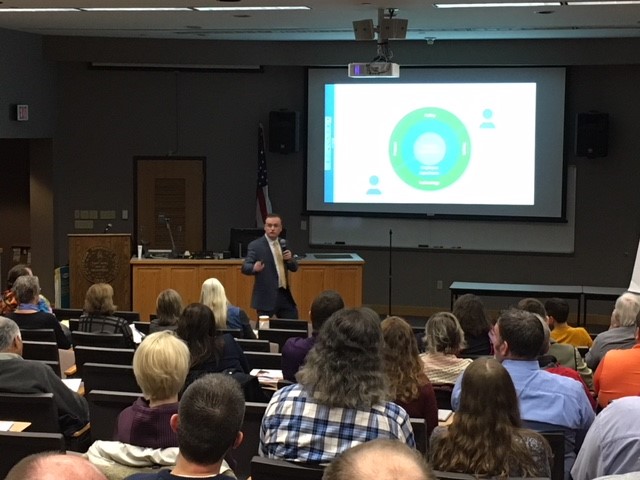 In October 2018, Jefferson hosted more than 75 community members for a Community Breakfast: Data Walk during which we posed six key questions for consideration and comment. Topics included academic services, affordability, innovative community partnerships, workforce training and community engagement. We asked what should change and what should never change about Jefferson in our efforts to serve our community and fulfill our mission. For a summary of findings, we invite you to read President Stone's Community Breakfast Results.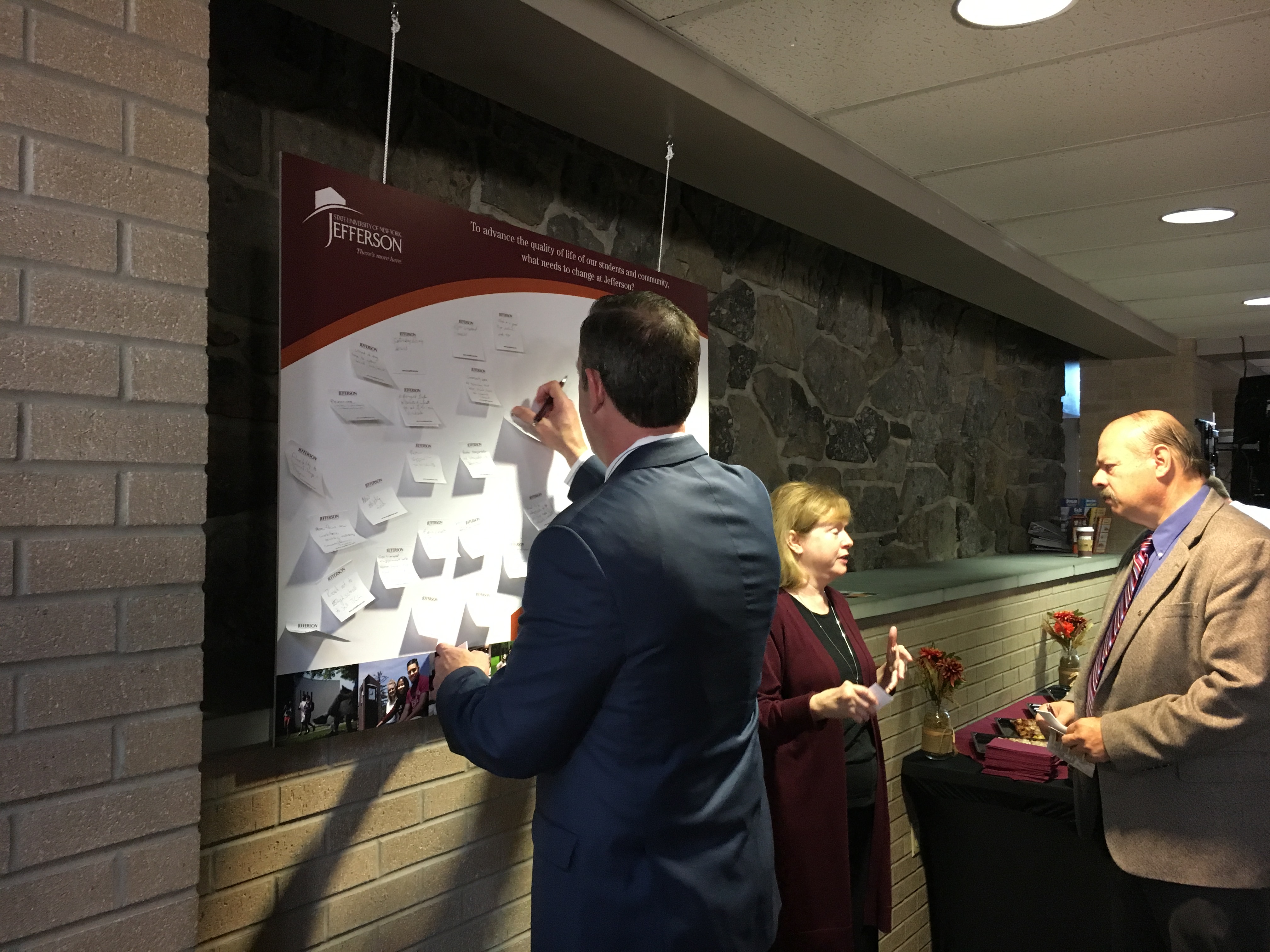 About CampusWorks
For twenty years, CampusWorks Inc. has been an industry leader in providing advisory services to higher education institutions, including a vast array of community and technical colleges. At the core of CampusWorks is the belief that student success should be at the heart of every decision, thus they begin each client relationship on a listening tour of organization constituents to uncover the obstacles and challenges impeding student success. This collaborative approach, which is rooted in "systems thinking," creates a shared understanding of the project's strategic objectives and results in solutions that have institution-wide buy in and impact.
In addition to assisting colleges with strategic planning, CampusWorks also specializes in accreditation and compliance, cybersecurity, staff augmentation, shared services, learning management systems, business process optimization and other creative solutions to improve operations, reduce costs, and position students for success.