Direct Support Professional I Microcredential

Learn how you can earn this microcredential for free through generous grant funding
from the NYS Office for People with Developmental Disabilities!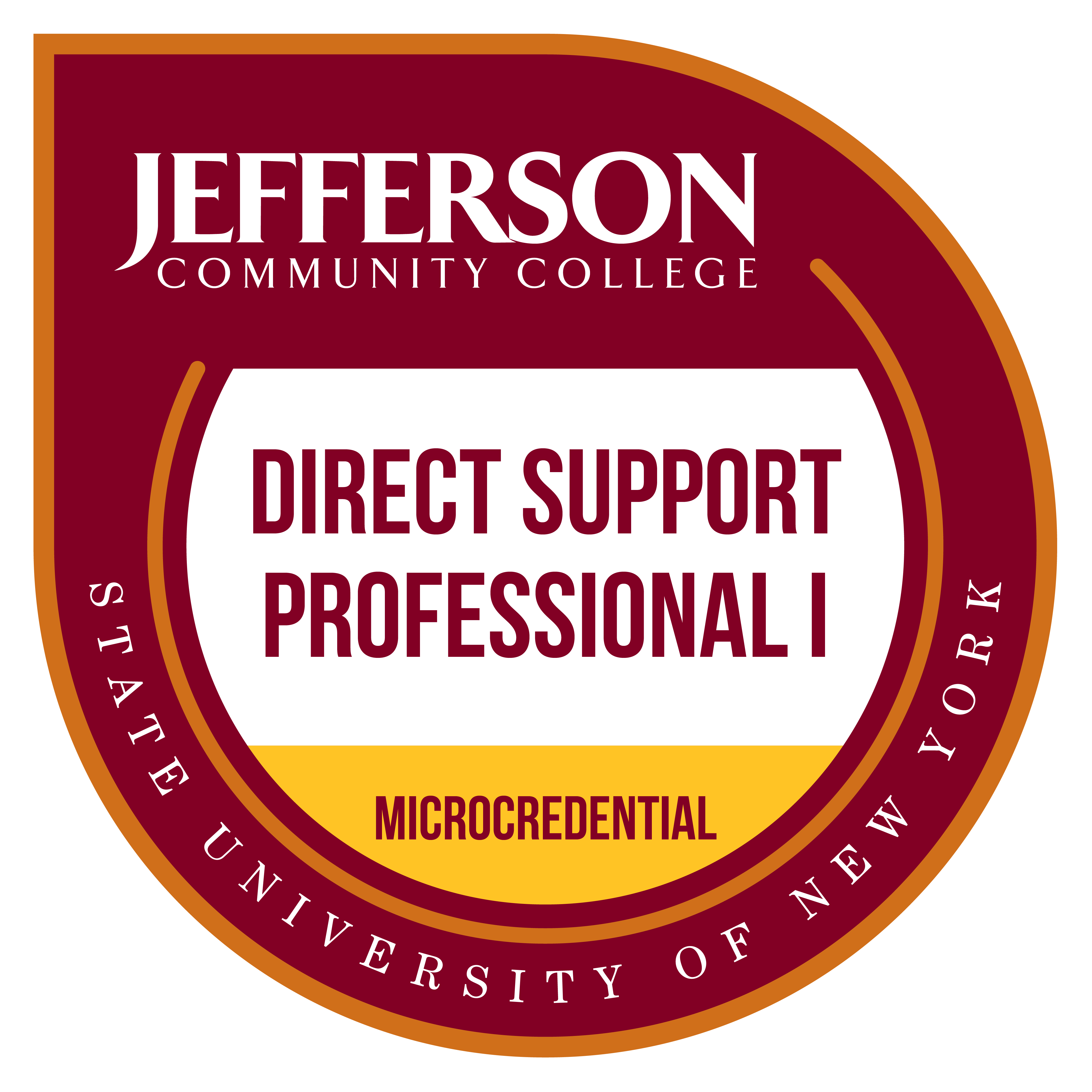 Designed to be meaningful, high-quality education programs to verify, validate and attest to specific skill sets and competencies of an individual, microcredential programs differ from degree and certificate programs in that they are generally offered in shorter or more flexible time spans with a narrow focus.
The microcredential in Direct Support Professional 1 (DSP1) will enable students to demonstrate competency in several key areas including understanding human services organization structures and functions, ethical behavior in the workplace, the importance of interpersonal communication skills.
In addition to working with individuals with developmental disabilities, direct support professionals may work in child care centers, day treatment programs for persons with mental illness, residential treatment facilities, eldercare and respite programs, jails and alternative correction programs, short-and long-term rehabilitation centers, crisis centers, day habilitation programs, assisted living/skilled nursing facilities and other human service settings. The Direct Support Professional 1 microcredential provides training to increase the potential for advancement within these organizations.
Students who complete the Direct Support Professional 1 microcredential earn nine college credit hours that may later be transferred to one of Jefferson's certificate or degree programs. Direct Support Professional 1 course requirements are a perfect fit for JCC's Human Services AS degree program.
When you complete the Direct Support Professional 1 microcredential, you will be able to:
Identify the skills and techniques (problem solving, helping skills and counselor communication skills) typically used by human service professionals.

Identify and interpret the range of activities, occupations and technical vocabulary that comprise the human service profession;

Articulate strategic problems and challenges facing health services organizations.
Identify the major stakeholders in health service organizations.

Demonstrate the ability to understand and identify ethics and professional ethical standards and decision making, while doing good and avoiding harm.

Use appropriate verbal and nonverbal communication in different interpersonal contexts
Contact Enrollment Services for Application and Admissions Information
Jules Center 6-010 (ground level)
admissions@sunyjefferson.edu
(315) 786-2437, fax (315) 786-2349 or toll free (888) 435-6522
8:00 a.m. - 5:00 p.m. Monday-Thursday
8:00 a.m. - 4:00 p.m. Friday
Microcredential Requirements

| Microcredential Requirements (9 Credit Hours): | Credit Hours |
| --- | --- |
| HUS 101: Intro to Human Services | 3 |
| HUS 210: Issues and Ethics in the Helping Professions | 3 |
| STA 161: Interpersonal Communication | 3 |