Hospitality Microcredential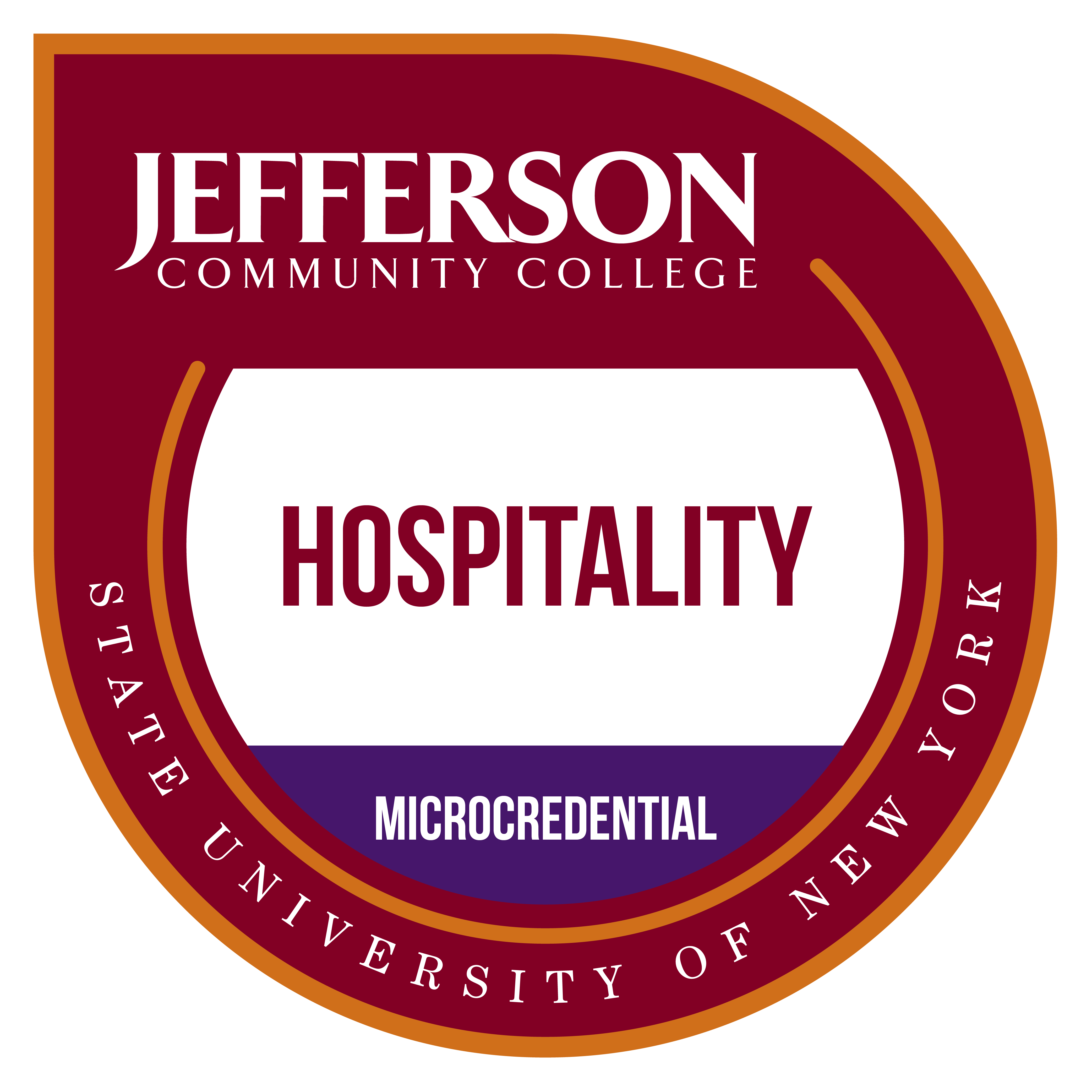 Designed to be meaningful, high-quality education programs to verify, validate and attest to specific skill sets and competencies of an individual, microcredential programs differ from degree and certificate programs in that they are generally offered in shorter or more flexible time spans with a narrow focus.
The Hospitality microcredential will provide those looking to start their career in hospitality with the background to work in a customer-focused industry, while learning necessary skills such as basic hospitality, customer service, sanitation and safety, and beverage management.
Students who complete the Hospitality microcredential earn ten college credit hours that may later be transferred to one of Jefferson's certificate or degree programs. Hospitality course requirements are a perfect fit for JCC's Hospitality & Tourism AAS and Applied Business Studies AOS degree programs.
When you complete the Hospitality microcredential, you will be able to:
Comprehend the necessary sanitation and safety guidelines necessary to pass the ServSafe exam
Understand the use of various liquors, wines, champagnes, non-alcoholic ingredients and apply the laws that go with serving alcohol
Understand the scope of the travel and tourism industry and identify the types of business it includes.
Contact Enrollment Services for Application and Admissions Information
Jules Center 6-010 (ground level)
admissions@sunyjefferson.edu
(315) 786-2437, fax (315) 786-2349 or toll free (888) 435-6522
8:00 a.m. - 5:00 p.m. Monday-Thursday
8:00 a.m. - 4:00 p.m. Friday
Microcredential Requirements

| Microcredential Requirements (10 Credit Hours): | Credit Hours |
| --- | --- |
| HOS 101, Intro to Hospitality | 3 |
| HRM 274, Bartending Management | 3 |
| CUL 130, Sanitation and Safety | 1 |
| BUS 230, Customer Service | 3 |