Kitchen Basics Microcredential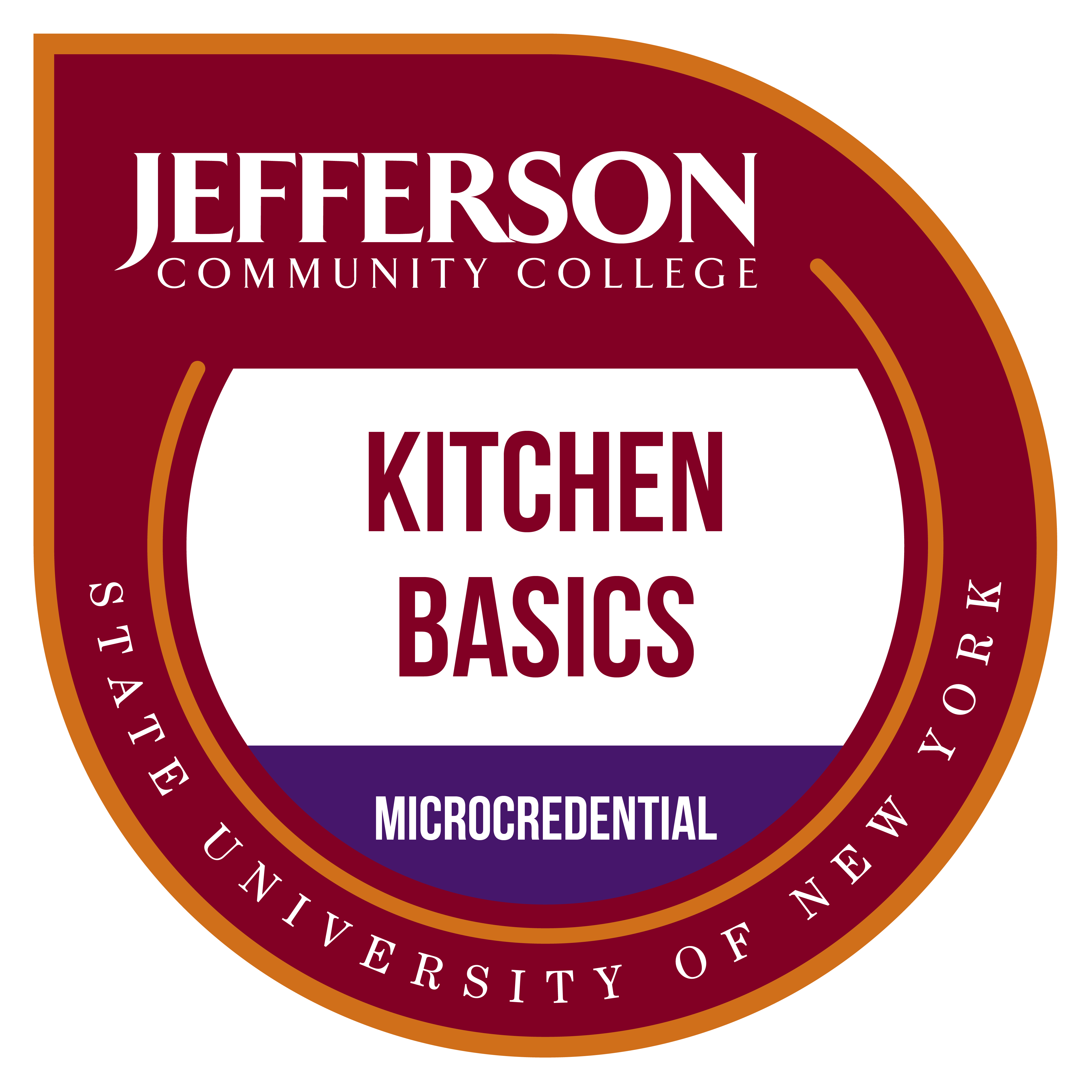 Designed to be meaningful, high-quality education programs to verify, validate and attest to specific skill sets and competencies of an individual, microcredential programs differ from degree and certificate programs in that they are generally offered in shorter or more flexible time spans with a narrow focus.
The Kitchen Basics microcredential will provide those looking to start their career in the culinary industry with the background to work in the food service field, while learning necessary skills such as basic culinary, sanitation and safety, and beverage management.
Students who complete the Kitchen Basics microcredential earn nine college credit hours that may later be transferred to one of Jefferson's certificate or degree programs. Kitchen Basics course requirements are a perfect fit for JCC's Hospitality & Tourism AAS and Applied Business Studies AOS degree programs.
When you complete the Kitchen Basics microcredential, you will be able to:
Identify the major nutrient needs for humans in different stages of their life cycle.
Identify and discuss the basic kitchen staples and products used in a professional kitchen.
Understand food handling as it relates to establishing the food safety system and personal hygiene.
Define the management process, detailing each function required to manage effectively and explain the basic formula for calculating cost of sales.
Contact Enrollment Services for Application and Admissions Information
Jules Center 6-010 (ground level)
admissions@sunyjefferson.edu
(315) 786-2437, fax (315) 786-2349 or toll free (888) 435-6522
8:00 a.m. - 5:00 p.m. Monday-Thursday
8:00 a.m. - 4:00 p.m. Friday
Microcredential Requirements

| Microcredential Requirements (9 Credit Hours): | Credit Hours |
| --- | --- |
| CUL 130, Sanitation & Safety | 1 |
| CUL 102, Intro to Culinary | 2 |
| CUL 120, Nutrition | 3 |
| HRM 240, Food & Beverage Management | 3 |