Non-Profit Leadership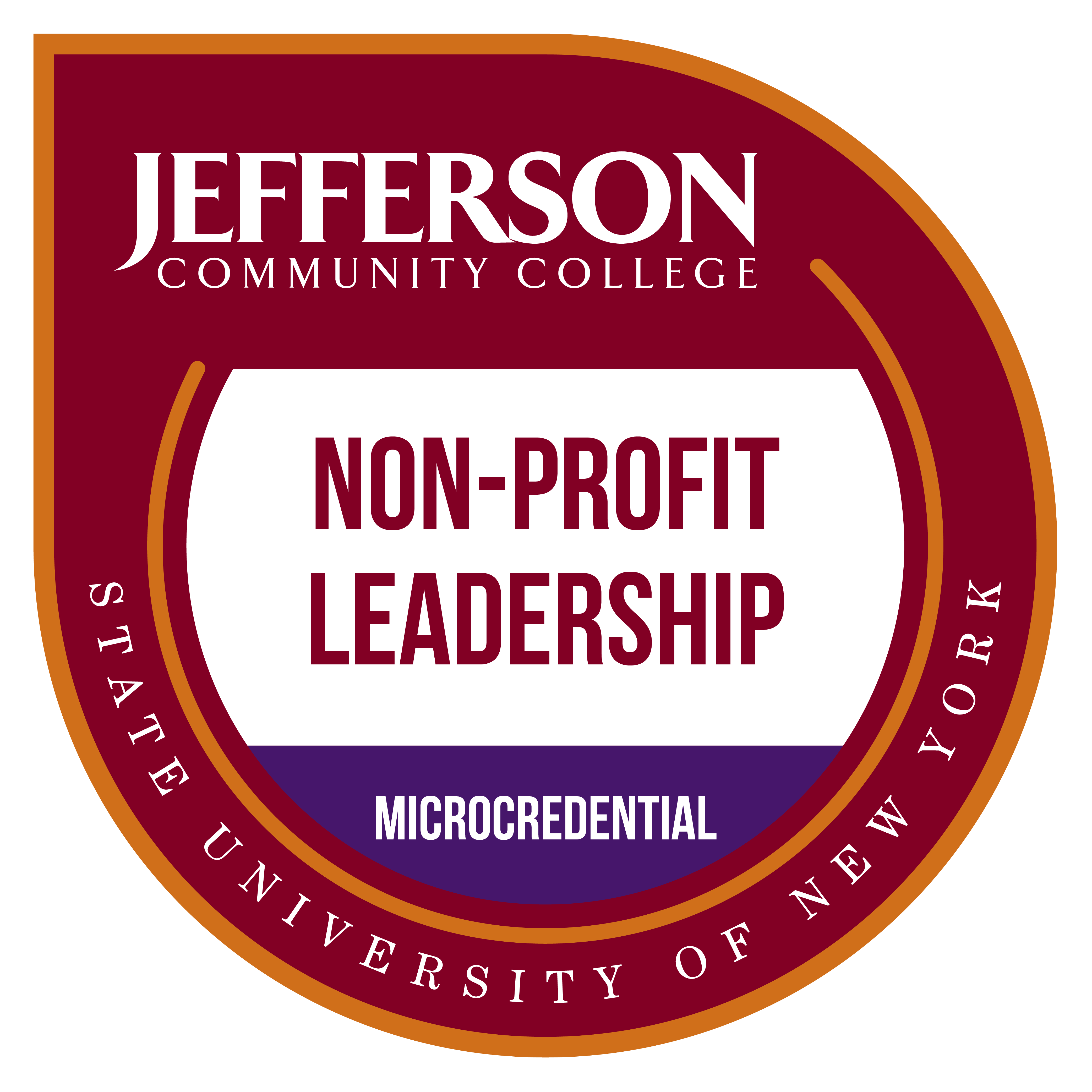 Designed to be meaningful, high-quality education programs to verify, validate and attest to specific skill sets and competencies of an individual, microcredential programs differ from degree and certificate programs in that they are generally offered in shorter or more flexible time spans with a narrow focus.
JCC's non-profit leadership microcredential program prepares students to demonstrate competency in leadership characteristics and behaviors; demonstrate an understanding of non-profit culture, organizational goals, and strategies. Students who successfully complete the program will have an understanding of best practices for exceptional leadership and knowledge to establish strategies for success and identify opportunities to improve.
Students who complete the non-profit leadership microcredential earn nine college credit hours that may later be transferred to one of Jefferson's certificate or degree programs. Non-profit leadership course requirements are a perfect fit for JCC's Applied Business Studies degree program.
This program offers:
An overview of the financial aspects of running a business
An introduction to the skills and techniques used by management to achieve objectives
An understanding of nonprofit organizations, their role in the community and how they operate
When you complete the non-profit leadership program, you will be able to:
Identify, describe, and discuss the roles, functions, and responsibilities of leadership and how they apply to non-profit organizational culture, structure, and operations.
Examine and analyze the non-profit organization's role in the community and the importance and impact of policies, ethical responsibility, and funding to the success of the organization.
Analyze and communicate effectively to financial operations and planning of non-profit organizations to stakeholders.
Contact Enrollment Services for Application and Admissions Information
Jules Center 6-010 (ground level)
admissions@sunyjefferson.edu
(315) 786-2437, fax (315) 786-2349 or toll free (888) 435-6522
8:00 a.m. - 5:00 p.m. Monday-Thursday
8:00 a.m. - 4:00 p.m. Friday
Microcredential Requirements

| Microcredential Requirements (9 Credit Hours): | Credit Hours |
| --- | --- |
| BUS 121: Business Financial Operations | 3 |
| BUS 131: Principles of Management | 3 |
| BUS 216: Non-Profit Management | 3 |