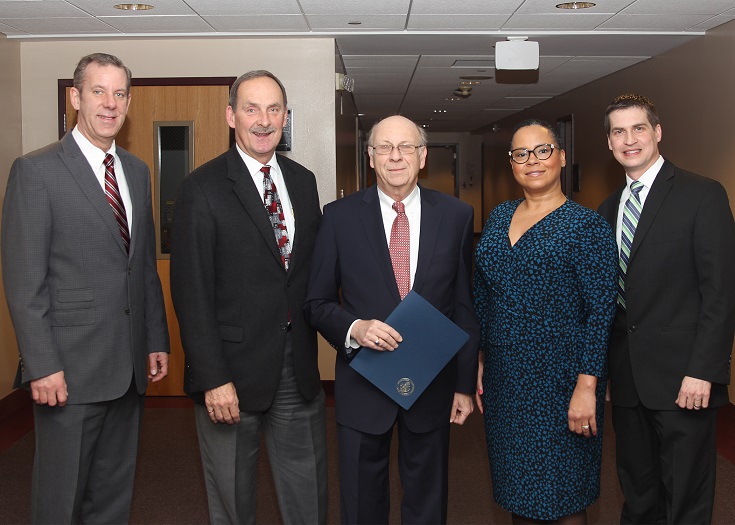 Trustee Steven Haas Honored
Published: February 08, 2019
Jefferson Community College's longest serving member of the Board of Trustees, Steven C. Haas, retired from the Board of Trustees after 32 years of service to the College. Haas' last meeting was February 8, 2019.
Mr. Haas was first appointed to the Board of Trustees in August 1987 by the Jefferson County Board of Legislators to fill an unexpired term. Mr. Haas provided leadership to the Board of Trustees as Treasurer from 1988 through 1989, Vice Chair from 1992 through 1993, and as Chair of the Board from 1994 to 1996. Additionally, Mr. Haas has served as chair of the Personnel Committee from 1988 until 2008, and has also served on the Academic & Education Committee and Budget & Planning Committee. Over the last three decades, he has served with five of Jefferson's six college presidents and chaired the presidential search committee in 2006 for the College's 5th president, Dr. Carole McCoy.
Mr. Haas has been a strong supporter of the Jefferson Community College Foundation and co-chaired the College's first and only capital campaign, Spirit of Jefferson, in the late nineties. The campaign was a success, reaching its goal of raising $2 million for the College.
During his 32-year tenure with the Board, Jefferson's enrollment has grown from 618 students in 1987 to a peak enrollment in 2013 of just over 4,100 students. In 1988, his first year as a Trustee, the College developed its first campus master plan and Mr. Haas has helped advance the College's subsequent strategic and facilities master plans, including such initiatives as the addition of coursework on Fort Drum, distance learning, the higher education center on campus and in Lewis County, and campus facilities including the Henderson Childcare Center, Jules Instructional Resource Center, Deans Collaborative Learning Center and a residence hall.
"Jefferson has been so fortunate to have Steve Haas on our Board of Trustees for the past 30+ years. His belief in the mission of a community college to be open access, to provide educational opportunities for all, is the foundation for his leadership, his commitment and his service to this College," said Ty A. Stone, president of Jefferson Community College. "We will miss his institutional knowledge, his thoughtful counsel and guidance, and his sense of humor."
Mr. Haas is a principal in the law firm of Schwerzmann and Wise, P.C. in Watertown, the city where he and his wife, Carla, also reside.