Bobbi Brabant Memorial Nursing Laboratory Dedication
Published: October 11, 2018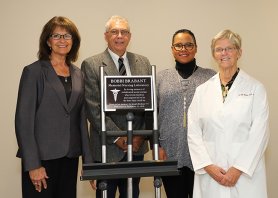 (l-r): Theresa L. Quintin, president of the JCC Foundation Board of Directors, Joseph G. Brabant, Class of 1973, Ty A. Stone, College President, and Marie A. Hess, interim nursing department chair.
On Saturday, September 22, 2018, Jefferson Community College (JCC) dedicated the College's state-of-the-art nursing laboratory in memory of Roberta (Bobbi) Lynn Brabant, late wife of JCC alumnus Joseph G. Brabant, Class of 1973. Community members, area nurses, and family and friends joined the campus community to celebrate the legacy of Bobbi Brabant.
Mrs. Brabant, formerly of Potsdam, dedicated much of her life to serving children and their families in the North Country. She earned undergraduate and graduate degrees in social work from SUNY Oswego and Syracuse University. Mrs. Brabant served as co-director of the Outward Bound program of the New York State Office of Mental Health. In addition, she worked with children, families and geriatric patients through her private practice in Watertown. In 1994, she moved to Roanoke, Virginia, to continue her life's work at Fresenius Dialysis Center. She was highly regarded as a social worker by her colleagues and peers.
Mr. Brabant, former native of Clayton and JCC nursing program alum, resides in Virginia where he is noted as one of the state's top anesthetists. As a lasting tribute to his wife of 39 years, he graciously funded capital improvements to the JCC nursing laboratory and created the Brabant Family Endowment for Medical Education, a non-tuition scholarship to help students enrolled in nursing, paramedic or liberal arts and sciences allied health programs at Jefferson.
"I look around me and view the present facilities and remember the old classroom with the bed in the corner as being the holders of the facility of 1977," said Brabant. "And it is obvious this program has come a long ways in the education of all JCC students and I am honored to be able to be contributing to its future."
"The incredible generosity of Jefferson alumnus, Joe Brabant, speaks volumes to his dedication to the nursing profession and to Jefferson's nursing program," said Ty A. Stone, College President. "The College and most especially our students are fortunate to have alumni with a vested interest in the vitality and sustainability of the nursing program."
In addition to Mr. Brabant's remarks, the formal program included the following speakers, President Ty Stone, Interim Nursing Department Chair Marie Hess, and Foundation Board President Theresa Quintin. Guests toured the nursing laboratory and spoke with current JCC nursing students.
The dedication ceremony took place during the College's annual alumni Cannon Blast Weekend.
The nursing program at JCC is ranked #1 among community colleges in New York State according to RegisteredNursing.org.