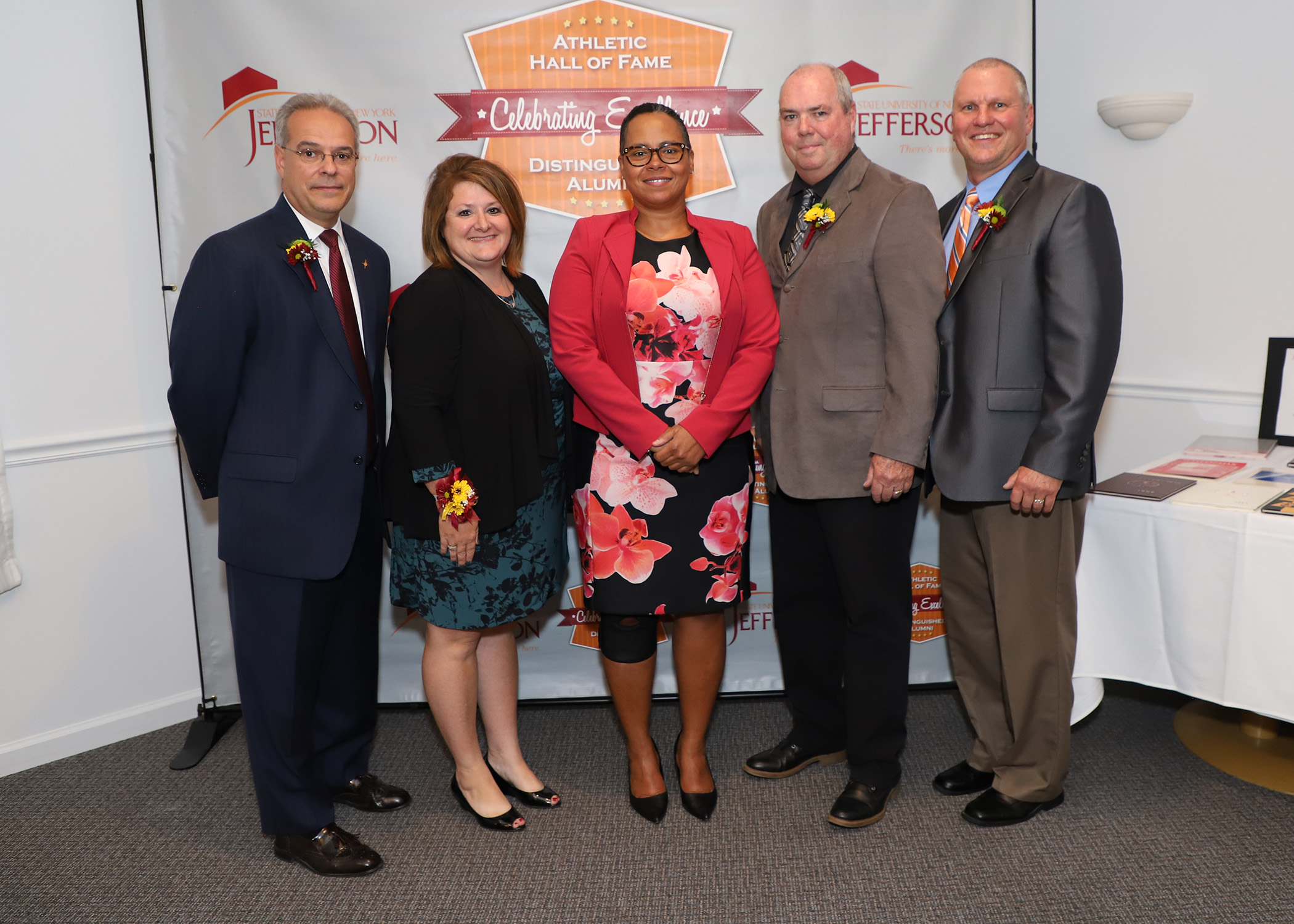 Distinguished Alumni & Hall of Fame Inductee Honored
Published: October 01, 2018
Jefferson Community College (JCC) held its annual Distinguished Alumni and Athletic Hall of Fame Induction Ceremony on September 21, 2018. Three distinguished alumni were recognized for their professional achievement and exemplary commitment to their community and Jefferson Community College. One individual was inducted into the Class of 2018 Athletic Hall of Fame for his outstanding athletic success and significant contributions to JCC's athletic program.
The 2018 Distinguished Alumni honorees are Dale A. Klock, Class of 1988, Kerry A. Young, Class of 1992 and Class of 2006,and Timothy R. Keohane, Class of 1984.
Klock, Watertown, received the Jeffersonian Award for his dedication to volunteerism, civic involvement and humanitarian undertakings. He holds an associate degree in banking from JCC and continued his education at Empire State College. He serves as the Carthage Savings Bank treasurer and has risen to the level of executive vice president and is a member of the senior management team. An active member of the community, Klock has served as treasurer and board chair of the NYS Zoo at Thompson Park, treasurer and director of the Thousand Island Girl Scout Council and chair president of First Step Day Care Center. He also held the prestigious position of Adirondack Banker's Association president. Currently, Klock is the board chair of Meadowbrook Terrace Assisted Living, vice president of the Carthage Area Hospital Board, a board member of the Fort Drum Regional Health Planning Organization as well as treasurer for the Urban Mission Board of Directors.
Young, Watertown, received the Professional Achievement Award for her significant professional growth, leadership abilities, and recognition for success. Young holds an associate degree in humanities and social sciences from JCC, an associate degree in business administration with honors from JCC, a bachelor's degree in business administration from SUNY Potsdam, and a master's in education with distinction in organizational leadership from SUNY Potsdam. She serves as the executive director of finance and human resources at Jefferson Community College. During her 28-year tenure, she has provided oversight and management of the College budget and human resource operations. She is a board member of the North Country Human Resources Association where she serves as treasurer and the Jefferson-Lewis School Employees Healthcare Plan and is the first President of the New York State Community College Human Resources Professionals. She is a member of the SUNY Human Resource Director's Association and the Community College Business Officers Association. Additionally, she is an adjunct instructor at JCC, a contributor to the College's annual Business Symposium and member of the Cannoneer Relay for Life team. Young was distinguished as an Emerging Leader by the American Association of University Women where she also served on the Board of Directors. Lastly, Young has volunteered her time to the Immaculate Heart Central School girls basketball program for many years.
Keohane, Brewerton, received the Professional Achievement Award for his significant professional growth, leadership abilities, and recognition for success. Keohane holds an associate degree in criminal justice from JCC and a bachelor's degree in criminal justice from SUNY Albany. While employed at the Albany County Probation Department, Keohane initially worked in the juvenile division processing Persons In Need of Supervision (PINS) petitions, moving to the United States Probation Office in Syracuse in 1989 where he served for 25 years. He supervised a caseload of offenders in Jefferson, Lewis, St. Lawrence and Franklin Counties and in 1994, was promoted to team leader. As team leader, he oversaw the pretrial and supervision units. He was promoted to supervising U.S. probation officer in 1997. Under his leadership, the Syracuse Office started the electronic monitoring program, established a federal halfway house in Central New York, began drug and mental health contracting for federal offenders, and established a search team. Keohane continued in academics by completing the Leadership Development Program thru the Federal Judicial Center and for several years, and assisted the Syracuse Open Doors to Federal Courts high school program.
Young, Klock and Keohane join over 90 alumni who have been honored as Distinguished Alumni since the program's inception in 1989.
The Athletic Hall of Fame Class of 2018 inductee is Thomas H. Tilebein, of Hilton.
Tilebein is a former member of the College's first soccer team and earned National Junior College Athletic Association (NJCAA) Region III first team honors in 1969 and 1970. He continued his education at SUNY Brockport. He retired from a 34-year career as the superintendent of public works for the Village of Hilton. Active in his community, Tilebein coached and refereed youth soccer and served as chairman of the St. Jude Hospital Bike-A-Thon. He is a sponsor of "Unbound" Charities and Food for the Poor. Tilebein served as a member of the Upstate New York Municipal Workers Compensation Board, the Monroe County Recycling Advisory Board and the Finger Lakes and Western New York Waterworks Association. Furthermore, he served as chairman of Monroe County Stormwater Coalition and president of the Western New York Village Superintendents Association.
Since its inception in 2009, Jefferson has inducted thirty-five members and the 1992 Women's Basketball team into its Athletic Hall of Fame.
Sponsored by Watertown Savings Bank, Carthage Savings and Loan, BCA Architects and Engineers, and Community Bank.