JCC Distinguished Alumni Honored
Published: December 16, 2019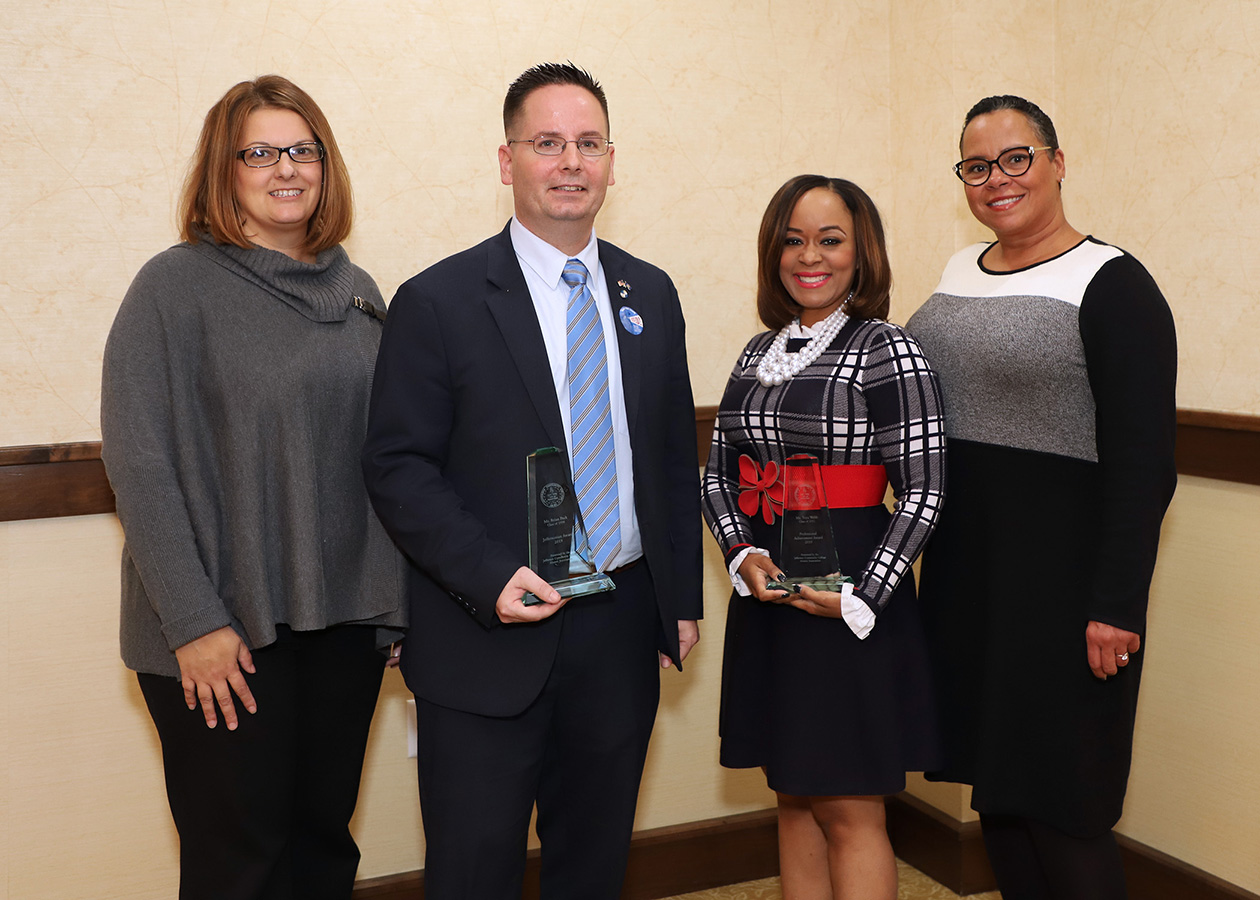 (l-r) Michelle L. Capone, Treasurer, Foundation Board of Directors, Brian S. Peck, Jeffersonian Award Recipient, Toya M. Webb, Professional Achievement Award Recipient, and College President Ty A. Stone.
Distinguished alumni were honored at the Jefferson Community College (JCC) Foundation's Annual Scholars Reception held on November 5, 2019 at the Hilton Garden Inn. Two distinguished alumni were recognized for their professional achievement and exemplary commitment to their community and Jefferson Community College.
The 2019 Distinguished Alumni honorees are Toya M. Webb, Class of 2002, and Brian S. Peck, Class of 1998.
Webb, Chicago, Illinois, received the Professional Achievement Award for her significant professional growth, leadership abilities, and recognition for success. She holds an associate degree in humanities and social sciences from Jefferson, two bachelor's degrees from the University of Hawaii, a master's degree from Roosevelt University and is working towards completing her doctoral degree from Benedictine University. Webb serves as the Chief Marketing and Communications Officer at Elgin Community College in Chicago. In sharing her marketing expertise with numerous community organizations, Webb has had a successful career as a professional life coach and motivational speaker. Webb was honored by the Kane County Chronicle as one of the "Best under 40" in 2015, and she was nationally recognized for her work by the American Association of Women in Community Colleges.
"I stand before you today as the first in my family to go to college, to graduate from college, to pursue a doctorate, to own my own home, to work as an executive, and to create a better life for my children," said Toya M. Webb, JCC Distinguished Alumni. "I am eternally grateful for the support and encouragement that I received as a student at Jefferson Community College. It was a turning point in my life and it's where I began my educational journey."
Peck, Champion, New York, received the Jeffersonian Award for his dedication to volunteerism, civic involvement and humanitarian undertakings. He holds an associate degree in humanities and social sciences from Jefferson and a master's degree in counseling from Summit University. His career exploration lead to time spent as a college instructor and co-owner of a small printing company which eventually evolved into Coughlin Printing. Peck now is a leader in the public service realm, currently serving as Chief of Staff for NYS Assemblyman Ken Blankenbush. In addition, he is a member of the New York Guard, a volunteer for the Great Bend Fire Department, an EMT and Board Member for Lewis County Search and Rescue, and a member of the Jefferson Alumni Advisory Council.
"JCC gave me the opportunity and the freedom to accomplish what I have," said Brian S. Peck, JCC Distinguished Alumni. "I wasn't worried about debt. Looking back at JCC, the teachers and the classes I had are what I remember. Since my time at JCC, the opportunities and the agreements with other institutions have only become better. The ability to retool, learn a new skill, start a new career is only a short distance or a click away via an online class."
Webb and Peck join over 90 alumni who have been honored as Distinguished Alumni since the program's inception in 1989.
Sponsored by Haylor, Freyer & Coon, Northern Credit Union, BCA Architects & Engineers, Purcell Construction Corporation and RBC Wealth Management.