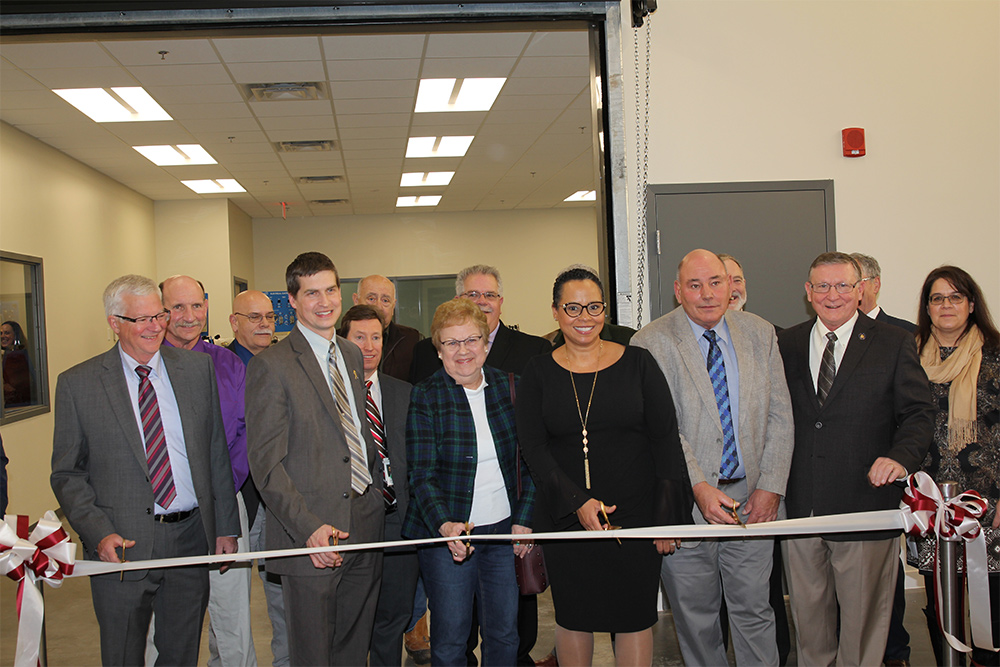 Education Center Ribbon Cutting
Published: January 24, 2019
Officials from Lewis County, Jefferson Community College, Jefferson-Lewis BOCES and Cornell Cooperative Extension Open Education Center with Ribbon Cutting
Lowville, NY -- Today officials from Lewis County, Jefferson Community College, Jefferson-Lewis Board of Cooperative Educational Services (BOCES) and Cornell Cooperative Extension of Lewis County officially opened the Lewis County Jefferson Community College Education Center with a ribbon cutting ceremony and open house. Over 100 community members turned out for the ceremonial ribbon cutting held in the new facility's 5,500 sq. ft. "fab lab." Speakers in the ceremony included Ryan Piche, Lewis County manager, Lawrence Dolhof, chair of the Lewis County Board of Legislators; Nathan Hunter, chair of the Jefferson Community College Board of Trustees; Dr. Ty Stone, president of Jefferson Community College; Stephen J. Todd, district superintendent of Jefferson-Lewis BOCES; Dr. Chris Watkins, director of Cornell Cooperative Extension; Assemblymember Ken Blankenbush, NYS – 117th District; Jim Durkish, Lewis County Representative for Senator Joe Griffo - 47th District; and Mary Jo Richards, constituent liaison for Congresswoman Elise Stefanik.
The opening of the 22,000 square foot facility is the culmination of three years of work between Lewis County and Jefferson Community College that began in 2015 when the Lewis County Board of Legislators earmarked funding for the construction of an education center. In January 2018, a memorandum of understanding between the College and Lewis County designated Jefferson as operator of the education center with BOCES and Cornell Cooperative Extension-Lewis County subleasing space from the College and Lewis County, respectively. The County broke ground in September 2018 with general contractor DC Building Systems of Watertown along with AMP Electric and Lawman Heating and Plumbing working swiftly to keep the construction project on track for a January completion date.
In his remarks, chair of the Lewis County Board of Legislators Larry Dolhof noted that today is just the beginning. "This building itself is not enough to drive meaningful change," said Dolhoff. "It is up to our partners, and the entire Lewis County community, to use this facility to build the workforce we need for the future. Sign up for classes. Attend workshops. Invest in yourselves, and the opportunities for growth will follow. "
Chair of the Jefferson Board of Trustees, Nathan Hunter, applauded the vision and commitment of the Lewis County Board of Legislators and thanked them "for inviting Jefferson Community College to part be of this transformational initiative."
The single story education center includes five instructional classrooms, a 5500 sq. ft. fabrication lab ("fab lab"), 1400 sq. ft. mechatronics classroom, 1900 sq. ft. lab for BOCES forestry and engineering instruction, along with office, conference and administration space for Education Center partners. Cornell Cooperative Extension of Lewis County is in the process of moving from its current location on Stowe Street to the new facility.
In her remarks, Dr. Stone noted the focus on education and workforce training opportunities that prepare works for careers of tomorrow as well as jobs for today. "As a community college, accessibility to all is a key component of our mission," said Dr. Ty A, Stone, president of Jefferson Community College. "We are thrilled that we can expand and create new educational opportunities to more community members right here in Lewis County. We have the flexibility to tailor trainings and workshops to meet the specific needs of local manufacturers, area businesses and residents of Lewis County and beyond."
To start, Jefferson plans to offer a mix of non-college credit bearing classes in the areas of agribusiness, hospitality and tourism, allied health, advanced manufacturing and professional development. Many non-credit offerings will be developed as micro-credentials with prior learning assessment built in for transferability to credit bearing courses. Beginning in February, both Jefferson and CCE will offer a variety of professional development and personal enrichment workshops, including a youth workshop planned for the K-12 April break. With Regional Economic Development Council funding from Governor Cuomo, the college we will be launching a construction training program for unemployed and underemployed workers in March. BOCES plans to begin on-site engineering and forestry instruction in September. An advisory committee comprised of local community, business and education leaders has been appointed by the Lewis County Board of Legislators to assist with providing input regarding the workforce training and educational needs of the community.
Workshop registration is open online at www.sunyjefferson.edu/lewis and www.ccelewis.org. Questions about programming or ideas for potential training / educational opportunities can be directed to Terrence Harris, associate vice president for workforce development and business at Jefferson, tharris@sunyjefferson.edu or 315) 786-2233.