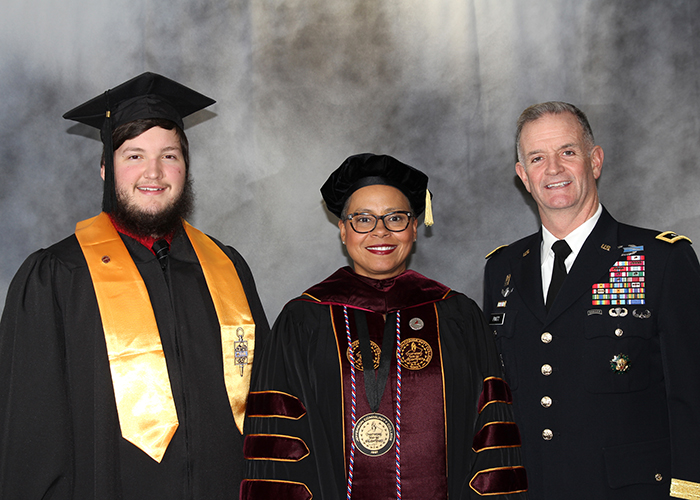 Fall 2018 Commencement
Published: December 17, 2018
Jefferson Community College (JCC) celebrated the College's 5th annual Fall Commencement Ceremony on Friday, December 14, 2018 in the McVean Student Center Gymnasium.
Jefferson's class of Fall 2018 is comprised of 226 students who are candidates for graduation in December 2018 pending satisfactory completion of coursework. Five students received two degrees and/or certificates each bringing the total number of degrees and/certificates awarded to 231. Jefferson continues to be a strong educational partner of Fort Drum with 43% of the fall 2018 graduating class being comprised of active duty soldiers and their family members, veterans, retirees or members of the Army Reserves. Jefferson's active duty and veteran students along with faculty and staff veterans participating in the ceremony were distinguished by red, white and blue cords worn in recognition of their service to our country.
Major General Walter E. Piatt, Commanding General of the 10th Mountain Division at Fort Drum, delivered the keynote address to graduates. His nearly 40-year military career includes service at the Pentagon as the Director of Army Operations, Readiness, and Mobilization and then as the Director of Operations, Army Rapid Capabilities Office. His military education includes the School of Advanced Military Studies, and a fellowship with the Institute for the Study of Diplomacy at Georgetown University's Edmund Walsh School of Foreign Service. MG Piatt holds a Bachelor's degree in biology, a Master's degree in military history and a second Master's degree in military science along with an honorary Doctorate degree for public service from Lock Haven University.
"I do not know what challenges you will face in your life, but you will and your training will prepare you for the expected, but it is your education here, at JCC, from the books, the professors, your peers and your family that have prepared you for the unexpected," said Major General Piatt. "Know that education is not a degree. It is not a grade point average. Education is the key to opening your mind and using your mind to do good for all humankind."
Student trustee Michael J. Lennox, Adams, spoke on behalf of the student body. He said, "Your college experience has taught you all that failure comes when you stop working. When you no longer put forth as much effort as you did in the beginning of the semester, that's when the grades start to slip. Work hard on yourself, your family, your relationships, and someday you'll look back upon a successful life and feel the same self-fulfillment that you feel right now." Lennox is majoring in humanities and social sciences at Jefferson. He serves as a student ambassador in Enrollment Services assisting prospective students, working events and guiding campus tours. He helped to promote open forums with the College President to give students a platform to voice their views and concerns. As a member of student government, Lennox attended SUNY Assembly to learn more about the role of student government on campus and its operations. He holds a 4.0 GPA and is a member of the Tau Xi Chapter of Phi Theta Kappa Honor Society and member of the College's Honors Program. He received the 2018 Outstanding First-Year Student Award in the Enrollment Management and Student Life Division. Lennox anticipates graduating from Jefferson in May 2019 and transferring to Mount St. Mary's University, Maryland.
Nine candidates for graduation from the Jefferson Higher Education Center partners, SUNY Potsdam and SUNY Empire State College, participated in JCC's fall commencement exercises. Four students completed their Bachelor of Science degree in Business Administration from SUNY Potsdam. One student completed her Master's of Science in Education (M.S.Ed.) in Curriculum and Instruction from SUNY Potsdam. Two students completed their Master's of Science in Teaching (M.S.T.) in Childhood Education from SUNY Potsdam. One student completed her Bachelor of Art degree in Science, Math and Technology from SUNY Empire State College. One student completed her Bachelor of Science degree in Community and Human Services from SUNY Empire State College.
The commencement exercises were video-streamed through the College's website. A reception for graduates and guests was held be held in the Jules Center Commons immediately following the ceremony.