Major General Walter E. Piatt to Deliver Keynote at Fall Commencement
Published: December 13, 2018
Jefferson Community College (JCC) will hold its Fall Commencement Ceremony for December candidates for graduation on Friday, December 14, 2018. The ceremony will take place in the McVean Student Center Gymnasium at 6:00 p.m. and will be video-streamed on the College's website.
Approximately 227 students will be eligible to graduate from Jefferson in December upon successful completion of degree requirements. Seven candidates for graduation from Jefferson Higher Education Center (JHEC) partner SUNY Potsdam and two candidates for graduation from JHEC partner SUNY Empire State College will participate in Jefferson's commencement exercise and receive their diplomas from each respective institution.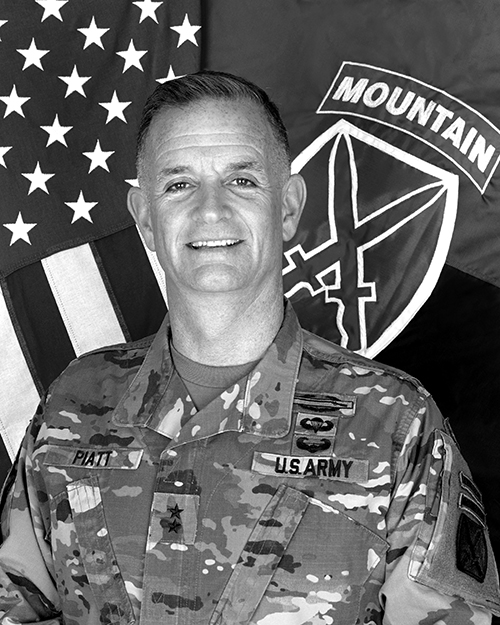 The College is privileged that Major General Walter E. Piatt, Commanding General of the 10th Mountain Division at Fort Drum, will deliver the keynote address at the commencement exercises. His nearly 40-year military career includes service at the Pentagon as the Director of Army Operations, Readiness, and Mobilization and then as the Director of Operations, Army Rapid Capabilities Office. Military assignments have taken him to Korea, Panama, Hawaii, Alaska and Germany. He completed several operational deployments to include Suriname, Bosnia, Kosovo, Afghanistan, and Iraq, and published two books from his experience in Afghanistan.
His military education includes the School of Advanced Military Studies, and a fellowship with the Institute for the Study of Diplomacy at Georgetown University's Edmund Walsh School of Foreign Service.
MG Piatt's history with Fort Drum and the 10th Mountain Division spans many years. He served with the 10th Mountain Division from 1999-2003 and returned to Fort Drum to serve as the Deputy Commanding General - Support from 2012-2013. In April 2017, MG Piatt came back once again to Fort Drum and the North Country to serve as commanding general of the 10th Mountain Division.
MG Piatt holds a Bachelor's degree in biology, a Master's degree in military history and a second Master's degree in military science along with an honorary Doctorate degree for public service from Lock Haven University.
The student speaker is Michael J. Lennox, Adams, student trustee. Lennox is majoring in humanities and social sciences at Jefferson. He serves as a student ambassador in Enrollment Services assisting prospective students, working events and guiding campus tours. He helped to promote open forums with the College President to give students a platform to voice their views and concerns. As a member of student government, Lennox attended SUNY Assembly to learn more about the role of student government on campus and its operations. He holds a 4.0 GPA and is a member of the Tau Xi Chapter of Phi Theta Kappa Honor Society and member of the College's Honors Program. He received the 2018 Outstanding First-Year Student Award in the Enrollment Management and Student Life Division. Lennox anticipates graduating from Jefferson in May 2019 and transferring to Mount St. Mary's University, Maryland.
Tickets are required for admission to the McVean Student Center Gymnasium. The commencement exercises will be video-streamed through the College's website beginning at 5:45 p.m. Parking is available in Lot D. Guests in need of elevator access may enter the Jules Center under the canopy and assistance will be provided. Gymnasium doors will open at 5:30 p.m.
A reception for graduates and guests will be held in the Jules Center Commons immediately following the ceremony. Graduates and guests are encouraged to take advantage of the photo room in the Walker Instructional Dining Room, McVean Center. Additional commencement information for students and guests is available by calling 315-786-2234.