Five Faculty & Staff Receive 2019 SUNY Chancellor's Awards for Excellence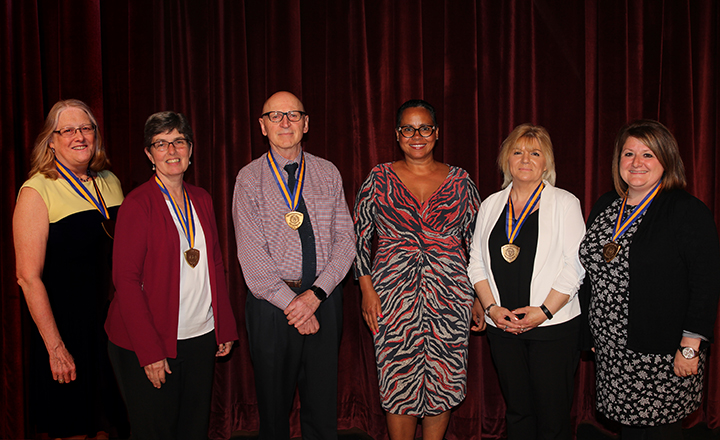 Jefferson Community College (JCC) is pleased to announce that five members of the College's faculty and staff were honored as recipients of the 2019 State University of New York (SUNY) Chancellor's Awards for Excellence. The Chancellor's Awards recognize extraordinary achievement and encourage the continuation of excellence. Larry G. Covell, Watertown, Professor of Business, received the Chancellor's Award for Excellence in Faculty Service; Sue A. Gamet, Rodman, adjunct instructor of humanities and music; received the Chancellor's Award for Excellence in Adjunct Teaching; Monica G. LeClerc, Alexandria Bay, Professor of Biology, received the Chancellor's Award for Excellence in Teaching; Kimberly S. Stearns, Rodman, Secretary, received the Chancellor's Award for Excellence in Classified Service; and Kerry A. Young, Watertown, Executive Director for Finance & Human Resources, received the Chancellor's Award for Excellence in Professional Service. Chancellor's Award honorees were bestowed their medallions by Jefferson President Ty A. Stone at the College's Recognition Celebration held on May 3, 2019.
Larry Covell began teaching business courses, specifically business law, at JCC in 1992. His students benefit from his past and current experiences as an attorney and judge. During his 27-year tenure, Covell has participated in a broad array of activities within the College and community-at-large. He has served on committees including Commencement, Advising Task Force and Academic Affairs, and chaired the Paralegal Five Year Review Committee. Additionally, he served as president of the JCC Faculty Association. Covell published the Matrimonial Law Supplement of New York: Cases and Problems and was a scholarly reviewer for an edition of Employment and Labor Law and a contributing author of legal articles for the NNY Business Journal. He holds bachelor's degrees from Elmira College and Mansfield University, a master's in education from Indiana University of Pennsylvania, and a juris doctor degree (J.D.) from the University of Dayton.
Sue Gamet began teaching at JCC as an adjunct instructor of humanities and music in 2000. In addition to teaching, Gamet has directed the Jefferson Singers (the College's official choir) in their performances on campus as well as in the Watertown community, and serves as a member of the Faculty/Staff Choir. She integrates a variety of resources and software available in the music classroom to effectively provide group instruction, as well as individualized coaching, to music students. Several of Gamet's music theory students have successfully submitted original music compositions for publication in the College's annual Black River Review as well as for publication as professional music scores. She holds a bachelor's and master's degree in music education from SUNY Potsdam.
Monica LeClerc served as an adjunct instructor at JCC before being appointed to the full-time lab sciences faculty in 1994. Dr. LeClerc is a master teacher, developing a personal rapport with each individual learner and identifying the unique needs and abilities of her students. LeClerc developed an undergraduate biological research program, restructured Biology 131-Principles of Biology and completed research on internet technology applications in biological sciences. She has served on a Middle States General Education workgroup, the Evergreen Committee, and Super Science Saturday Committee. In addition, she served as Chair of the Lab Science department and as Honors Program Coordinator. LeClerc holds a bachelor's degree from the University of Connecticut, a master's from West Virginia University and Ph.D. from Brigham Young University.
Kimberly Stearns first joined Jefferson in 2000 as a typist in the English department and shortly thereafter assumed her current role as secretary for the Liberal Arts Division. Stearns serves as the president of the Educational Support Professionals Association on campus and has chaired the College Recognition Committee for the last two years. She was a member of the Presidential Search Committee for Jefferson's 6th (and current) president and is a member of the President's Advisory Council. She holds an associate degree from Jefferson.
Kerry Young, a distinguished alumna of JCC, began her career at the College in 1990 as a senior stenographer. She was promoted to assistant to the dean of administration/finance and then to director of administrative operations and purchasing, and has served in her current position as executive director of finance & human resources since 2011. Young serves on the board of directors for the North County Human Resources Association, the Jefferson-Lewis School Employees Healthcare Plan, and the New York State Community College Human Resources Professionals. She is a member of the SUNY Human Resource Director's Association and the SUNY Community College Business Officer's Association. She holds two associate degrees from Jefferson, and a bachelor's degree and a master's in education from SUNY Potsdam.
Each year, the State University of New York recognizes outstanding members of the faculty and staff across the entire 64-campus university system with prestigious Chancellor's Awards for Excellence. Over the years, a total of 109 Awards for Excellence have been bestowed upon members of the Jefferson Community College faculty and staff.
"One of my themes for SUNY is individualized education, meaning the work we do to help our students navigate the programs and opportunities within our 64 campuses," said SUNY Chancellor Kristina M. Johnson. "Our faculty and staff educate, inspire, and support our students to pursue their passions; they are the driving force on campus. Those we honor today are leading this effort through their commitment to their craft and their dedication to our students. I am proud to celebrate and honor this year's recipients Larry G. Covell, Sue A. Gamet, Monica G. LeClerc, Kimberly S. Stearns and Kerry A. Young."