Gen Z Presentation by Father Son Duo to be held March 7
Published: February 28, 2019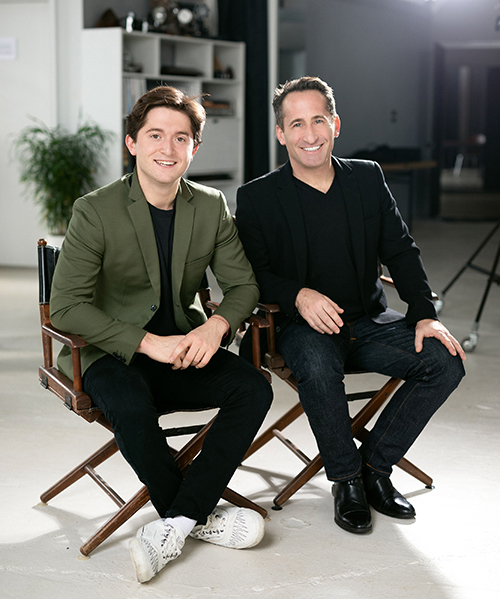 Believe it or not, different generations can communicate, work together and learn from each other! Come learn about the differences and similarities between the generations from internationally acclaimed speakers, David Stillman (right, Gen X) and Jonah Stillman (left, Gen Z), at Jefferson Community College (JCC) on Thursday, March 7, 2019, at 7:00 p.m. in Sturtz Theater. Community members are welcome! Admission is free.
For over 20 years, David Stillman has been called on by business executives, politicians and the media to share his expertise on how best to bridge generational gaps. He is an expert source on the generations for CNN, CNBC, the TODAY Show, and print publications. Stillman is the co-author of When Generations Collide and The M-Factor: How the Millennial Generation Is Rocking the Workplace. His newest book, Gen Z @ Work, is co-authored with his 19-year old Gen Z son, Jonah Stillman. Gen Z @ Work describes the 7 key traits of Gen Z and is named by the New York Post as one of the 5 books to read in 2017.
Touted the youngest generation speaker on the circuit, Jonah Stillman is considered the voice of Gen Z. He graduated from high school in 2017, and after competing for a decade on the national U.S. snowboarding circuit, he set aside his snowboard to join his Dad in the generation field. Jonah and a team of peers conducted one of the first national surveys about Gen Z's workplace attitudes. The eye-opening results ignited Jonah's interest in keeping the dialogue going. He has shared his insights on Gen Z with CNBC, MSNBC, and CBS and was recently featured in Fast Company, TIME, INC, and the New York Times. Additionally, Forbes magazine named Jonah as one of the 10 Gen Z experts to watch.
David says, don't be surprised if you learn Gen Z (the generation born between 1995-2012) is nothing like Millennials (the generation born between 1982-2000) and if you treat them the same, it will backfire. Topics of the presentation to be held at JCC on March 7 include the differences between generations in the workplace and school; key events and conditions that shape Gen Z; Gen Z's key traits and how they play out in the workplace, marketplace and/or classroom; and what it will take to recruit, retain, manage, and motivate Gen Z.
For more information, contact Monica Papagni, director of institutional technology, at (315) 786-2301 or email mpapagni@sunyjefferson.edu.