Mallory M. Harter Athlete of the Week
Published: October 11, 2018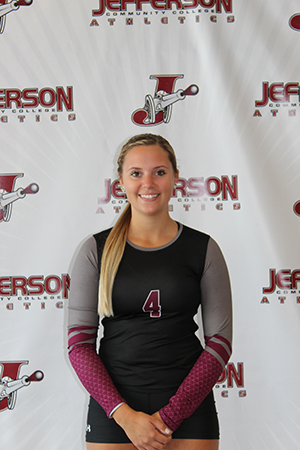 Sophomore libero, Mallory M. Harter, of the Jefferson Community College (JCC) volleyball team was named JCC athlete of the week for the week ending October 7, 2018. JCC's athlete of the week program is sponsored by Victory Promotions and Under Armour.
Mallory, a 2017 graduate of G. Ray Bodley High School, Fulton, is majoring in Business Administration at Jefferson. Harter's accomplishments on the court this past week include leading the Jefferson volleyball team defensively after starting out the season as a setter. After an injury on the team, Mallory stepped into the libero position and has carried the team on an 11-0 run. In their last three regional matches, she compiled 30 digs and 26 service points. In the last conference game versus Cayuga Community College,
Mallory went on a 19 point serving spree in the second set. Her transition back to the defensive side has been a spark for this young team.