JCCWO Annual Craft Fair to be held November 2, 2019
Published: October 22, 2019
Craft fair enthusiasts won't want to miss this opportunity to peruse a myriad of homemade items at the Jefferson Community College Women's Organization 34th annual craft fair on Saturday, November 2, 2019 from 9:00 a.m. to 4:00 p.m. in the McVean Student Center, Building 4. Entrance to the craft fair is through the gymnasium lobby, adjacent to Parking Lot D.
Nearly 100 vendors will have a variety of handcrafted items for sale including art, candles, ceramics, flora, food, jewelry, books and many different wood craft items. Patrons will have a chance to win one of twelve $10 gift certificates valid for use at any craft fair vendor.
Admission is $2.00 per person and free for children ages 10 and under. Proceeds benefit the Jefferson Community College Women's Organization which awards up to ten $500 scholarships annually.
For more information, contact Melody Brenon of JCC at 315-786-6557.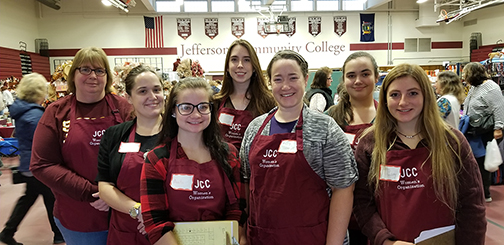 JCCWO 2018 scholarship recipients (l-r): Brenda L. Bockus, Sackets Harbor, Evelyn M. Glover, Watertown, Annika M. Ortlieb, Lowville, Rebekah E. Widrick, Lowville, Kathy D. Lambright, Philadelphia, Storm A. Turck, Lowville, Lindsey M. Bradley, Alexandria Bay. Missing from photo: Casey L. Hughes, Watertown, Rachel S. Trumble, Parish, and Katelyn M. Flanagan, Hermon.