College Receives Additional Military Friendly Designation: Military Spouse Friendly School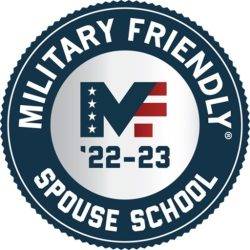 Jefferson Community College (JCC) has been named a 2022-2023 Military Spouse Friendly® School by VIQTORY®, publisher of G.I. Jobs, Military Spouse, and Military Friendly. This is the first time the College has appeared on the Military Spouse Friendly® School list, recognition that comes four months after JCC was named a Gold level 2022 Military Friendly® School.
Institutions named to the Military Spouse Friendly Schools list have instituted policies to address the concerns and needs of military spouses and their families. The Military Friendly® ratings are determined through the evaluation of public data and proprietary data gathered through the annual Military Friendly® survey process. Survey topics and questions are reviewed and developed with the assistance of an independent Military Friendly® Advisory Council comprising independent subject matter experts and industry partners representing the field of veteran education.
JCC Administrator-In-Charge Daniel J. Dupee II says, "We are honored that the College's efforts to support the spouses and family members of active duty military and veterans is recognized. It is important to provide training for portable careers and college credit that can transfer elsewhere, so when a family leaves Fort Drum, they can find employment or continue their education without missing a beat. We deeply value the military family as a whole and serving them is an integral part of what we do."
JCC provides hands-on training to prepare military spouses for a mobile career and accepts MyCAA funding. Applying for college admission is free and the College offers more than 45 academic programs in a variety of flexible learning modalities. JCC designates space on campus specifically for veterans, military and military family members with a Veterans Lounge and provides dedicated staff both on its campus in Watertown and in its Fort Drum office. Additionally, JCC provides an on-site childcare center for youngsters from 18 months to 5 years of age. 41% of JCC's enrollment is comprised of veterans, active duty military and their family members.
Jefferson Community College was first designated a Military Friendly School in 2012.
Learn about JCC's military and veterans programs here.
About Military Friendly® Schools
The Military Friendly® Schools list is created each year based on extensive research using public data sources for schools nationwide, input from student veterans, and responses to the proprietary data-driven Military Friendly® Schools survey from participating institutions. The survey questions, methodology, criteria and weighting were developed with the assistance of an independent research firm and an advisory council of educators and employers. The survey is administered for free and is open to all postsecondary schools that wish to participate. Criteria for consideration can be found at www.militaryfriendly.com.
About Jefferson Community College
One of 30 community colleges supervised by the State University of New York, Jefferson Community College is the community's leading resource for leading better lives, offering 45+ associate degrees for career preparation or for transfer to a 4-year college; certificate programs; online learning; business and industry training; and cultural enrichment opportunities for the entire Watertown/Fort Drum region.

Related Articles
Kori M. Nichols Named Athlete of the Week

Freshman guard, Kori M. Nichols, of the Jefferson Community College (JCC) women's basketball team was named JCC athlete of the week for the week ending December 3, 2023. JCC's athlete of the week program is sponsored by Victory Promotions.