Rickey F. Murtha Nursing Laboratory Classroom Dedication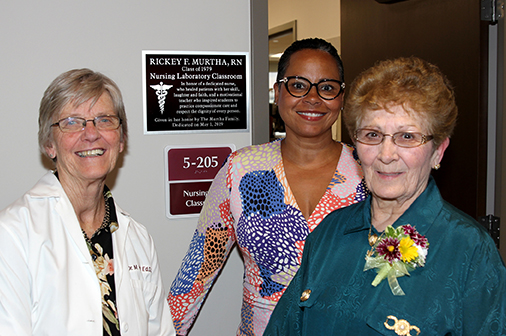 On Wednesday, May 1, 2019, Jefferson Community College (JCC) hosted a ribbon cutting and dedication of the College's nursing laboratory classroom in honor of nursing alumna Rickey F. Murtha, Dexter, Class of 1979. Community members joined nursing students, faculty and staff to celebrate the classroom dedication made possible through a generous gift of the Murtha Family in honor of Rickey Murtha.
A mother of five, Murtha earned her GED in 1960 and 17 years later enrolled in the nursing program at JCC as an adult learner. She graduated in 1979 with a 3.9 GPA and went on to an accomplished 35-year career in nursing, including military service in the U.S. Army reserves. Four of her five children and five of her grandchildren have graduated or attended Jefferson Community College.
President Ty A. Stone said, "Rickey told me about the many people who helped her along the way- the people who gave her rides to school, the church basement that she used as her place to study. Her story, is precisely a story of what is right with this community. She made a goal and worked hard for that goal, and her community stood with her to help her achieve what she set out to do."
"I want to thank Rickey for demonstrating to so many that it is never too late to do what you want to do in life, to answer your calling, set goals and achieve them," said President Stone.
The nursing laboratory classroom, located in the David G. Gregor building, was part of the building renovation in 2016. It is a smart classroom with capability to feed simulation from the nursing laboratory into the classroom for viewing demonstrations.
Jefferson's nursing program is ranked the highest within SUNY and #2 in New York State with an NCLEX exam pass rate of nearly 100%.