New Vice President for Student Affairs Appointed
Published: March 20, 2019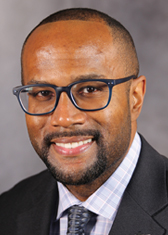 Jefferson Community College is pleased to announce the appointment of Dr. Corey A. Campbell as Vice President (VP) for Student Affairs. As the College's Chief Student Affairs Officer, Dr. Campbell will provide vision, leadership, and oversight of student life including athletics, student activities, residential life and health and wellness services.
The Vice President for Student Affairs is responsible for administration and development of a comprehensive system of student support and programming that enables students to realize their fullest intellectual and personal potential. Open and accessible to students, the VP plays a defining role in developing a strong sense of community that unites a diverse group of students, faculty & staff.
Dr. Campbell joins Jefferson from Keiser University Flagship Campus in Florida where he served as the Dean of Students. In that position, he served as the Chief Student Affairs Officer and was responsible for oversight of all student services, residential life, student activities, recreational athletics and judicial affairs. During his tenure, Dr. Campbell implemented several new initiatives for Keiser including a first-year experience program, Student Ambassador program and mental health services program. Over the course of his career in higher education he has served in a variety of roles including Dean of Academic Affairs at Southeastern College, Assistant Director of Student Affairs at Nova Southeastern University, Sports Medicine and Fitness Technology Program Director at Keiser University and Hall Director at University of Florida.
"We are so pleased to welcome Dr. Campbell to Jefferson," says Dr. Ty A. Stone, College President. "The diversity of his professional experiences gives him keen perspective from several vantage points including student activities, residential life, athletics, academics and instructional, which is crucial to the "students first" approach by which we lead here at Jefferson. I look forward to working with Dr. Campbell and seeing the positive impact he will have on this campus."

"I am thrilled to join the ranks of the incredible administration at Jefferson Community College," says Dr. Campbell, Vice President for Student Affairs, "but I am most excited about meeting the students and interacting with them. I want to understand their needs and then help to shape policy and guidelines to help them in their college journey and enable them to succeed."
Dr. Campbell has a Bachelor of Science in Exercise & Sport Sciences and a Master of Science in Sports Management both from University of Florida and a Doctorate in Education with a concentration in Higher Education Leadership and Organizational Leadership from Nova Southeastern University.

Dr. Campbell's first day at Jefferson Community College was March 11, 2019.