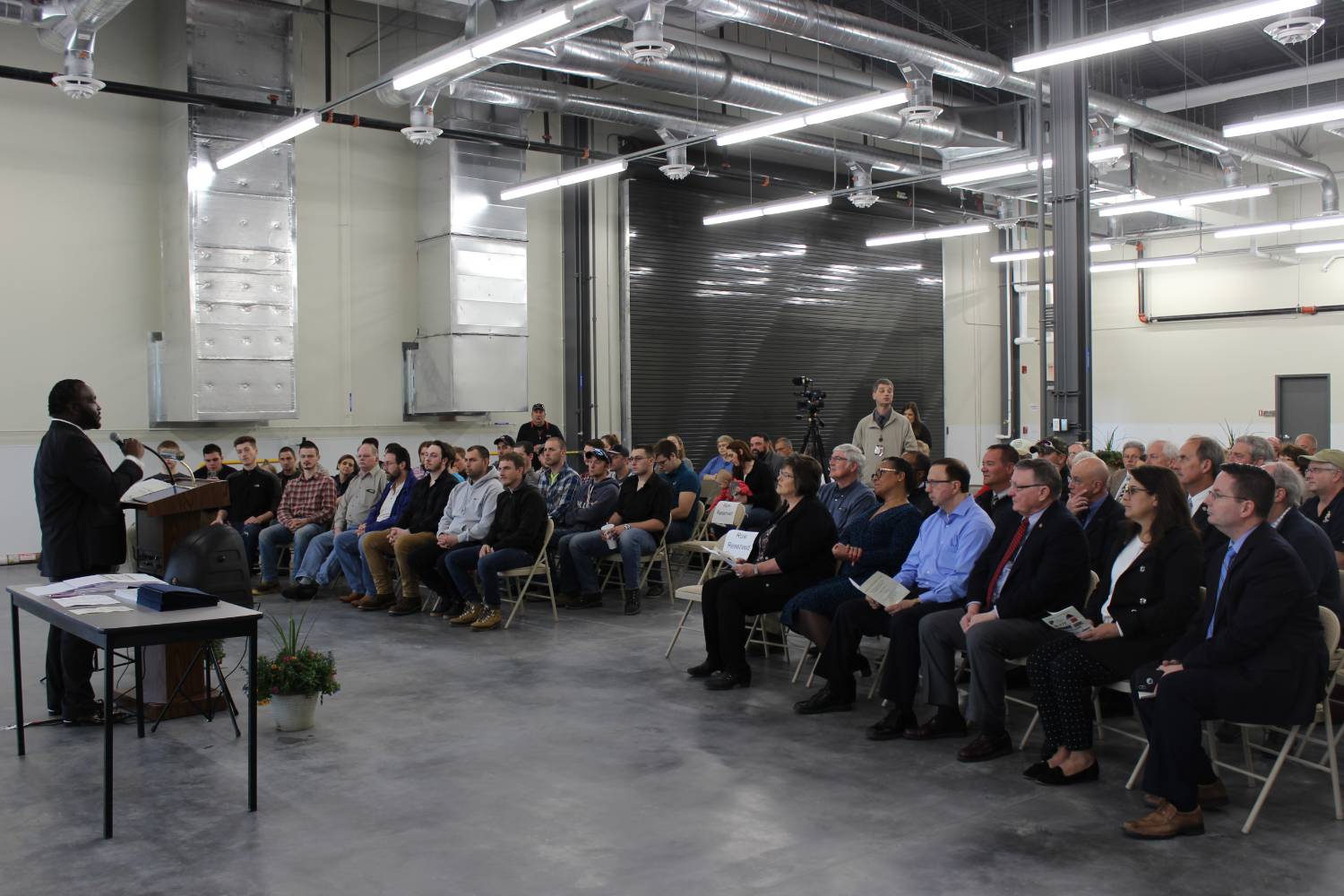 Students Recognized for Completing Construction Training Program
On Friday, May 10, 2019, Jefferson Community College (JCC), along with representatives of Purcell Construction and Associated Builders and Contractors, celebrated the first cohort of students to complete the National Center for Construction Education and Research (NCCER) training held at the Lewis County Education Center in Lowville.
Twenty-seven students completed the training. They are Edward Barton, Chaumont; Matthew Bass, Alexandria Bay; Joshua Beaumont, Watertown; David Brownell, Cape Vincent; Gary Burns, Dexter; Matthew Caulkins, Watertown; Rafael Contreras, Cape Vincent; Kyle Corp, Black River; Seth Dailey, Liverpool; Jesse-Lee DeMarco, Watertown; Jamie Florence, Carthage; John Gault, Dexter; Devrin Hannan, Harrisville; Eric Harding, Watertown; Kevin Kitto, Jr., Watertown; Brian LePlatney, Harrisville; Kaid Miles, Carthage; Jordan Miller, Lowville; Samuel Mohran, Lowville; Christopher O'Connor, Watertown; Levi Parisian, Dexter; Christopher Petrie, Theresa; Casey Smith, Carthage; Cole Snyder, Watertown; Zachary Turner, Clayton; Jason Valade, Adams Center; and Quinton Walters, Harrisville.
The JCC NCCER construction training program consisted of 400 hours of combined hands-on and classroom learning spread out over the course of 10-weeks. The training course, along with all materials including textbook, and a tool belt with a complete set of tools were free of charge to the students. Upon successful completion of the program, participants earned NCCER industry-recognized credentials in Core and Carpentry 1. By the conclusion of the training, all participants had completed job interviews and more than half had already secured employment.
The next NCCER training is scheduled for early 2020. For more information, please contact the JCC Workforce Development and Business Division at (315) 786-2233.
The NCCER training was made possible by a New York State Regional Economic Development Council grant totaling $100,000 awarded to JCC in January along with local support from Associated Builders and Contractors, BCA Architects and Engineers, Black Horse Group Contractors, Blackstone Electric, Con Tech, Hyde-Stone Mechanical Contractors, Jake's Lawn Care, Lawman Heating and Cooling, Northern Glass, Northern Tier Contracting, Purcell Construction and Structural Associates.