JCC Held its 55th Commencement Ceremony on May 17, 2019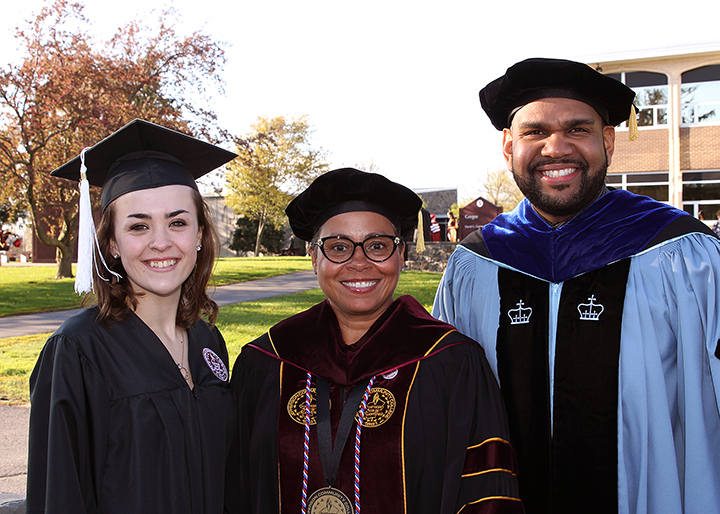 Jefferson Community College (JCC) held its 55th annual spring commencement ceremony on Friday, May 17, 2019 at 7:00 p.m. in the McVean Student Center Gymnasium. Jefferson's class of 2019 is comprised of 357 students who are candidates for graduation in May or August of 2019 pending satisfactory completion of coursework. Ten students will receive more than one diploma and/or certificate, bringing the total number of degrees and/certificates awarded to 367.
Approximately 37% of graduates are adult learners, aged 24 years or older, 74% of graduates are from Jefferson County and 78% of graduates took at least one online class. The youngest member of the class of 2019 is age 17 while the senior member of the class of 2019 is age 65. Jefferson continues to be a strong educational partner of Fort Drum with 41.5% of the class of 2019 comprised of active duty soldiers and their family members and veterans. Jefferson's active duty and veteran students, along with faculty and staff veterans, were distinguished during the ceremony by red, white and blue cords worn in recognition of their service to our country.
Dr. Maurice A. Stinnett, vice president of diversity and inclusion at BSE Global, and more specifically, for the Brooklyn Nets of the National Basketball Association (NBA), delivered the commencement address. He holds a Bachelor of Arts in Business from Central State University, a Master of Divinity from Princeton Theological Seminary, and both a Master of Education and Doctor of Education in Urban Education and Leadership from Columbia University.
Dr. Stinnett is the first African-American man to serve as vice president of diversity and inclusion for an NBA team! Across BSE's brands, he is responsible for developing innovative programming tailored for inclusion and cultural competence and for providing leadership. Most recently, he created the Diversity, Inclusion and Cultural Engagement (DICE) Council-at-Large which serves to promote a work environment that nurtures upward mobility and opportunities for advancement at BSE Global. BSE Global owns and operates venues such as the Barclays Center, Nassau Veterans Memorial Coliseum and premier sports franchises including the National Hockey League's New York Islanders. Throughout his professional career, Dr. Stinnett has been a fierce advocate for equity and inclusion across the nonprofit, education and corporate sectors. He is a frequent guest lecturer and workshop facilitator on issues of equity, inclusion and diversity. From 2010-2015, Dr. Stinnett served as Chairman for the World Leadership Program, a White House initiative under the Obama administration.
The student commencement speaker was Aubrey F. Harrington, Rodman. Harrington graduated with her associate in arts degree in individual studies. An active member of the class of 2019, Harrington was a resident assistant in East Hall, a student orientation leader, president of the Engineering Club and student athlete. As a member of the JCC Engineering Club, she competed in the annual Punkin' Chunkin event in Clayton, built an award-winning drone and presented her engineering science research in California. Most recently, Harrington served on the advisory committee for the 3D modeling and design program for BOCES. She was a frequent volunteer at campus events including the Spaghetti Bridge Competition, Super Science Saturday, Fall Fest and Spring Fest. In addition, she was a member of the Cannoneer cross-country team, earning 2016-2017 recognition as female runner of the year in the Mid-State Athletic Conference and a spot on the NJCAA All-Region Team for Region III.
Several students, faculty and staff were recognized with academic awards and honors during the commencement exercises.
One candidate for graduation was recognized for receiving the State University of New York (SUNY) Chancellor's Award for Student Excellence earlier this year. This award acknowledges students who have best demonstrated the integration of academic excellence with other aspects of their lives: community service, athletics, creative and performing arts, leadership and career achievement. Cara D. Aguirre, Theresa, was chosen by SUNY for the 2019 Chancellor's Award for Student Excellence.
Aguirre received her associate in applied science (A.A.S.) degree in hospitality and tourism with a concentration in winery management and marketing from Jefferson in December 2018 and is currently working on her associate degree in business administration from Jefferson and her bachelor's degree from SUNY Potsdam through the Higher Education Center. Cara is a participant in the College's Honor Program. Aguirre holds a 3.84 GPA and has earned President's List honors each semester at JCC. During her time at Jefferson, she was active on campus serving as president of the JCC business/hospitality and tourism club and secretary for JCC's Tau Xi Chapter of Phi Theta Kappa Honor Society. Cara and two of her professors co-authored a research paper titled "Global Climate Change Influences Wine Production and Tourism in Northern New York" and presented in Porto, Portugal. In the fall, she anticipates again traveling to Portugal to participate in a grape and wine production internship.
Michael J. Lennox, Adams, and Christopher R. Sanders, Medina, were recognized as members of the All-New York Academic Team for Phi Theta Kappa (PTK), the international honor society for community colleges. To be chosen for the All-New York academic team, students must have a minimum grade point average of 3.25 and have a history of scholarly achievement and outstanding service to campus or community. Lennox graduated with his associate in arts degree in humanities and social sciences. He plans to transfer to SUNY Potsdam this fall to study history. Sanders graduated from Jefferson in December 2018 with his associate in science degree in physical education and transferred to SUNY Brockport to continue his education in athletic training.
The Jefferson Community College Honors Program offers students with exceptional academic skills the opportunity to receive enriched instruction and seven graduating students completed this program. Honors program students elect three courses and enhance them as Honors Options by choosing a project for each and working directly with a faculty member to provide a unique and rewarding educational experience. Class of 2019 members who graduated with Honors Program designation is Shane J. Grill of Evans Mills, John A. King of Watertown, Ingrid E. Knudsen of Watertown, Michael J. Lennox of Adams, Rebecca Lugo of Watertown, Noah B. Ramer of Watertown, and Christin M. Sanford of Alexandria Bay.
Five members of Jefferson's faculty/staff were recognized as recipients of the SUNY Chancellor's Awards for Excellence. The Chancellor's Awards recognize extraordinary achievement and encourage the continuation of excellence. Larry G. Covell, Watertown, Professor of Business, received the Chancellor's Award for Excellence in Faculty Service; Sue A. Gamet, Rodman, adjunct instructor of humanities; received the Chancellor's Award for Excellence in Adjunct Teaching; Monica G. LeClerc, Alexandria Bay, Professor of Biology, received the Chancellor's Award for Excellence in Teaching; Kimberly S. Stearns, Rodman, Secretary, received the Chancellor's Award for Excellence in Classified Service; and Kerry A. Young, Watertown, Executive Director for Finance & Human Resources, received the Chancellor's Award for Excellence in Professional Service. Chancellor's Award honorees were bestowed their medallions by Jefferson President Ty A. Stone at the College's Recognition Celebration held on May 3, 2019.
In December 2018, Jefferson Community College honored 226 candidates for graduation, combined with 357 students who are candidates for graduation in May or August of 2019 pending satisfactory completion of coursework, brings the total for the 2018 – 2019 academic year to 583 students who have, or are candidates, to graduate.