White Coat Ceremony held for First Year Nursing Students
Published: November 12, 2018
On September 27, 2018, Jefferson Community College (JCC) held its annual White Coat Ceremony (WCC) to welcome new students to the nursing program. During the White Coat Ceremony, students were robed with their first white coats, the traditional dress of nursing professionals. The keynote was delivered by Kady Hoistion, Class of 2013, assistant professor of nursing at JCC.
"The White Coat Ceremony acknowledges our freshmen nursing students, in a special ceremony, to welcome them to the beginning of life-long learning, as they strive to achieve their educational and career goals; becoming a registered nurse," said Dr. Marie A. Hess, Intern Nursing Department Chair.
Student participation in the White Coat Ceremony affirms their commitment to a profession of caring and compassion using the knowledge and skills necessary to care for all in need.
Jefferson offers a traditional weekday option in its nursing program and a weekend scholar option. Student nurses begin the traditional weekday option in August (fall), and the weekend scholar option, in January (spring). Although nursing students start class at varying times depending on the option they choose, the White Coat Ceremony welcomes all first year nursing students.
Jefferson's nursing degree program is ranked #1 among SUNY institutions by RegisteredNursing.org.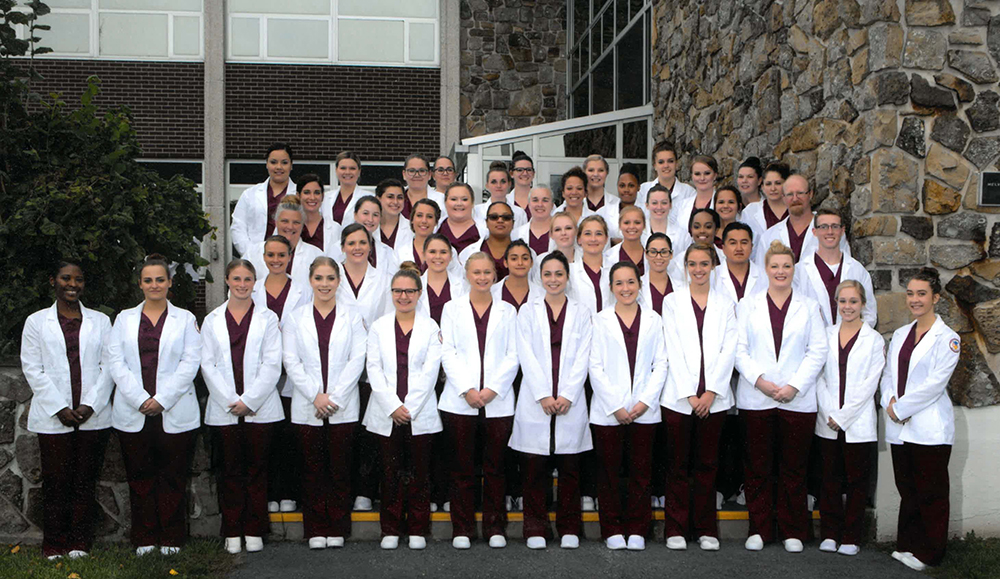 First row (l-r): Anisha N. Hamm, Calcium, Meisha L. Daka, Watertown, Mia R. Morgia, Clayton, Sarah E. Severson, Fort Drum, McKenzi M. Peabody, Clayton, Bailey E. Boulton, Sackets Harbor, Grace L. Shaw, Copenhagen, Lauren A. Eddy, Black River, Natalie A. Cole, Watertown, Ardina L. McKee, Watertown, Bailey Snyder, Adams, Amy K. Drake, Fort Drum
Second row (l-r): Nola T. Pominville, Watertown, Cheynne M. Youngs, Ogdensburg, Alexandra R. Crawford, Fort Drum, Paige E. Johnson, Alexandria Bay, Jaime Delaney, Richland, Marlene S. Harris, Calcium, Marcos Cruz, Fort Drum, Talon J. Parker, Redwood
Third row (l-r): Betty J. Paxton, Clayton, Johnna M. Perry, Mannsville, Courtney E. Sartwell, Watertown, Daysha H. Clodfelter-Smith, Fort Drum, Vanessa L. Forney, Carthage, Dana E.M. Cowles, Rodman, Jazmynn A. Miller, Hinesville, GA, Todd M. Johnson, LaFargeville
Fourth row (l-r): Jessica A. Graham, Parish, Hannah E. McManaman, Brownville, Mariah E. Derrigo, Adams Center, Jennifer L. Stegman, Fort Drum, Sabrina Robinson, Harpursville,
Megan M. Wilson, Watertown, Katrina M. Johnson, Watertown
Fifth row (l-r): Priscilla C. Marin, Evans Mills, Jessica L. McGimsey, Calcium, Katelin M. Hartman, LaFargeville, Jona K. Cisco, Lowville, Nicole V. Bennett, Watertown, TaDarren Whyte, Fort Drum, Margaret P. Hallinan, Fort Drum, Brandi J. Crutchfield, Fort Drum
Sixth row (l-r): Klarissa J. Parsons, Watertown, Rachael E. Urquhart, Lacona, Allison L. Howard, Brownville, Kayla M. Stockman, Evans Mills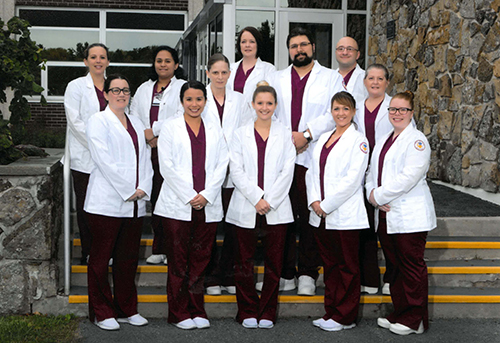 Bottom row (l-r): Megan A. Aguilar, Fort Drum, Alyssa M. Aza, Carthage, Makaila L. Houghton, Adams Center, Heidi L. O'Brien, Adams Center, Taylor M. Endres, Watertown
Top row (l-r): Amy C. Wonderly, Watertown, Namrata V. Maisuria, Pulaski, Alicia Sparks, Watertown, Brandie R. Kline, Mannsville, Kristopher P. Bancroft, Adams, Alexander Flecker, Jr., Watertown, Nora C. Kruger, Watertown
Photo Credit: Creative Imaging