Georgia Barton & Ryan Blevins Named JCC Co-Athletes of the Week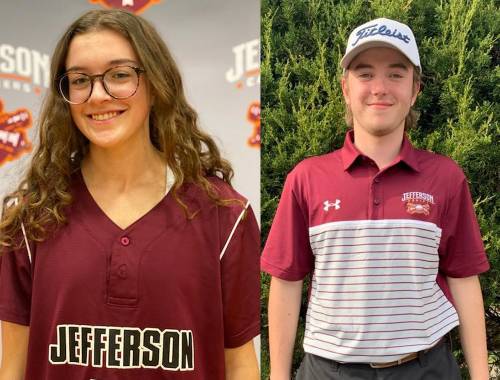 Freshman pitcher, Georgia L. Barton (above on left) of the Jefferson Community College (JCC) softball team, and sophomore golfer, Ryan J. Blevins (above on right), of the Jefferson golf team, were named JCC co-athletes of the week for the week ending May 9, 2021. JCC's athlete of the week program is sponsored by Under Armour and Victory Promotions.
Georgia, a 2019 graduate of Immaculate Heart Central School, is majoring in Nursing at Jefferson. Barton's accomplishments on the mound this past week include pitching her 10th win of the season versus Niagara County Community College in the first round of the 2021 NJCAA Region III Softball Tournament. She has only 4 losses on the season.
Ryan, a 2019 graduate of South Jefferson Central School, is majoring in Physical Education at Jefferson. Blevins' accomplishments on the course this past week include leading his team to another win at their home invitational held at the Elms Golf Club, Sandy Creek, NY. He was the team's medalist in the tournament, shooting a solid 78. Ryan has been one of the leaders on and off the course.
Learn more about Jefferson Community College athletics.
Related Articles
SUNY Workforce Development Grant | Custom Training for Businesses

Thanks to a State University of New York (SUNY) Workforce Development Training Grant, Jefferson Community College (JCC) is offering local businesses a 75% discount on customized training for their employees in areas including, but not limited to, technology, office management and organizational skills. Additionally, in many cases, the College can accommodate specific requests from employers.