Bayleigh A. Woodard Named Athlete of the Week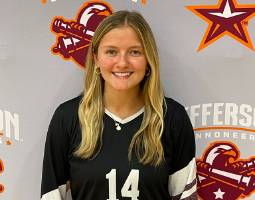 Sophomore setter, Bayleigh A. Woodard, of the Jefferson Community College (JCC) volleyball team was named JCC athlete of the week for the week ending October 24, 2021. JCC's athlete of the week program is sponsored by Victory Promotions and Under Armour.
Bayleigh Woodard, a 2019 graduate of Watertown High School, is majoring in Humanities and Social Science at Jefferson. Woodard had a phenomenal setting performance this week to closeout regular season with two victories by providing 33 assists, 1 ace (93% serve in percentage out of 28 service attempts), and 14 digs. Her mental toughness, hustle, and leadership lead the team to having victories over Genessee Community College and conference opponent SUNY Adirondack. She is a big part of the team and provides nothing but stellar performances every match. Bayleigh joined us during our cancelled season last year and she never missed a practice and gave a 110% at every training session and it shows at every match this season giving nothing less than maximum effort.
Learn more about Jefferson Community College athletics.