Chelsea M. Greenwood Named Athlete of the Week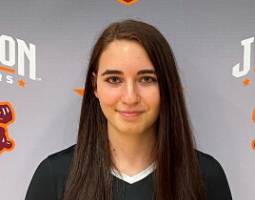 Sophomore outside hitter/middle blocker, Chelsea M. Greenwood, of the Jefferson Community College (JCC) volleyball team was named JCC athlete of the week for the week ending September 19, 2021. JCC's athlete of the week program is sponsored by Victory Promotions and Under Armour.
Chelsea M. Greenwood, a 2021 graduate of Beaver River High School, is majoring in Early Childhood Education at Jefferson. Chelsea had a dominating middle blocker performance this week by providing a career high 14 kills in one match and leads the team with 51 kills overall. She helped lead the Lady Cannoneers with compiling 17 kills, 4 blocks, 7 digs, and 2 aces. She led the team with 23 points in two matches and a serving percentage of 90%. Chelsea's is the go-to attacker in the game and a big threat in the middle blocker position. Her teammates feed off of her high intense energy on the court and as a team this energy spreads and provides points for the win.
Learn more about Jefferson Community College athletics.