Nolan C. Parow & Christopher S. Fuller Named Co-Athletes of the Week
Published: October 14, 2021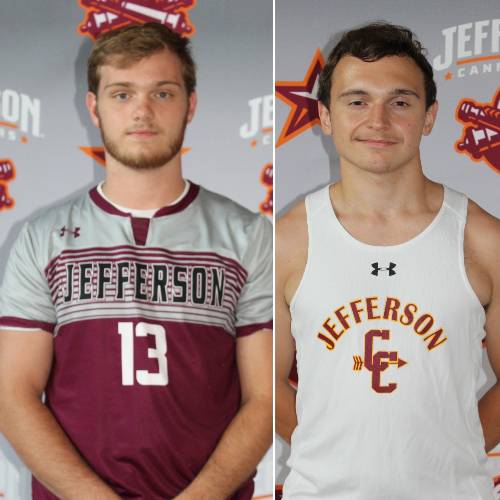 Sophomore midfielder, Nolan C. Parow, of the Jefferson Community College (JCC) men's soccer team and freshman runner, Christopher S. Fuller, of the Jefferson men's cross country team were named JCC co-athletes of the week for the week ending October 10, 2021. JCC's athlete of the week program is sponsored by Under Armour and Victory Promotions.
Nolan, a 2020 graduate of Harrisville Central School District, is majoring in Physical Education at Jefferson. Parow has been instrumental in the continued improvement of the Cannoneers over the season. Not only is he dedicated to soccer, but he also has duties as a residence assistant in the College's residence halls and helps with the women's basketball team. Nolan continues to get better and better and his improvement is why the Cannoneers have been more competitive the last few games. Against Niagara County Community College, he scored a goal and helped set up the other goal as Jefferson hung with another above .500 team. His commitment to many things make him a valuable student-athlete to the Cannoneer community.
Christopher, a 2021 graduate of Carthage High School, is majoring in Humanities and Social Sciences at Jefferson. Fuller's accomplishments on the course this past week included being the only Cannoneer to represent Jefferson at the annual Hamilton College Invitational. Chris covered the course with a new personal 8K record of 37:51, close to two minutes faster than his previous 8K best. "Chris had an excellent performance today," stated JCC Coach Christopher Ummer. "He's been very consistent with his training and went into the race with a solid plan that he executed quite well."
Learn more about Jefferson Community College athletics.