Isabella Soluri & Connor O'Donnell Named JCC Co-Athletes of the Week
Published: April 21, 2021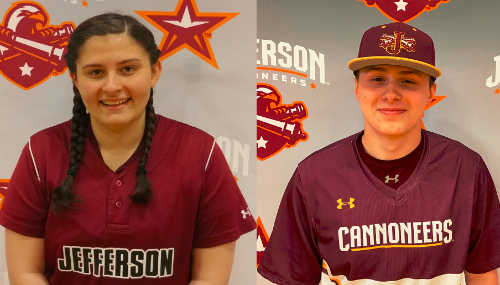 Sophomore Catcher, Isabella C. Soluri (top left) of the Jefferson Community College (JCC) softball team, and sophomore pitcher, Connor S. O'Donnell (top right), of the Jefferson baseball team, were named JCC co-athletes of the week for the week ending April 18, 2021. JCC's athlete of the week program is sponsored by Under Armour and Victory Promotions.
Isabella, a 2019 graduate of Lafargeville Central School, is majoring in Physical Education at Jefferson. Soluri's accomplishments at the plate this past week include going 9-21, having 2 doubles, 8 RBI's, and scoring 2 runs.
Connor, a 2019 graduate of Pulaski High School, is majoring in Humanities and Social Sciences at Jefferson. O'Donnell's accomplishments on the mound this past week include pitching all 6 innings for JCC in the doubleheader versus Corning Community College. He only allowed 1 earned run, striking out 2, and allowed 2 hits. This was Connor's best performance of the season, following another a great start last weekend versus SUNY Adirondack where he threw his 100th pitch.
Learn more about Jefferson Community College athletics here.