JCC Hosts Criminal Justice Educators Association of NYS Conference
Published: October 28, 2022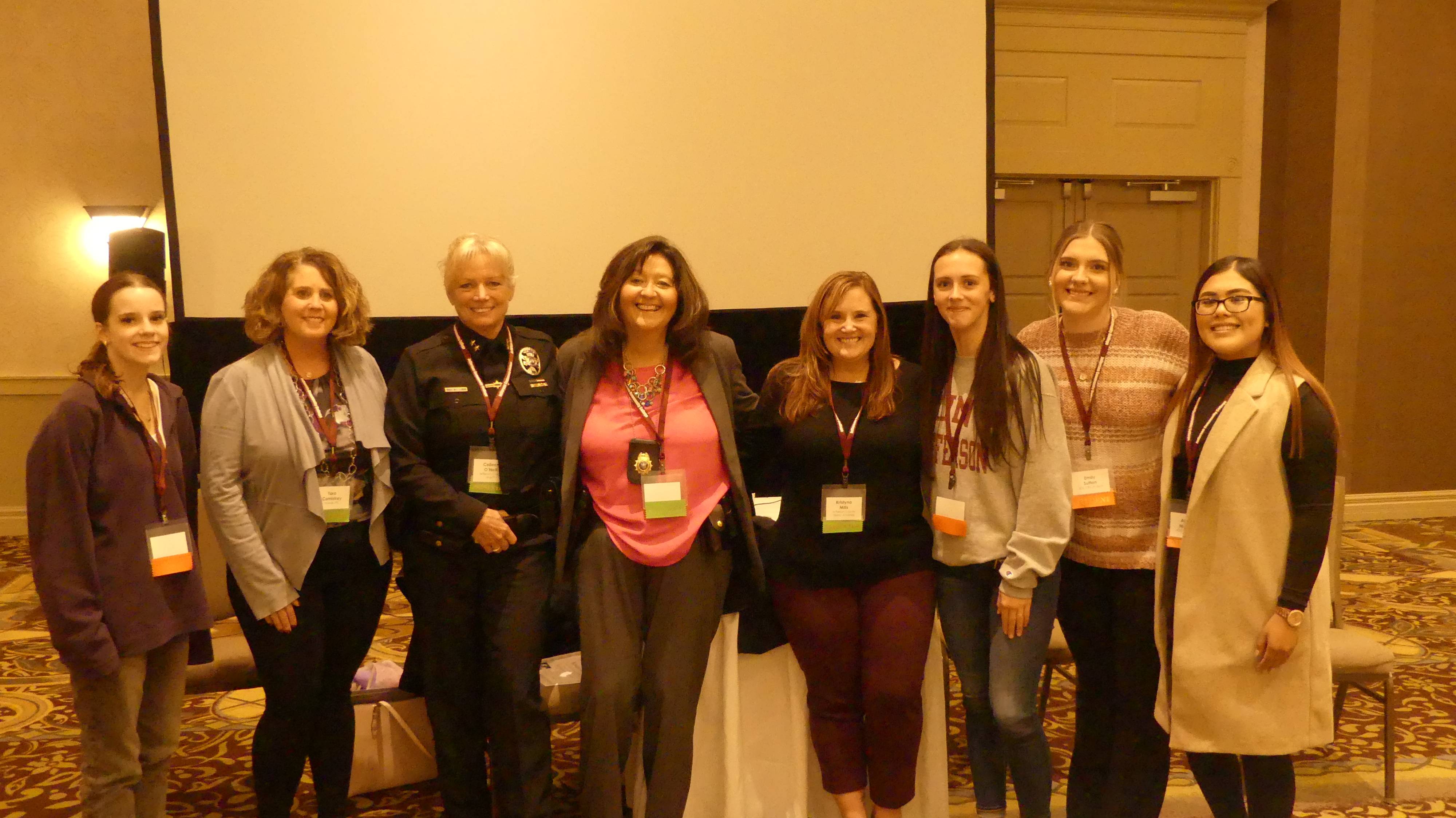 Jefferson Community College (JCC) School of Education, Behavioral Sciences and Public Services hosted the Annual Conference of the Criminal Justice Educators Association of New York State (CJEANYS) on October 19-21, 2022. The 3-day CJEANYS annual conference took place at the beautiful 1000 Islands Harbor Hotel in Clayton, NY. This year the Association not only celebrated its 50th Anniversary, but also made its North Country debut. More than 100 CJEANYS members, guests and Jefferson students attended.
Criminal investigator Bobby Yeates, Erie County District Attorney's Office, delivered the keynote address for the conference on Thursday evening. Yeates retired after 29 years of service with the Buffalo Police Department and since then, has been committed to raising awareness for potential mental health issues and struggles of officers, and their family members. A routine patrol led to a horrific scene that resulted in him fatally shooting a woman in order to save his life and the lives of others. Drawing from that personal experience, Yeates presents to law enforcement departments and criminal justice students in the U.S. and Canada.
The conference featured sessions on current topics including race and policing, women in criminal justice, active shooter on campus and the impact of closing prisons as well as a panel on immigration. JCC students attended the conference and volunteered, such as with the live K9 demonstrations.
"I am so pleased the College was able to host the conference here in the North Country, giving our students the opportunity to gain real-world experience and see first-hand how legislature impacts law enforcement," said Paul A. Alteri, Assistant Professor of Criminal Justice at JCC and CJEANYS Region 5 Delegate. "It is the first time, in a long time, that an event brought local law enforcement officers together in one place at one time where our students could appreciate the scope of careers in criminal justice."
"Graduates of the College's criminal justice program are working in the field right here in Jefferson County, across New York State and across the country," said Daniel J. Dupee, II, JCC Administrator-In-Charge. "It is fitting that Jefferson host this 50th CJEANYS conference and provide the opportunity for our current students to make valuable professional connections in the field of law enforcement."
Local presenters included Charles P. Donoghue, Police Chief, Watertown Police Department; Perry J. Golden, Narcotics Officer, Jefferson County; Mallory Jackson, MPA, MHSC, Assistant Professor, JCC; Kristine Maloney, Probation Officer, Jefferson County; Kristyna Mills, District Attorney of Jefferson County; Elizabeth E. O'Meara, Superintendent, Cape Vincent Correctional Facility; Colleen O'Neill, Sheriff, Jefferson County; and Kurt Tennant, Assistant Port Director, Alexandria Bay.
CJEANYS is comprised of representatives of colleges and universities in NYS that offer criminal justice related programs. Their mission is to promote excellence in criminal justice higher education with a commitment to keeping current with national and global criminal justice trends, and monitoring/reviewing state and national public policy affecting criminal justice. The 2023 CJEANYS Annual Conference will be held in Saratoga Springs, NY, in October. Learn more about CJEANYS.
Jefferson has more than 1,600 criminal justice alumni. The College offers an associate degree, in-person and entirely online, and a 1-year certificate program in criminal justice. Applying for admission at Jefferson is free and applications are accepted on a rolling basis.
The CJEANYS Annual Conference was sponsored by Looseleaf Law and Blue360 Media with support of the JCC Foundation.