Jerry Greenfield to Deliver Keynote at Jefferson Leadership & Business Symposium
Published: March 11, 2019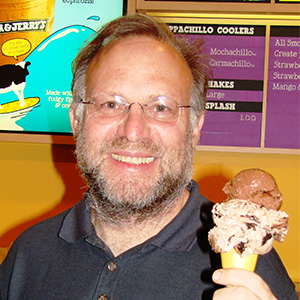 The Jefferson Community College (JCC) Jefferson Leadership & Business Symposium (JLBS) will be held on Wednesday, March 20, 2019 from 9:00 a.m. to 2:00 p.m. in Sturtz Theater. The symposium combines two of the College's former annual events - Leadership Day and Business Symposium. All are welcome to attend.
Delivering the keynote address is Jerry Greenfield, co-founder of Ben & Jerry's Homemade Inc. Greenfield got his first taste of the ice cream industry as a college student attending Oberlin College, Ohio when he took a job as a scooper in the college cafeteria. In 1977, Greenfield and his school buddy Ben Cohen joined together in an unlikely venture: running a food business together. The two eventually settled on ice cream, and, after a bit of research (and a $5 Penn State correspondence course in ice cream making), opened Ben & Jerry's Homemade ice cream parlor in Burlington, Vermont in May 1978. Ben and Jerry soon became known throughout Vermont for their rich, funky flavors and community-oriented approach to business. As of 2006, Ben & Jerry's Inc had roughly 450 retail shops. Today, most of their brand's ice cream is sold in grocery stores and convenient stores across the country.
In addition to a keynote speaker, JLBS will feature opportunities to engage with local leaders, business professionals and Jefferson student leaders. Breakout sessions on a variety of business and leadership topics, a business networking fair, free Ben & Jerry's ice cream and a performance by Ryan Quinn will round out the program. Quinn, a SUNY Oneonta graduate, advanced to the top 20 on NBC's The Voice in 2016.
RSVP to attend at www.sunyjefferson.edu/jlbs. For more information, contact the Business Department at Jefferson, (315) 786-2287 or email Kim Phillips at kphillips@sunyjefferson.edu.