Jerry Greenfield to Deliver Keynote at Jefferson Leadership & Business Symposium
Published: March 11, 2019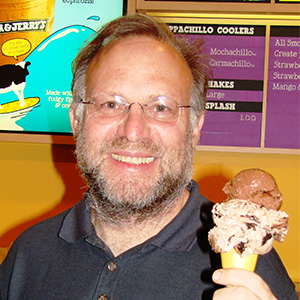 The Jefferson Community College (JCC) Jefferson Leadership & Business Symposium (JLBS) will be held on Wednesday, March 20, 2019 from 9:00 a.m. to 2:00 p.m. in Sturtz Theater. The symposium combines two of the College's former annual events - Leadership Day and Business Symposium. All are welcome to attend.
Delivering the keynote address is Jerry Greenfield, co-founder of Ben & Jerry's Homemade Inc. Greenfield got his first taste of the ice cream industry as a college student attending Oberlin College, Ohio when he took a job as a scooper in the college cafeteria. In 1977, Greenfield and his school buddy Ben Cohen joined together in an unlikely venture: running a food business together. The two eventually settled on ice cream, and, after a bit of research (and a $5 Penn State correspondence course in ice cream making), opened Ben & Jerry's Homemade ice cream parlor in Burlington, Vermont in May 1978. Ben and Jerry soon became known throughout Vermont for their rich, funky flavors and community-oriented approach to business. As of 2006, Ben & Jerry's Inc had roughly 450 retail shops. Today, most of their brand's ice cream is sold in grocery stores and convenient stores across the country.
In addition to a keynote speaker, JLBS will feature opportunities to engage with local leaders, business professionals and Jefferson student leaders. Breakout sessions on a variety of business and leadership topics, a business networking fair, free Ben & Jerry's ice cream and a performance by Ryan Quinn will round out the program. Quinn, a SUNY Oneonta graduate, advanced to the top 20 on NBC's The Voice in 2016.
RSVP to attend at www.sunyjefferson.edu/jlbs. For more information, contact the Business Department at Jefferson, (315) 786-2287 or email Kim Phillips at kphillips@sunyjefferson.edu.
Related Articles
JCC 8-Week Late Session Classes Begin October 26

Last chance to register for fall semester! Anyone having second thoughts about not starting Jefferson Community College (JCC) in August at the beginning of fall semester should register now for 8-week, late session, courses. Late session classes will be held remotely beginning October 26, 2020 and will wrap up by December 16, 2020.