JCC Names Graicee Rennie & Ryan Weaver Co-Athletes of the Week
Published: October 05, 2018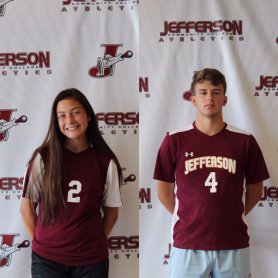 Freshman forward/midfielder, Graicee J. Rennie of the Jefferson Community College (JCC) women's soccer team, and freshman forward Ryan J. Weaver, of the Jefferson men's soccer team, were named JCC co-athletes of the week for the week ending September 30, 2018. JCC's athlete of the week program is sponsored by Under Armour and Victory Promotions.
Graicee, a 2018 graduate of Indian River High School, is majoring in Physical Education at Jefferson. Rennie's accomplishments on the pitch this past week include scoring 2 goals to the lead the Lady Cannoneers to a 6-1 victory over the Clinton Lady Cougars. Graicee is a big part of the Jefferson offense, her speed and quickness make her a threat against any team. With some recent injuries on the team, she has been asked to play some midfield as well as being a forward. No matter which position, she plays 100%.
Ryan, a 2018 graduate of Harrisville Central School, is majoring in Sports Management at Jefferson. Weaver's accomplishment on the pitch this past week include scoring his first collegiate goal as he helped the Cannoneers to their first win of the season over the Clinton Cougars. Ryan has worked exceptionally hard to become a better player and it shows. He is a tireless athlete who inspires others around him, a great teammate, and a leader by example on this year's team.
Visit the JCC athletics website to learn more.