JCC Names Alexa R. Runyon Athlete of the Week
Published: October 05, 2018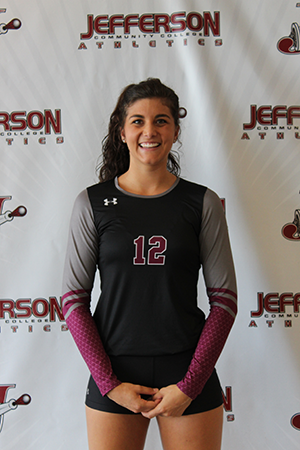 Sophomore Middle Blocker, Alexa R. Runyon, of the Jefferson Community College (JCC) volleyball team was named JCC athlete of the week for the week ending September 2, 2018. JCC's athlete of the week program is sponsored by Victory Promotions and Under Armour.
Alexa, a 2013 graduate of Poquoson High School, Poquoson, Virginia, is majoring in Mathematics and Science at Jefferson. Runyon's accomplishments on the court this past week include leading the charge for the Lady Cannoneers finishing 5-1. In 15 sets she compiled 18 blocks and 35 kills. She dominated the front line and helped Jefferson win their first conference victory versus Corning Community College in 3 easy sets on Sunday.
Visit the JCC athletics website to learn more.