SUNY Board of Trustees Appoints Daniel J. Dupee, II as Seventh President of Jefferson Community College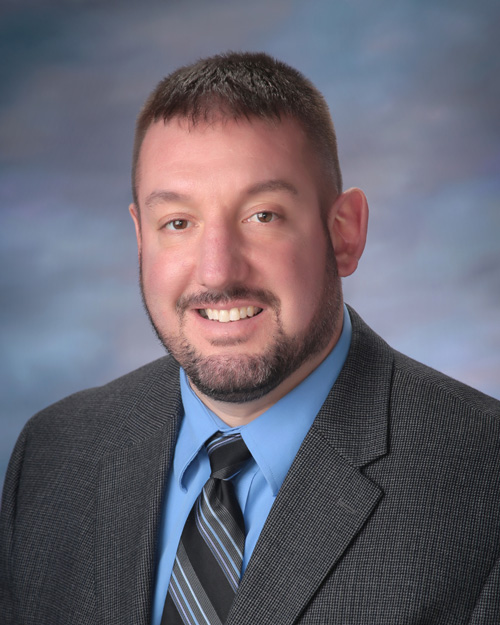 Albany, NY -- At its June 6, 2023 meeting, the State University of New York (SUNY) Board of Trustees appointed Dr. Daniel J. Dupee, II, as the seventh president of Jefferson Community College. Dr. Dupee was selected by the Jefferson Community College Board of Trustees in March and forwarded to the SUNY Board of Trustees for the final phase of the interview and appointment process. He has served as Jefferson's Administrator-in-Charge since June 2022 and, prior to that appointment, he was the College's Executive Vice President of Administration, Finance and Enrollment Services. Dr. Dupee's tenure as College President begins June 7, 2023.
Dr. Dupee brings a breadth of professional experience in the higher education, p-12 education and for-profit sectors. He has spent the last 16 years of his career in progressive leadership roles at Jefferson Community College. Prior to joining Jefferson, Dr. Dupee worked in the private sector for National Grid and the Carrier Corporation in the accounting and finance areas, and also for the Mexico Academy & Central School as executive director of management services. Additionally, he has classroom experience gained as an adjunct instructor for SUNY Potsdam, LeMoyne College, Columbia College and Jefferson Community College. Strategic partnerships with community organizations and other educational institutions are at the core of Dr. Dupee's management approach. He places great emphasis on serving students well, most notably in streamlining processes to remove barriers and improve access to education.
"Dr. Dupee established himself as a campus leader soon after joining Jefferson in 2007," said Jefferson Board of Trustees chair and search committee co-chair Judith L. Gentner. "He brings not only great strength in fiscal management, but also experience in nearly all facets of the institution from enrollment services to student support services and academic programming, to infrastructure and facilities management. That breadth of professional expertise, in combination with his strategic planning abilities, community partnerships and deep belief in the mission of community colleges, makes Dr. Dupee an excellent selection as College president."
"I am honored and humbled to be selected as President of Jefferson Community College," said Dr. Dupee. "As a community college graduate myself, I truly understand the mission of community colleges and how they transform lives through education and drive economic development in the community. It is a privilege to work alongside our dedicated faculty, staff and administration each and every day to carry out Jefferson's mission to educate, inspire and empower our students and the community. Jefferson is often referred to as the 'jewel of the North Country' and I look forward to continuing and strengthening that legacy."
"As SUNY moves forward with the four pillars of our vision—student success; research and scholarship; diversity, equity, and inclusion; and economic development and upward mobility for our students—our campus leadership is crucial to fulfilling our promise to transform SUNY into the best public higher education system for our students, faculty, and staff," said SUNY Chancellor John B. King, Jr. "My congratulations to Jefferson Community College."
The Jefferson Board of Trustees began the search for Jefferson's seventh president in September 2022, following the resignation in June 2022 of Dr. Ty Stone who served as president since July 2017. The Trustees hired search consultant R.H. Perry & Associates to assist in the 7-month search process that culminated in four finalists visiting the Jefferson campus during the weeks of March 13 and March 20.
"The search process attracted an excellent and diverse pool of more than forty candidates from across the country," said Trustee and search committee co-chair Nathan P. Hunter. "The search committee did an outstanding job in narrowing the pool to eight semifinalists and then to four finalists who were forwarded to the Board of Trustees and invited to visit campus."
Dr. Dupee holds a doctorate in higher education administration from Northeastern University, a certificate of advanced study in educational leadership from LeMoyne College, master's and bachelor's degrees in business administration from Columbia College, and an associate's in humanities and social sciences from Onondaga Community College. In addition, he completed the League for Innovation Executive Leadership Institute in 2019, the SUNY Executive Leadership program in 2013, and the Jefferson Leadership Institute in 2012. A North Country native, Dr. Dupee is also a graduate of Watertown (NY) High School. Dr. Dupee was named one of Northern New York's 20 under 40 Emerging Leaders in 2011 by NNY Business magazine.
Dr. Dupee first joined Jefferson in 2007 as the College's comptroller. In addition to overseeing financial operations, Dr. Dupee led the implementation of the student accounts receivable and payroll modules in the College's enterprise resources planning (ERP) system resulting in tremendous workflow efficiencies. In 2010 he was promoted to Vice President for Administration and Finance. In this role, Dr. Dupee served as chief financial officer and College Treasurer, with primary oversight of the College's $25 million operating budget. Additionally, he supervised the purchasing, institutional technology, facilities, and human resources departments and added enrollment services in 2018. In 2021, Dr. Dupee was promoted to Executive Vice President (EVP) of Administration, Finance and Enrollment Services. At various times during his sixteen year tenure at Jefferson, Dr. Dupee has supervised institutional research, campus safety and security, student affairs, auxiliary services, marketing, and athletics, playing a pivotal role in the addition of a turf field to campus. In addition, he served as interim executive director of the JCC Foundation for a 9-month transitional period, served as the College's Affirmative Action Officer for nine years, and was appointed the College's first Chief Diversity Officer (CDO). As CDO from 2016-2022, Dr. Dupee was instrumental in developing the College's first Diversity Plan and infusing diversity, equity and inclusion (DEI) programming across student events and co-curricular activities.
During his tenure, Dr. Dupee's range of accomplishments is diverse. He managed a $14 million project to renovate the Gregor Building and construct the new Collaborative Learning Center, identified and secured funding for an energy performance contract which decreased utility expenses, oversaw the development of the Strategic Enrollment Plan, collaborated with BOCES to identify and implement a "no-cost approach" to JCC's concurrent enrollment program with area high schools, was part of six successful collective bargaining negotiations, worked with the College's sponsor to secure $7 million in capital funding, facilitated long-range department-level plans to support the College's five year strategic plan, and secured $25 million in tax-exempt bond financing for construction of the residence hall and then established initial operations for East Hall. In the midst of the pandemic, Dr. Dupee coordinated with community partners and managed all logistics related to hosting COVID vaccine clinics on campus. On a temporary and concurrent basis, he assisted Finger Lakes Community College as interim vice president for administration and finance as Finger Lakes transitioned to new leadership. Most recently, Dr. Dupee was one of four SUNY presidents selected to work on community college enrollment initiatives with the SUNY Deputy to the Chancellor for Enrollment. With local workforce needs at the forefront, he has spearheaded a partnership with three community colleges to bring a surgical technology program to campus for the fall 2023 semester and is finalizing plans with Monroe Community College to bring a dental hygiene program to the North Country in 2024.
Dr. Dupee is a member of the NYS Community College Business Officers Association (CCBOA) and served as the organization's president for three years. He currently serves on the Faculty Student Association (FSA) Board of Directors and served three years as president, the Jefferson Faculty Student Association Auxiliary Board of Managers, and Center for Community Studies Advisory Board. He previously served for twelve years on the JCC Foundation Board of Directors, SUNY Joint Committee on Recharge Model for Core University Services and SUNY's Student Information and Campus Administrative System Center Executive Committee.
Locally, Dr. Dupee supports numerous community organizations and currently serves on the board of directors for the North Country Family Health Center. He previously served nine years on the General Brown Central School District Board including five years as vice president, and five years on the Jefferson County Historical Society Board of Directors with four years as treasurer.
Dr. Dupee and his wife, Krista, who is a special education teacher at Dexter Elementary, have two daughters. Emma attends Jefferson Community College and Lily is graduating high school later this month. The Dupee family resides in Dexter.
Related Articles
Jack B. Natali Named Athlete of the Week

Sophomore runner, Jack B. Natali, of the Jefferson Community College (JCC) men's cross-country team was named JCC athlete of the week for the week ending September 24, 2023. JCC's athlete of the week program is sponsored by Victory Promotions.