Retired U.S. Army Staff Sergeant Travis Mills to Present Never Quit, Never Give Up on September 2
Published: August 20, 2021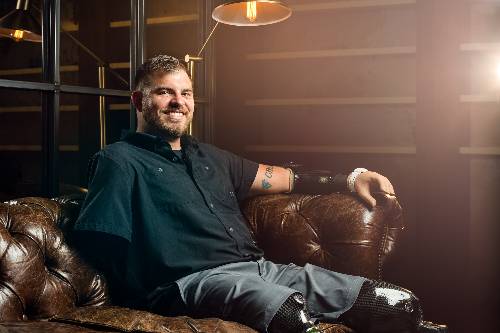 Jefferson Community College (JCC) will host "Never Quit, Never Give Up" by retired U.S. Army Staff Sergeant Travis Mills on Thursday, September 2, 2021 at 7:00 p.m. in Sturtz Theater. Admission is free. Advanced ticket reservations are required and reservations may be made online.
Described as a recalibrated warrior, motivational speaker and actor, Mills remains on the road to recovery after being critically injured during his third tour of duty in Afghanistan with the 82nd Airborne. He lost portions of both arms and legs from an IED (improvised explosive device, a bomb). Astonishing his family and friends with his progress to recovery and dedicated to living life by his motto - never quit, never give up - Mills uses his sense of humor and unwavering zest for life to connect with audiences as he shares his message about overcoming life's challenges and adversity. Mills' story has been featured on national news including Fox News' Happening Now with Jenna Lee, The O'Reilly Factor with Bill O'Reilly, CNN with Barbara Starr, and The Ellen DeGeneres Show. Additionally, he is the author of New York Times bestselling memoir titled Tough As They Come. Immediately following Mills' presentation at JCC, attendees will have the opportunity to purchase his memoir and get his autograph.
Mills and his wife Kelsey founded the Travis Mills Foundation, a nonprofit organization that provides an all-expense, all-exclusive paid trip to Maine for post 9/11 injured veterans and their family members for a time to rest and build camaraderie with other veteran families. Furthermore, Mills formed the Travis Mills Group LLC whereby he consults with, and speaks to, companies and organizations nationwide inspiring all to overcome life's challenges and adversity.
Reserve your tickets today. For more information, call 315-786-2431.
Veterans, active duty military and military family members make up 40% of enrollment at Jefferson Community College. See how you can support veteran programming at JCC by visiting www.sunyjefferson.edu/giving2veterans or calling the JCC Foundation at (315) 786-2458.
Sponsored by JCC Student Activities and Inclusion.