The Inauguration of Dr. Daniel J. Dupee, II
President Dupee's Inauguration Ceremony, scheduled for October 20, has been postponed due to an emergency in the City of Watertown, which experienced a significant water main break on Thursday October 19 affecting all residents, our campus, Watertown schools, hospitals, and some surrounding communities. It is uncertain at this time when the repairs can be made and the water supply replenished. While we are hopeful for a quick resolution for everyone impacted, we have made the difficult decision to postpone the ceremony out of courtesy to our guests and participants traveling from both near and far. We will publish the new date for the Inauguration Ceremony once it is confirmed.
Check back for updated inauguration details.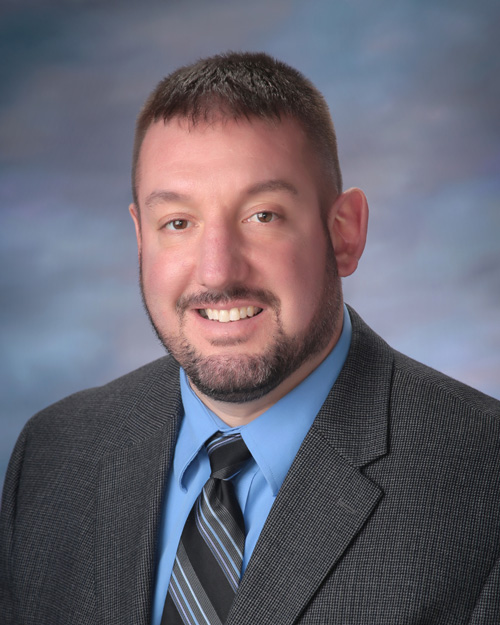 President
Dr. Daniel J. Dupee II


At its June 6, 2023 meeting, the State University of New York (SUNY) Board of Trustees appointed Dr. Daniel J. Dupee, II, as the seventh president of Jefferson Community College. He has served as Jefferson's Administrator-in-Charge since June 2022 and, prior to that appointment, he was the College's Executive Vice President of Administration, Finance and Enrollment Services. Dr. Dupee's tenure as College President began June 7, 2023. He holds a doctorate in higher education administration from Northeastern University, a certificate of advanced study in educational leadership from LeMoyne College, master's and bachelor's degrees in business administration from Columbia College, and an associate's in humanities and social sciences from Onondaga Community College. In addition, he completed the League for Innovation Executive Leadership Institute in 2019, the SUNY Executive Leadership program in 2013, and the Jefferson Leadership Institute in 2012.
Dr. Dupee brings a breadth of professional experience in the higher education, p-12 education and for-profit sectors. He has spent the last 16 years of his career in progressive leadership roles at Jefferson Community College. Prior to joining Jefferson, Dr. Dupee worked in the private sector for National Grid and the Carrier Corporation and also for the Mexico Academy & Central School as executive director of management services. Additionally, he has periodically taught as an adjunct instructor for SUNY Potsdam, LeMoyne College, Columbia College and Jefferson Community College. Strategic partnerships with community organizations and other educational institutions are at the core of Dr. Dupee's management approach. He places great emphasis on serving students well, most notably in streamlining processes to remove barriers and improve access to education.
Dr. Dupee is a member of the NYS Community College Business Officers Association (CCBOA) and served as the organization's president for three years. He currently serves on the Faculty Student Association (FSA) Board of Directors, the Jefferson Faculty Student Association Auxiliary Board of Managers, and Center for Community Studies Advisory Board. He previously served on the JCC Foundation Board of Directors, SUNY Joint Committee on Recharge Model for Core University Services and SUNY's Student Information and Campus Administrative System Center Executive Committee. Most recently, Dr. Dupee was one of four SUNY presidents selected to work on community college enrollment initiatives with the SUNY Deputy to the Chancellor for Enrollment.
Locally, Dr. Dupee supports numerous community organizations and currently serves on the board of directors for the North Country Family Health Center. He previously served on the General Brown Central School District Board including five years as vice president, and on the Jefferson County Historical Society Board of Directors with four years as treasurer. A North Country native, Dr. Dupee is also a graduate of Watertown (NY) High School. Dr. Dupee was named one of Northern New York's 20 under 40 Emerging Leaders in 2011 by NNY Business magazine.
Read more on Dr. Dupee's appointment.