Alexis Cruz and Colton R. Walker Named Co-Athletes of the Week
Published: October 06, 2021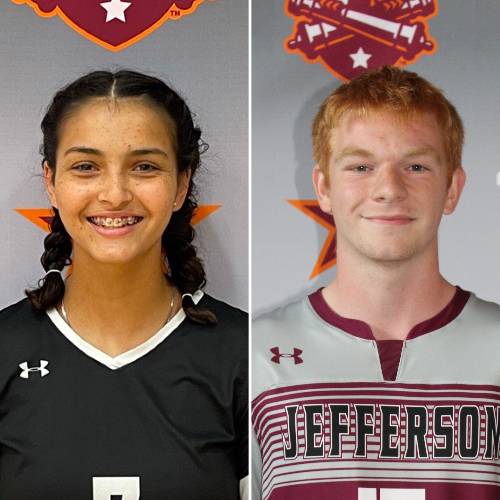 Freshman outside hitter, Alexis Cruz of the Jefferson Community College (JCC) volleyball team, and freshman midfielder, Colton R. Walker, of the Jefferson men's soccer team, were named JCC co-athletes of the week for the week ending October 3, 2021. JCC's athlete of the week program is sponsored by Under Armour and Victory Promotions.
Alexis, a 2020 graduate of Indian River High School, is majoring in Physical Education at Jefferson. Cruz had a dominating outside hitter and leadership performance this week by providing a career high 12 kills and 3 service aces in one match versus Cayuga Community College and leads the team with 21 service aces overall. She helped lead the Lady Cannoneers this week to two victories by compiling 18 kills and 6 aces. She led the team with 24 points in two matches and a serving percentage over 90%. Alexis is a big threat pin hitter and server. As a team captain, her teammates feed off of her leadership to secure wins in tough competitions. Her dedication to the sport and hard work is evident both on and off the court.
Colton, a 2021 graduate of Watertown High School, is majoring in Natural Sciences at Jefferson. Colton's accomplishments on the pitch this past week include scoring a goal and having an assist in the Cannoneers first win of the season against North Country Community College. Walker has been a stalwart for Jefferson this fall. A versatile athlete with good sportsmanship, Colton plays numerous positions on the field putting his team first and continues to improve his game.
Learn more about Jefferson Community College athletics.