Hailey M. Cunningham & Tanner R. Jones Named Co-Athletes of the Week
Published: October 20, 2021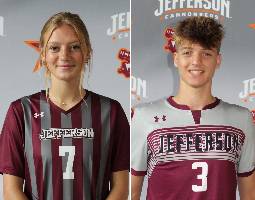 Freshman midfielder, Hailey M. Cunningham, of the Jefferson Community College (JCC) women's soccer team and freshman forward, Tanner R. Jones, of the Jefferson men's soccer team were named JCC co-athletes of the week for the week ending October 17, 2021. JCC's athlete of the week program is sponsored by Under Armour and Victory Promotions.
Hailey, a 2021 graduate of Hammond Central School, is majoring in Natural Sciences at Jefferson. Cunningham's accomplishments on the pitch this past week include having a stand out performance that led to the Lady Cannoneers defeating Jamestown Community College 5-1. Hailey scored 4 of the 5 goals. Her game could be described as nothing other than relentless after scoring 4 goals and having an assist. She now leads the Lady Cannoneers in scoring and in assists.
Tanner, a 2021 graduate of G. Ray Bodley High School, is majoring in Engineering Science at Jefferson. Jones' accomplishments on the pitch this past week include scoring 2 goals in a 3-2 win over Hudson Valley Community College and continually putting pressure on the Vikings defense to find and defend him. He has continued to improve and adjust his game to the style of play he faces at the junior college level. Tanner led the Cannoneers this season with 5 goals. His continued improvement has made him a threat offensively the last few weeks of the season and should make him an even bigger threat next season!
Learn more about Jefferson Community College athletics.