JCC Partners with Renzi Foodservice to Fill Need in North Country Workforce
Published: November 05, 2020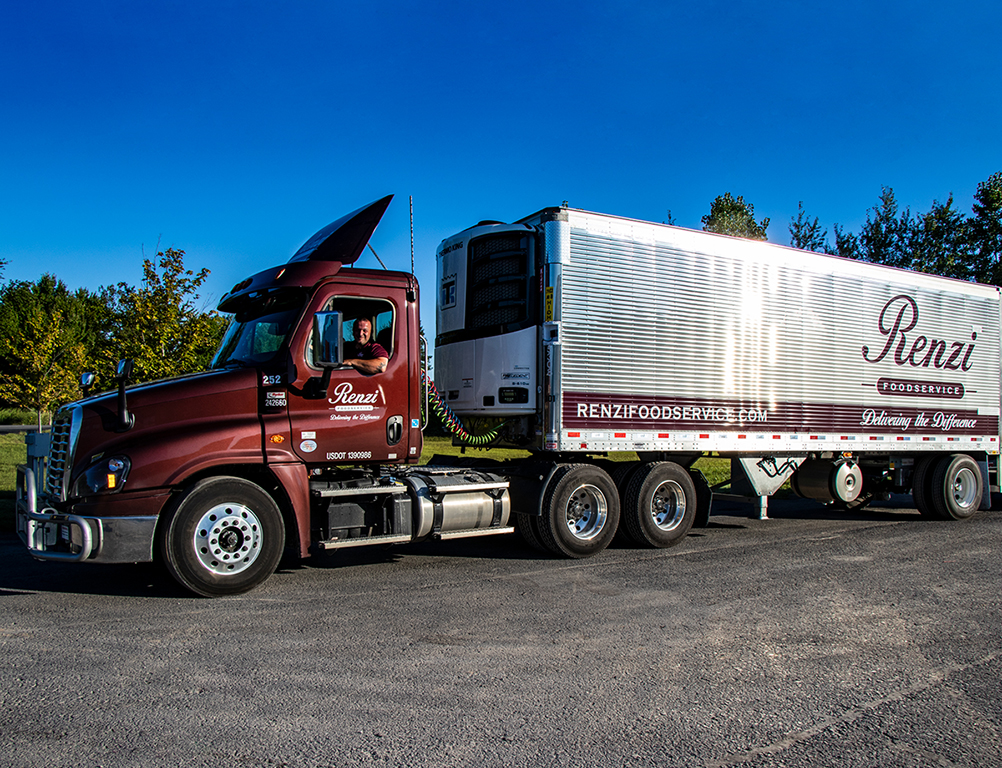 Jefferson Community College (JCC) is offering apprenticeship training to local employers. The College and Renzi Foodservice have partnered to provide hands-on job training to 11 newly hired employees at Renzi Foodservice. This innovative program allows employees to build their skills while gaining experience and earning a wage.
Renzi Foodservice launched the apprenticeship program in October 2020 to develop and retain skilled local employees. The partnership with Jefferson focuses on delivering professional skills training to CDL driver apprentices, and expands upon the company's existing New York State accredited CDL driver training program.
"Our mission is to not only prepare students with an education, but also to empower and inspire them to succeed in their chosen career," said Dr. Ty A. Stone, President. "It is especially gratifying for the College to assist a long-standing North Country business with closing the gap between the skills of today's workers and the in-demand skills required for today's business to remain nimble and sustainable."
"Our Renzi drivers play an important role in keeping the North Country moving by ensuring healthcare facilities, schools, locally owned restaurants and other organizations have the supplies they need to serve our community," said JoAnne Renzi Wise, Director of Marketing and Community Relations at Renzi Foodservice. "Jefferson has been crucial in helping us fulfill our mission of Delivering the Difference to our employees and providing rewarding career opportunities to the local talent base in our community."
Jefferson developed a tailored program for Renzi Foodservice apprentices pursuing the "truck driver, heavy" trade made possible by a grant through the State University of New York (SUNY) Apprenticeship Program operated in conjunction with the New York State Department of Labor. The course, taught by JCC business faculty online, spans 15-weeks. Course topics include soft skill development in areas of communication, basic navigation, health and wellness and personal finance; team building skills; first aid, and OSHA safety training.
JCC Assistant Professor of Business Irene S. Wilder says, "Working with Renzi Foodservice has been a great networking experience with Jefferson's School of Business. The students and I have had a great time conversing about the issues that are faced within the workplace outside of the job description. We hope these connections will benefit the College and Renzi now and in the future."
Jefferson strives to meet the demands of local employers and their workforce needs. The College meets with various stakeholders on a continuous basis to determine the needs it can fill through credit bearing (or degree-seeking) and non-credit classes and workshops. To learn more about how Jefferson can help fill a need in your business, call the Workforce Development Division at (315) 786-2233 or email ced@sunyjefferson.edu.
SUNY, in partnership with the New York State Department of Labor, and the United States Department of Labor, coordinate activities to expand Registered Apprenticeships (RA) in NY with a focus on engaging employers to secure paid RA in high-skilled, high demand and competitive wage occupations.
The SUNY Apprenticeship Program is funded through appropriations in the New York State budget beginning in the 2016/17 Fiscal Year.
Related Articles
Jaylin L. Maysonet Named Athlete of the Week

Freshman Forward, Jaylin L. Maysonet, of the Jefferson Community College (JCC) men's basketball team was named JCC athlete of the week for the week ending November 26, 2023. JCC's athlete of the week program is sponsored by Victory Promotions.