Artwork of JCC Veteran Students on Display at New U.S. Embassy in London Thru March 2022
Published: September 13, 2021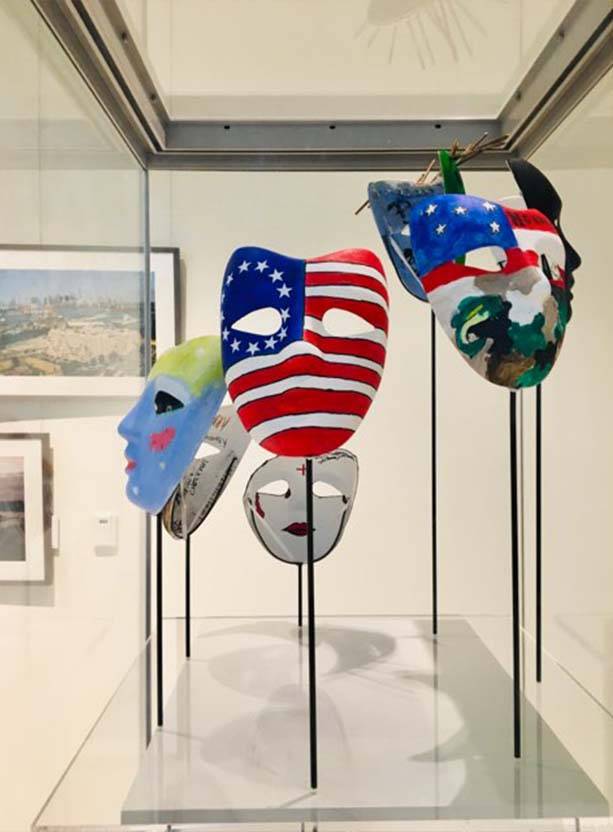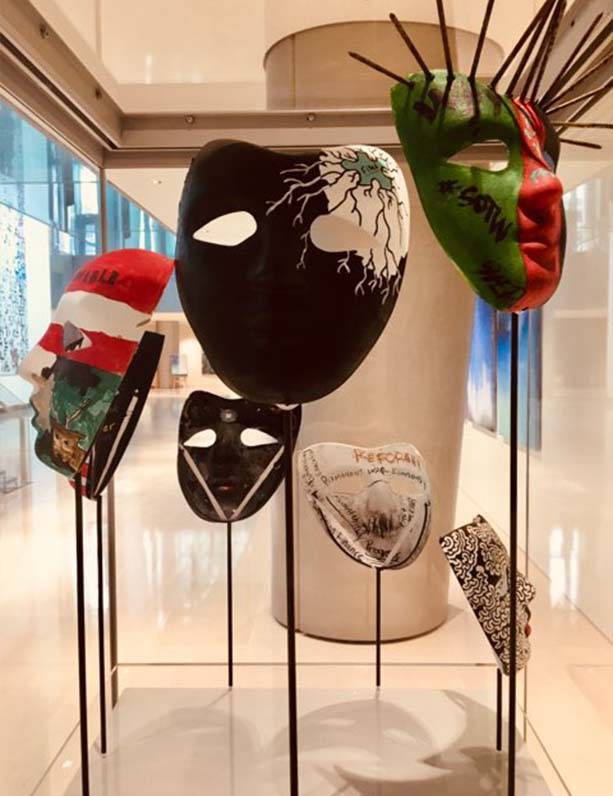 Photos courtesy of the Office of Cultural Heritage, U.S. Department of State
The artwork of seven Jefferson Community College (JCC) veteran students, selected by the U.S. Department of State, is included in the exhibit And Yet We Rise: 20 Years Remembrance and Reflection of September 11th (click begin, refer to the last page) at the new U.S. Embassy in London. The exhibit will run through March 7, 2022. Inside/Outside Masks were created by veteran students in the College's Dialogues of Honor and Sacrifice: Soldiers' Experiences in the Civil War and the Vietnam War (Dialogues On War) course made possible by a National Endowment for the Humanities grant received by the College in 2018.
Lucinda D. Barbour, Professor of Art at JCC, says "The Inside/Outside Mask project is more about the process than the final product. It is designed to encourage experiential learning, personal growth, and self-expression." As veteran students explored their life-changing military experiences in Professor Barbour's art class, Kim A. Kernehan, Creative Arts Therapist and JCC alumnus, was present to offer emotional support. Kernehan says, "We all wear different hats, we all wear masks. Discovering healthy boundaries and learning about the masks we wear and the emotions and issues behind them are potential outcomes of the project."
Dr. Ronald R. Palmer, professor of history at JCC, initiated the development of Dialogues On War to help veterans gain a deeper understanding of their time spent in the military and combat experience through the lens of the humanities. "Being asked to share our students' work in this 9/11 remembrance exhibit is truly an honor," says Dr. Palmer. "For the students who fought in Iraq and Afghanistan, 9/11 was a call to duty. They now have a chance through their masks to engage in dialogues on war and its aftermath. It is also a tremendous honor for JCC, demonstrating the power of collaboration and innovation in serving our students, and our special relationship with the 10th Mountain Division."
Dialogues On War gained national exposure and recognition by the U.S. Department of State when an article written by Norah Machia titled "Warrior Lit" was printed in Humanities (winter 2019 issue), the magazine of the National Endowment for the Humanities.
JCC veteran students whose artwork was selected by the U.S. Department of State for inclusion in the And Yet We Rise: 20 Years Remembrance and Reflection of September 11th exhibit are:
Florian K. Barrie of LaFargeville
Danny R. Bearley of Carthage
Jeremy M. Bombardier of Watertown
Stephanie G. Eriacho of LaFargeville
Darren P. Lemorta of Great Bend
Hawthorne E. Potts of Carthage
Christopher James (CJ) Villanueva of Sublette, Kansas
In addition to the artwork of JCC veteran students, the 9/11 remembrance exhibit showcases:
The United States flag hung at the exit terminal of Flight 93 at Newark International Airport, New Jersey, on September 12, 2001
Grief and reflection objects left on the U.S. Embassy steps in London
The 22.4 foot high by 25.4 foot wide Flag of Remembrance showcasing the faces and names of 9/11 victims and photographs of uniformed first responders and civilians
A photo of the United States flag painted on the side of a barn in Clinton Corners, NY, on September 12, 2001 by neighborhood farmers and photographed by Mary Hilliard
President Ty. A Stone says, "Jefferson's Dialogues On War course has made a significant impact and lasting impression on both our students and our faculty. Now the world gets to see and appreciate a visual representation of the personal sacrifice made by our military, through their service to our country. This exhibit is such a meaningful honor for our students and it is humbling for Jefferson Community College to be a part of the experience."
Dr. Palmer, President Stone, then JCC Veterans Coordinator Craig McNamara and JCC veteran student Stephanie Eriacho traveled to Capitol Hill, Washington D.C., by invitation to share insight on the Dialogues On War course. The briefing was co-sponsored by U.S. representatives Elise Stefanik, Chellie Pingree, David Price and Steve Stivers. Eriacho returned to Capitol Hill to attend a congressional hearing to give testimony of her experience with Dialogues On War.
The Dialogues On War fall 2021 cohort has begun at JCC. Thirty-seven percent (37%) of Jefferson Community College's enrollment encompasses veterans, active duty military and their family members. The College offers a variety of programming for veterans, students and community members at large that include beneficial dialogue that promotes diversity, equity, inclusion, mental health, overcoming challenges and more.
Upcoming events listed below are free admission and open to the public. Advance ticket reservations are required. Learn more and reserve tickets online. For more information, call the Student Activities and Inclusion Office at 315-786-2431.
Visit www.sunyjefferson.edu/giving2veterans or call the JCC Foundation at (315) 786-2458 to learn how you can support veteran programming at Jefferson Community College.
Upcoming Events
The Resilient is an American rock band comprised primarily of disabled veterans who met at Walter Reed Military Hospital. With the support of rock and roll legend, Roger Waters of Pink Floyd, the group formed The Resilient to create music that reflects both the hardship and inspiration that they experienced in their military and civilian careers. Learn more about The Resilient online at https://theresilient.bandzoogle.com/home. Made possible by a National Endowment for the Humanities grant with support from Disabled Persons Action Organization.
Friday, September 17 - Conversations with The Resilient
7:30 PM in Sturtz Theater
Free General Admission Tickets: https://bit.ly/resilientevents
Saturday, September 18 - The Resilient Concert
7:30 PM in the McVean Gymnasium
Free General Admission Tickets: https://bit.ly/resilientevents