Damon Draught & Cindy Intschert Appointed to the JCC Board of Trustees
Published: January 25, 2021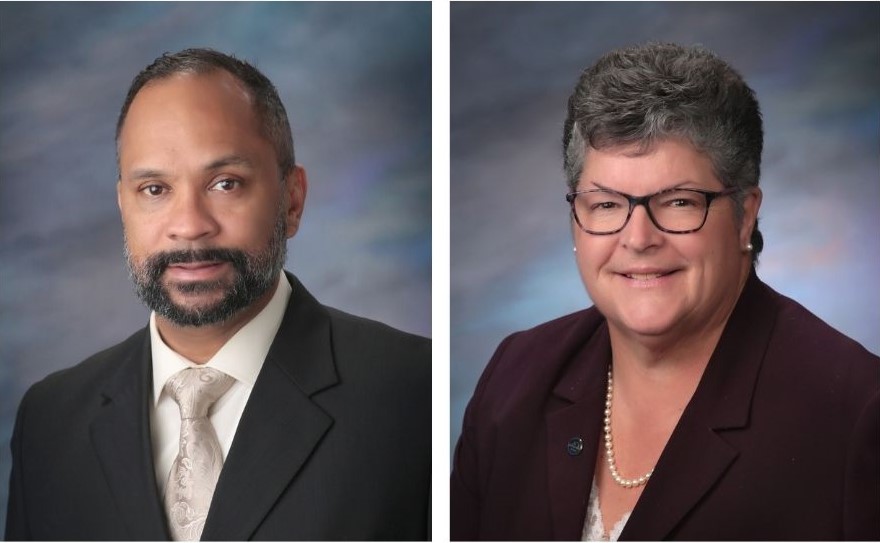 Jefferson County Board of Legislators has appointed Damon Draught, Watertown, and Cindy F. Intschert, Sackets Harbor, to the Jefferson Community College (JCC) Board of Trustees, effective December 3, 2020. Draught's appointment fills the unexpired term of Lisa A. Weber through June 30, 2021. Intschert's appointment fills the unexpired term of Eugene R. Renzi through June 30, 2026.
Draught, originally of Warren, Ohio, is retired from the United States Army after honorably serving 20 years as a Human Resources Noncommissioned Officer, earning the rank of Master Sergeant. He was last assigned to Fort Drum's 10th Mountain Division Light Infantry 3rd Bridge Combat Team. Draught served on three deployments, one to Bosnia and two to Afghanistan. In 2011, he received the Army Larry Strickland Educational Leadership Award for his dedicated service.
Founder, Chairman and Chief Operation officer of investment company DNJ Management LLC and Enduring Group LLC, Draught is a franchise-owner of the American Dairy Queen Corporation "Dairy Queen Grill & Chill" with franchises in New York (Watertown and Evans Mills) and Rhode Island. He volunteers his time and uses his successful business acumen to assist transitioning Fort Drum soldiers. He holds a bachelor's degree in business administration and a master's degree in financial management, both from the University of Maryland University College.
Intschert is retired Jefferson County District Attorney. With three decades of dedicated service in extensive appellate practice, she sought justice for victims of felony crimes including homicide, robbery, burglary, drug, arson, sexual assault, child abuse, and impaired driving. Additionally, she was responsible for overseeing nine assistant district attorneys. Continuing her work in retirement, Intschert presently serves as current assistant district attorney/law clerk with the Lewis County District Attorney's office and proffers consultant services to Criminal Asset Forfeiture Reporting and Distribution. Intschert has received several accolades including, but not limited to, the 2015 New York Prosecutors Training Institute Executive Prosecutor of the Year Award, the 2015 New York State Fire Investigators Association Prosecutor of the Year Award and the 2016 Upstate Women's Leadership Council Recognition Award.
Devoted to the betterment of others and the community, Intschert shares her knowledge and time with many organizations. She is a member of the Victims Assistance Center of Jefferson County Board of Directors, Youth Court of Jefferson County Advisory Board, Jefferson County Bar Association, New York State Bar Association, New York State District Attorneys Association, and American Association of University Women. She is a prior member of the Jefferson County Child Protective Services-Law Enforcement Agency Task Force, Jefferson County Domestic Violence Emergency Response Team Advisory Board, and Jefferson County Elder Abuse Task Force. She holds an associate degree in criminal justice from JCC, a bachelor's degree in criminal justice from SUNY Cortland at Utica/Rome, and a law degree from SUNY Buffalo.
Draught and Intschert's first board meeting is February 3, 2021.