JCC Black River Review Volume XXXI Available Online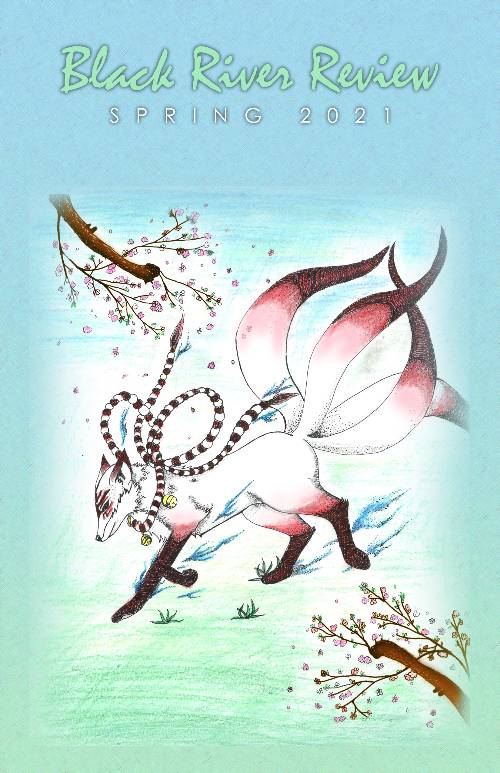 The Jefferson Community College (JCC) School of Arts and Humanities released Volume XXXI of the Black River Review (BRR), a journal of poetry, musical arrangements, prose and fine arts, on April 28, 2021 during a virtual reading and presentation. Students were recognized for their outstanding contributions in art, writing, and music. The Black River Review cover art (on right), an ink drawing titled Spirit of the Fox, is the work of JCC student Salin N. Davis of LaFargeville. The BRR is published online.
Recipients of the Outstanding Art Contribution Award are Davis, for her ink drawing cover art, collage titled Metamorphosis and painting titled Guardians of Balance; and Elizabeth A. Mallette, Lowville, for her collage titled A New Perspective, ink drawing titled Mando and ink drawing titled New Chapter Blooming.
Recipient of the Outstanding Music Contribution Award is Vatressa S. Teamoh, Watertown, for her composition titled Kringle.
Recipients of the Outstanding Creative Writing Contribution Award are Bruce E. Hakes, Jr., Lockport, for their poems titled Watertown and On this night; and Zoe R. Turtura, Adams, for poems titled Sugar and Apollo.
The editors of the Black River Review receive submissions from Jefferson students, alumni, faculty and staff.
The Black River Review is sponsored by the JCC School of Arts and Humanities and Faculty Student Association.
Related Articles
JCC & Syracuse University Partner to Study COVID Vaccine Hesitancy in Northern New York

According to recent data from the Center for Community Studies (CCS), about one quarter of North Country adults are hesitant to receive the COVID-19 vaccine. Partnering with the Public Health Department in the Falk School of Sport and the Human Dynamic at Syracuse University, the CCS set out to better understand knowledge, attitudes, and perceptions regarding the pandemic and vaccine hesitancy.