JCC Faculty and Staff Receive 2023 SUNY Chancellor's Awards for Excellence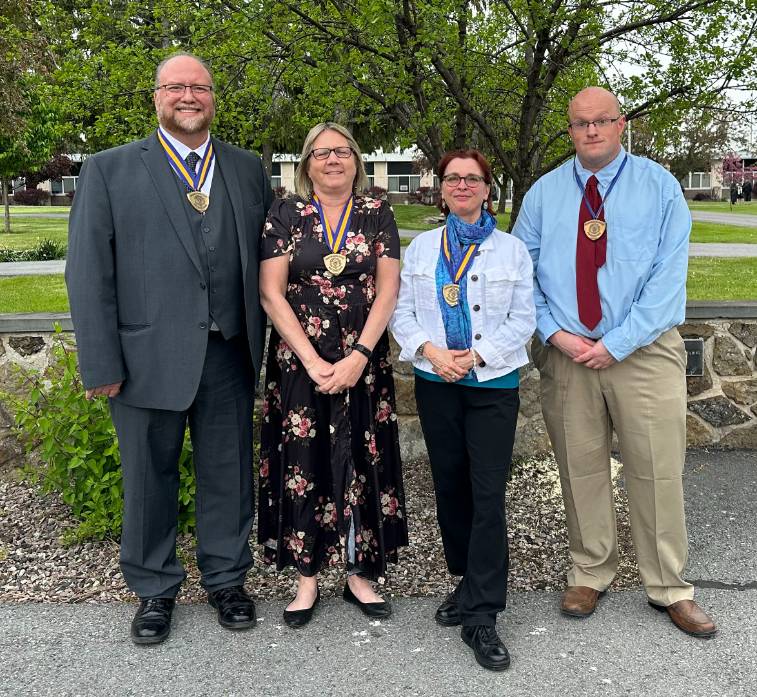 Jefferson Community College (JCC) is pleased to announce that four members of the College's faculty and staff were honored as recipients of the 2023 State University of New York (SUNY) Chancellor's Awards for Excellence. The Chancellor's Awards recognize extraordinary achievement and encourage the continuation of excellence. Lucinda D. Barbour, Adams Center, Professor of Art, received the Chancellor's Award for Excellence in Teaching; Lawrence M. Danforth, Corning, Assistant Professor of Mathematics, received the Chancellor's Award for Excellence in Faculty Service; Steven J. Kellogg, Dexter, Adjunct Instructor of History, received the Chancellor's Award for Excellence in Adjunct Teaching; and Deanna L. Lothrop, Chaumont, C-STEP Coordinator, received the Chancellor's Award for Excellence in Professional Service. Chancellor's Award honorees were bestowed their medallions by JCC Administrator-in-Charge Daniel J. Dupee, II, at the College's Recognition Celebration held on May 5, 2023.
Barbour joined Jefferson faculty more than 25 years ago and during her tenure, she has served as Jefferson's only full-time art instructor, teaching seven different classes, developing new curriculum, and advising students. Barbour trained at the prestigious Savannah College of Art and Design and completed a sketchbook course in Italy to gain a deeper understanding of Italian architecture, master works, and landscapes. She engages students, many of whom are not pursuing a formal art degree, and fosters a genuine appreciation for art and art history. Recently, Barbour developed an art module specifically for a veteran-only class that guided students with creating inside/out masks that depicted how students see themselves on the inside as compared to how they think people see them from the outside. She is the founder and current advisor to the art club, serves as art editor of the College's literary journal, Black River Review, and chaired the Italian Arts Scholarship selection committee. As the previous director of the College's Art Gallery, she created an ever-changing showcase of student art in various mediums. She earned the Thomas Myers Award for Co-Curricular Service in 2012 and JCC Club Advisor of the Year in 2015. Barbour holds a bachelor's degree from Columbus College of Art and Design and a master's degree from Northern Arizona University.
Danforth joined the math department faculty at Jefferson in 2008 and was promoted to assistant professor in 2012. He teaches all levels of math from developmental algebra through Calculus 3 and is highly regarded as an interdisciplinary instructor who teaches general physics and computer science classes as well. He chaired the math and engineering department for four years, chaired the Campus Life Committee and served on the Middle States Steering Committee. He is in his fourth year of chairing the Academic Standards Committee and is a lead faculty member in assessment and curriculum development. Danforth is past president of the New York State Mathematics Association of Two-Year Colleges (NYSMATYC) and is a regular presenter at NYSMATYC conferences. Furthermore, he is instrumental in the work of the Center for Community Studies serving as the Center's research coordinator. Danforth has presented the Center's results locally and nationally at The American Association for Public Opinion Research conferences. In a partnership that combines his expertise in statistical analysis with his love of athletics, Danforth also serves as a sports information director for the National Junior College Athletic Association. Danforth holds an associate degree from Corning Community College and bachelor's and master's degrees from Rochester Institute of Technology.
Kellogg began teaching history, geography, world civilizations, and political science classes at Jefferson on a part-time basis in 1992 and has taught for the better part of 25 years. Committed to his students' success, Kellogg can be counted on to teach when and wherever needed. He is adept at providing an excellent learning experience for students whether in person or via distance learning. Kellogg also works directly with Jefferson's active-duty military students as an adjunct advisor at the Fort Drum office. Recently, he took on the additional role of evaluating Joint Service Transcripts for our active-duty and veteran students. Kellogg holds an associate degree from JCC, a bachelor's degree from SUNY Potsdam and a master's degree from SUNY Oswego.
Lothrop has served as the College's Collegiate Science Technology Engineering Program (C-STEP) coordinator since 2016 and has been a full-time staff member since 2012. A staunch advocate for student success, the programming Lothrop developed for C-STEP students is dynamic and includes career exploration symposiums, job shadowing, internships, and leadership development. She serves on the Campus Life Committee, Commencement Speaker Audition Committee, Diversity Task Force, and served on the Strategic Planning Committee, just to name a few. She is a frequent volunteer with the College's food pantry and a leader in the pantry's annual Thanksgiving Basket distribution to students. Additionally, Lothrop is also an adjunct instructor for SUNY Potsdam's early childhood program. Lothrop was selected to co-chair the Middle States Steering Committee. She holds an associate degree from Mohawk Valley Community College, a bachelor's degree from SUNY Empire State College, master's degree from SUNY Potsdam and a certificate of advanced studies from SUNY Oswego.
Each year, the State University of New York recognizes outstanding members of the faculty and staff across the entire 64-campus university system with prestigious Chancellor's Awards for Excellence. Over the years, a total of 123 Awards for Excellence have been bestowed upon members of the Jefferson Community College faculty and staff.