Groundbreaking for Turf Field Held On September 29
Published: September 29, 2022
A new era is set to begin for Jefferson Community College (JCC) athletics as JCC celebrated a groundbreaking ceremony for a state-of-the-art synthetic turf field on September 29, 2022. The new multi-sport surface will measure 136,800 square feet and accommodate soccer, baseball, softball and lacrosse programs.
The $4 million dollar facility replaces the JCC baseball field that runs adjacent to Interstate 81. Jefferson's multisport turf stadium boasts lighting by Musco Sports Lighting (with optional mobile phone app control), 20 foot by 25 foot Daktronics digital scoreboard with game statistics and replay capabilities and sound system by Toth Sports, four dugouts, two batting cages two bullpens, and designated areas for bleachers.
Comprised primarily of recyclable material, JCC's turf field incorporates a stormwater management system that prevents localized flooding and cleans water of potential contaminants before ultimately discharging into the Black River and eventually Lake Ontario, reducing Jefferson's environmental impact.
The College anticipates the completion of the turf field by the start of the 2023-2024 academic year, in time to welcome a new cohort of men/women's lacrosse athletes and rekindle the competitive spirit for intercollegiate play. By the 2023-2024 season, JCC will offer 14 athletic programs – soccer (men/women), basketball(men/women), cross country (men/women), lacrosse (men/women), golf (men/women), baseball, softball, volleyball, and esports.
Anticipation to build a turf field at Jefferson has been growing for many years. Jeffrey L. Wiley, Director of Athletics says, "When I arrived at Jefferson in 1992, the turf project was in the facilities master plan, but it included lines for only soccer and lacrosse and would have been too narrow for baseball and softball. We are excited to have a multi-use facility, so it's well worth the wait." With the installation of the turf field, Cannoneer athletics will enjoy a longer spring season.
"At some point in each season, we are scrambling for a field to play on because our field is too wet and dangerous," says Wiley. "This project will give us the highest quality field that we can use from the end of February right through December and reduce the number of postponements due to weather and field conditions. It also gives the Cannoneers a safe surface for play and practice time."
Dr. Daniel J. Dupee, III, JCC Administrator-In-Charge says, "The College is so excited to see this strategic goal of adding a turf field to our athletics complex come to fruition. We will be able to enhance the student experience by giving athletes a competitive edge, increase school spirit and provide more opportunities for sports-related activities. In the long term, we expect a positive impact on enrollment. State of the art athletic facilities will help recruit new students, while increasing opportunities for student engagement will support our current students."
The turf field is made possible thanks to the support of Jefferson County and the JCC Board of Trustees, the JCC Foundation, Faculty Student Association, College administration and the State University of New York (SUNY). Funding is provided by Jefferson County and New York State. The JCC Foundation and Faculty Student Association will ultimately fund the portion initially covered by the Jefferson County. Providing field renovation, construction and installation of the turf field are BCA Architects & Engineers, CME Associates, and construction contractors including Cunningham Excavation, Inc., Field Turf, Northern Pioneer Contractors, Inc., Musco Sports Lighting, LLC., and Toth Sports. Construction began the week of September 26, 2022.
About Jefferson Community College Athletics
Jefferson Community College's athletics program holds six National Junior College Athletic Association (NJCAA) Region III championships and one co-championship. Victors include the Jefferson volleyball teams of 2016 and 2019; women's basketball teams of 1992, 1998 and 1999; men's basketball team of 1997; and the women's soccer team of 2005 who were named NJCAA Region III co-champions. Additionally, JCC received the 2017-2018 NJCAA Region III Sportsmanship Award bestowed to a member institution who exhibits dedication to the honor and integrity of intercollegiate athletics and whose student-athletes and staff display outstanding sportsmanship during competition.
Turf Field Rendering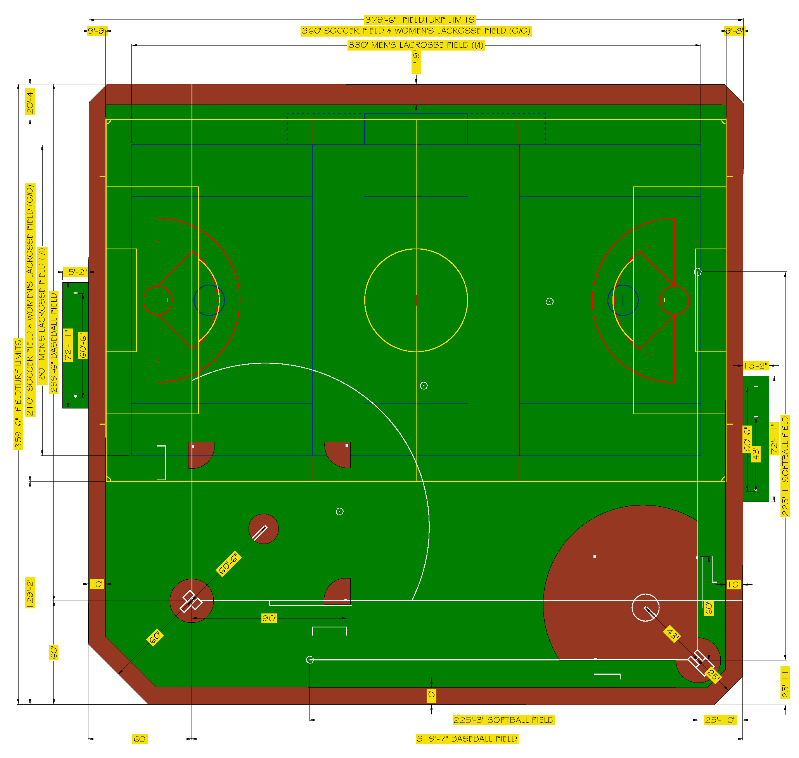 Related Articles
Kori M. Nichols Named Athlete of the Week

Freshman guard, Kori M. Nichols, of the Jefferson Community College (JCC) women's basketball team was named JCC athlete of the week for the week ending December 3, 2023. JCC's athlete of the week program is sponsored by Victory Promotions.