JCC Celebrated Fall Commencement on December 20, 2022
Published: December 21, 2022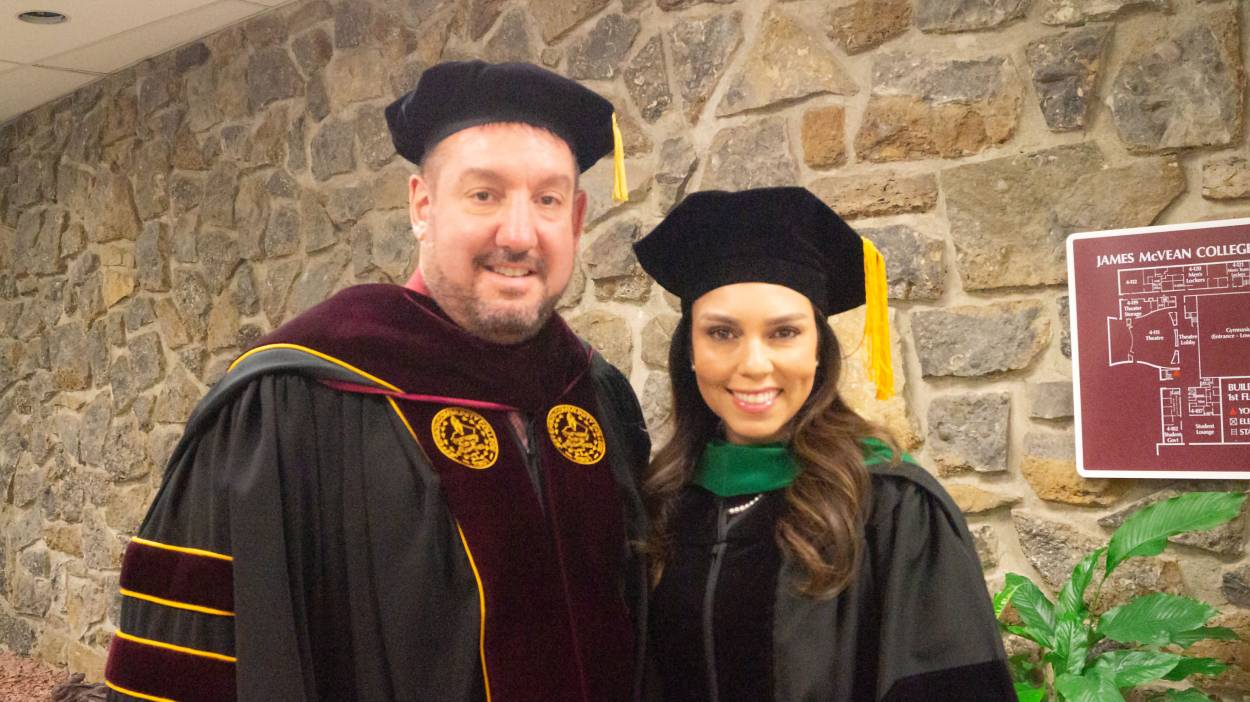 Jefferson Community College (JCC) held its Fall Commencement Ceremony for December candidates for graduation on Tuesday, December 20, 2022 at 6:00 p.m. in the Robert R. and Jean S. Sturtz Theater. The fall 2022 graduating class is comprised of 111 students who are candidates for graduation pending satisfactory completion of coursework. Three students are receiving two diplomas bringing the total number of degrees and certificates awarded to 114.
Maintaining a strong relationship with the 10th Mountain Division at Fort Drum, 44% of JCC's Fall 2022 graduating class are active duty military and military-affiliated students. Distinguished during the ceremony, Jefferson's active duty and veteran students, along with faculty and staff veterans, wore red, white and blue cords in recognition of their service to our country. Thirty-three (33) candidates for graduation participated in JCC's concurrent enrollment program, EDGE, in high school and started college with credits already on their transcript. Ten students are members of JCC's Tau Xi Chapter of Phi Theta Kappa Honor Society for two year colleges, and one student participated in JCC's Honor's Program. Seventeen (17) students graduated from high school in 2020 during the Covid-19 pandemic. Sixty (60) students are first-generation, meaning neither parent nor guardian hold a bachelor's degree. Roughly 52% of the graduating class are students ages 24 and under; roughly 48% of the graduating class are students ages 25 and older. The youngest graduate is age 18, and the most senior graduate is age 64. Fall graduates are from the following counties: Jefferson, Lewis, Oswego, St. Lawrence, Onondaga, Albany, Montgomery and Queens.
Two students, recognized for completing their Bachelor's degree in business administration from Jefferson Higher Education Center partner, SUNY Potsdam, took part in JCC's ceremony and were presented their diplomas from SUNY Potsdam.
Dr. Leilani M. Garcia, Hospitalist with Apogee Physicians at Samaritan Medical Center, delivered the keynote address. She began volunteering at hospitals, including Samaritan Medical Center's ambulatory surgery unit, at the age of 17. Dr. Garcia attended JCC from 2000-2002 where she had the opportunity to participate in a National Institute of Health 2+2 Biomedical Research Program at Clarkson University. She holds a bachelor's degree in biology (pre-med) from SUNY Albany and a Doctor of Medicine (M.D.) from The American University of Antigua College of Medicine. She was awarded a Doctors Across New York Grant, given to students who commit to serve underserved areas in New York State, which brought her back to the North Country and a new position at Carthage Area Hospital (CAH). During her CAH tenure, Dr. Garcia served first as an Internal Medicine Hospitalist, later as Hospitalist Director and, until its closing, as the Skilled Nursing Unit Director. Dr. Garcia proudly serves as a New York State Trooper Surgeon with the Police Benevolent Association. In addition to delivering the keynote address, Dr. Garcia was awarded her own Jefferson diploma during the fall commencement ceremony with a reverse transfer of credit from SUNY Albany.
Student Trustee Gianna M. Donahue, of Watertown, gave congratulatory remarks to the Class of 2022. She is an allied health major at Jefferson who was elected to serve as student trustee on the JCC Board of Trustees for the 2022-2023 academic year. Prior to her elected position as student trustee, she held office as secretary of the Student Government Association.
Commencement exercises were video-streamed through the College's website and the Fall Commencement video will be available on the College's YouTube channel by January 20, 2023.
Related Articles
Jack B. Natali Named Athlete of the Week

Sophomore runner, Jack B. Natali, of the Jefferson Community College (JCC) men's cross-country team was named JCC athlete of the week for the week ending September 24, 2023. JCC's athlete of the week program is sponsored by Victory Promotions.