JCC Student Named to PTK 2023 All-NY Academic Team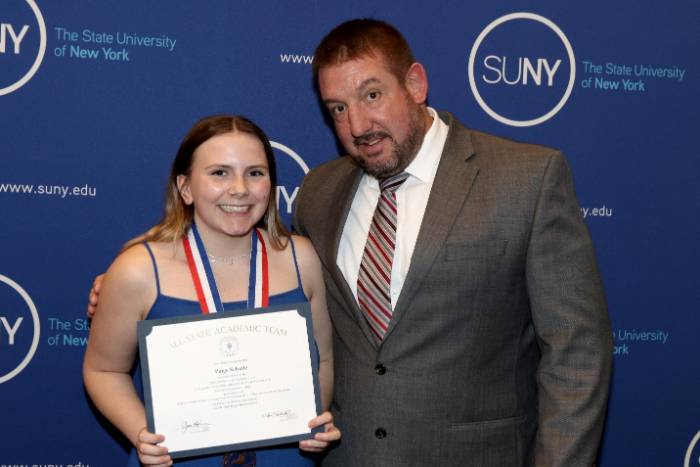 Jefferson Community College (JCC) is pleased to announce that Paige M. Schultz, Watertown, has been named to the All-New York Academic Team for Phi Theta Kappa (PTK), the international honor society for community colleges. To be chosen for the All-New York Academic Team, students must hold a minimum grade point average (GPA) of 3.25 and have a history of scholarly achievement. In addition to academic achievement, candidates are also evaluated on their leadership and community service involvement. Schultz will be recognized for her achievements at the College's 59th Commencement Ceremony on May 19, 2023.
Schultz is graduating with her associate in arts (A.A.) degree in humanities and social sciences, with a concentration in psychology. She has been named to the President's List or Dean's List every semester while at Jefferson, and participated in the optional Honors Program for which she is a two-time featured student of the month. She is the first in her family to attend college and is a participant in Jefferson's Educational Opportunity Program (EOP). In addition to her membership in the Tau Xi Chapter of Phi Theta Kappa Honor Society, Schultz is a member of the National Society for Leadership and Success. She has served as a peer tutor, EOP mentor, EOP Summer Institute ambassador, admissions ambassador and as a student member of the Academic Standards Committee. In addition, she assisted with the development of a new sociology course that has a focus on civic engagement. This year, Schultz received the Norman R. McConney Jr. Award for EOP Student Excellence and was recognized by faculty with the Outstanding Psychology Student and Outstanding Honors Program Student awards. In 2022, she received the Outstanding Educational Opportunity Program Ambassador Award. Schultz plans to earn her bachelor's degree and beyond. Her career goal is to make mental health care more accessible in communities that lack quality mental health services. As part of this goal, she hopes to travel with Doctors Without Borders.
Related Articles
Kori M. Nichols Named Athlete of the Week

Freshman guard, Kori M. Nichols, of the Jefferson Community College (JCC) women's basketball team was named JCC athlete of the week for the week ending December 3, 2023. JCC's athlete of the week program is sponsored by Victory Promotions.