JCC Foundation Receives $25,000 Endowment Scholarship Funds Gift from SeaComm Federal Credit Union
Published: September 10, 2021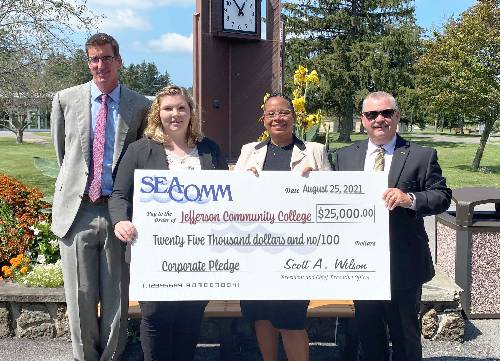 Pictured L-R: Executive Director, Jefferson Community College Foundation, Ben Foster. SeaComm Federal Credit Union Branch Manager, Leslie Bush. Jefferson Community College President, Ty A. Stone, SeaComm Federal Credit Union President and Chief Executive Officer Scott A. Wilson.
SeaComm Federal Credit Union (SeaComm), Massena NY, committed $25,000 to the Jefferson Community College (JCC) Foundation to establish the SeaComm Federal Credit Union Endowed Scholarship. Beginning with the Fall 2022 semester, this generous scholarship will support multiple students each year from Jefferson, Lewis and St. Lawrence counties.
Scott A. Wilson, President & Chief Executive Officer of SeaComm, and Leslie Bush SeaComm Federal Credit Union Branch Manager (Jefferson Class of 2013) toured campus and presented the endowment to JCC President Ty A. Stone and Executive Director of the Jefferson Foundation, Benjamin Foster, on August 24, 2021. Wilson states, "Higher education plays a vital role in not only helping to shape the minds of your people, but also as a significant economic driver in the local economy. SeaComm is committed to Jefferson Community College's mission and the noble work they provide in developing educated talent that we as an employer depend on to fill our human resources needs. This perpetual SeaComm Scholarship, in partnership with JCC, will ensure that resource is available for many years to come."
The SeaComm Federal Credit Union Scholarship endowment will become part of the Foundation's permanent endowment and will be awarded each year along with over 270 other scholarships the Foundation awards annually to Jefferson students.
SeaComm Federal Credit Union opened its ninth location in the north country in Watertown, NY in March, 2021. Jefferson Foundation's Ben Foster, states, "Jefferson Community College welcomes SeaComm to our community and is looking forward to partnering with them with this scholarship and in the future as well." College President Ty A. Stone added, "We are very thankful to SeaComm Federal Credit Union for supporting Jefferson and our students with this generous and important scholarship. We are honored they have chosen to partner with us and we look forward to continuing to work with them in the future."