2019-2020 Year in Review
EXECUTIVE SUMMARY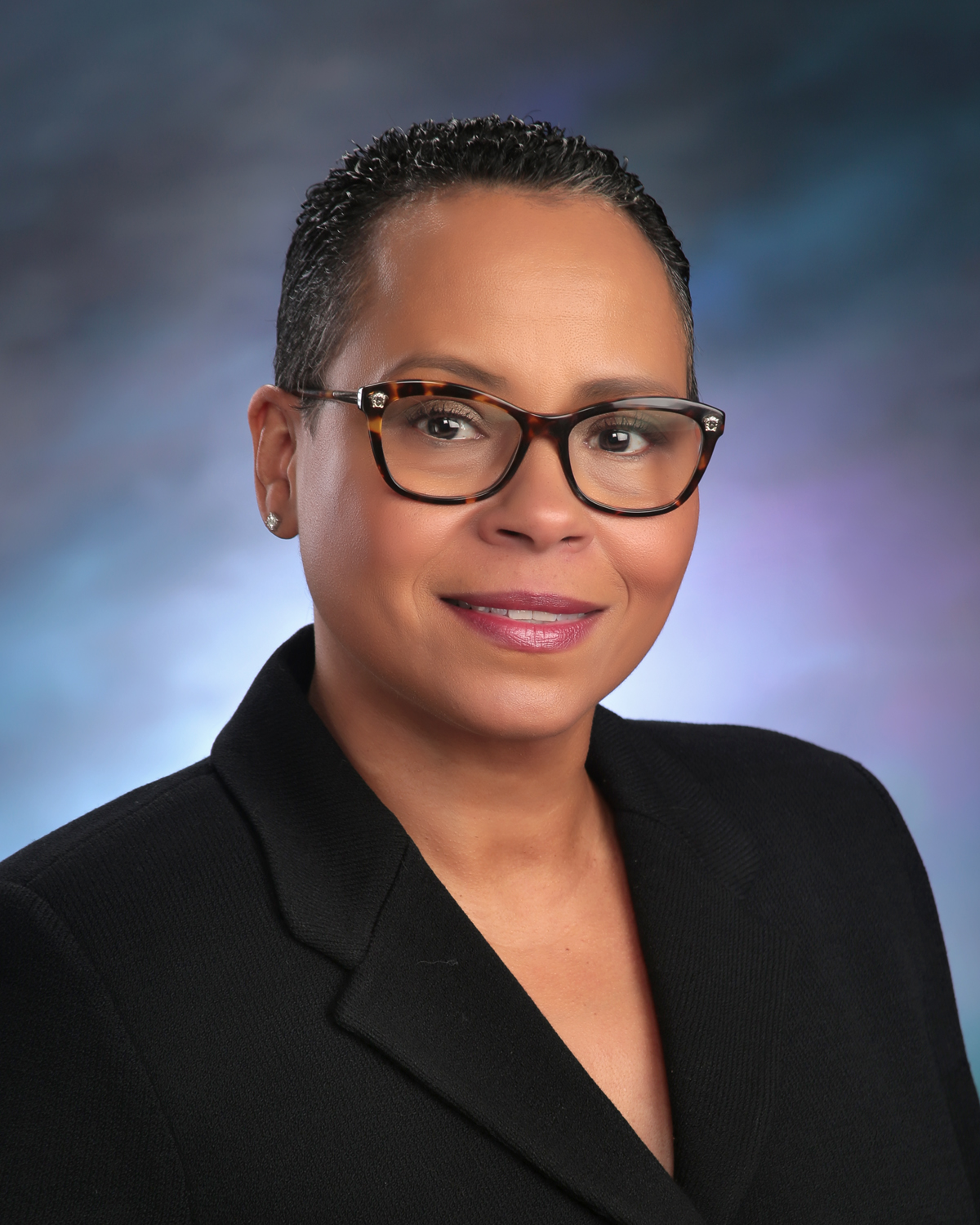 Dr. Ty A. Stone
President
The 2019-2020 Academic Year will be long remembered for the coronavirus pandemic that struck mid-year, however despite the challenges, it was a year with significant achievements at Jefferson Community College (JCC). In her third year as President, Dr. Ty Stone led the campus through crisis and the first year of the newly minted Jefferson Community College 2020-2025 Strategic Plan. The collective work of our faculty and staff was focused around Year One goals and objectives as detailed by the Strategic Plan, with transformation to a Guided Pathways institution a driving force behind our work.
We started this academic year with emergency response planning and preparation as a priority. A full day of experiential training for active shooter situations was executed at the start of the Spring 2020 semester. The College collaborated with local emergency management partners to train, assess, and create plans to keep our College safe. In hindsight, it was this exercise that provided the foundation for the College's response to COVID-19.
The COVID-19 crisis forced us to completely change the way we served our students mid-way through the Spring 2020 semester. Over a two-week period, over 420 courses were converted from face-to-face to remote learning and nearly all employees were set up to work remotely. In accordance with the Governor's guidance, we began to phase staff back on campus in July. The College's reopening plan as submitted to SUNY was accepted and approved by the State upon first submission.
Jefferson has been experiencing enrollment declines since 2013, but in the past two years, we have been able to add over $800K to the fund balance for times of crisis such as the present. Our ability to balance the budget to create a surplus is due, in part, to a conservative approach to staffing, continued focus on reducing costs (including shared agreements with partner institutions), and increased focus on data-based decisions. Unfortunately, the College was forced to reduce staffing by 20 positions for the 2020-21 academic year.
While these are challenging times, Jefferson Community College will continue to play a significant role in our region's recovery by educating and training the workforce. During this unprecedented time in our history, some North Country students may opt to stay closer to home, and we will be there to help keep their educational journeys on track. Now, more than ever, Jefferson Community College is the right choice for a quality education at a reasonable cost.
STRATEGIC PRIORITIES 2019-2020
The Board of Trustees endorsed the 2020-2025 Strategic Plan (Res. 175-19) on September 6, 2019. The foundation of the Strategic Plan is grounded in these four key strategies:
Pathways
Create educational and career pathways that meet the needs of students and the community.
Partnerships
Strengthen partnerships with K-12 schools, universities, and employers to enhance program excellence, drive economic development, and ensure regional prosperity.
Student Experience
Design and implement an inclusive student experience that advances equitable outcomes, purposefully integrates diversity, and prepares students to be successful global citizens.
Sustainability
Secure financial sustainability through organizational efficiencies, best practices, and innovative initiatives.
As an institution of higher learning, our primary business is about educating our students. The four key strategies were grounded in that core focus, as student instruction is what we do and our sole purpose for existence. As such, the College's Mission was updated to reflect the College's focus on instruction.
Jefferson Community College Mission Statement:
Educate. Inspire. Empower.
2019-2020 Year in Review by Key Strategy
Worked with the SUNY Pathways team since the beginning of this academic year. This support has provided us the opportunity to better engage our cross-functional teams to work through the framework for the Guided Pathways model that Jefferson is implementing.
Reorganized current academic areas to career clustered, meta-majors, which help students find their specific careers of interest early in their matriculation. A communication plan to inform prospective students of occupations and pathways available will be created this fall.
Hired and trained three educational planners to advise students in a new enrollment and advising model designed to reduce redundancy and streamline services.
Launched the new A.A.S in Healthcare Management which has 21 students enrolled for the Fall semester.
Graduated a second cohort of the National Center for Construction Education and Research (NCCER) Training Program with 29 students in Spring 2020.
Developed a Guaranteed Admission program with SUNY Potsdam
Collaborated to now offer up to 20 BOCES programs credits upon transfer to Jefferson's new A.O.S. Degree in Business Studies through our prior learning assessment (PLA) option. Furthermore, if a student enrolls in a concurrent enrollment (Jefferson EDGE) General Education course, up to 29 credits of the 60 credits may be earned while attending high school, helping students to contain costs, finish college earlier, and enter the workforce or transfer more quickly.
Enrolled approximately 700 community members in non-credit professional development and personal enrichment courses held on campus and at the Lewis County Education Center.
PATHWAYS KEY PERFORMANCE INDICATOR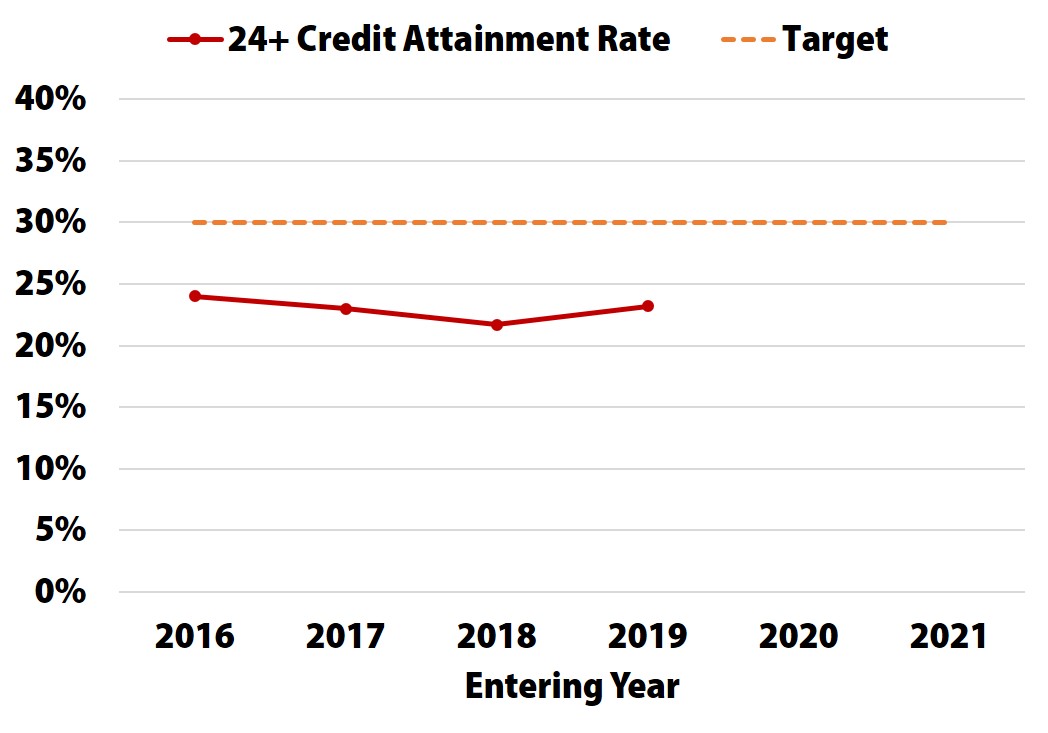 Goal: Increase the 24+ Credit Attainment rate.
Why? Students who complete at least 24 hours within their first academic year are more likely to graduate on time.
Target: 30% by 2025
Hosted two industry roundtables to identify training needs in the region and to promote SUNY's Apprenticeship Program.
Partnered with the North Country Family Health Center to provide all physical and behavioral health-related services in the College's Health & Wellness Center. With this new partnership, health services are available for faculty and staff, as well as members of the community.
Awarded 331 scholarships, valued at just over $269,000, via the JCC Foundation
Provided scholarship funding through several collaborations between enrollment services and the Foundation to make College more affordable to new and returning students through the Summer Jump Start Scholarship, Pathways Scholarship, Spark Scholarship and Military Spark Voucher.
Partnered with the Watertown Family YMCA to provide classroom facilities to the YMCA as part of their School Age Care program which is expanding due to pandemic impacts at the K-12 school level. The Y expects to accommodate 70 children and have guaranteed 5 of those spots for children of College employees.
Developed and shard Legislative District enrollment dashboards and increased regular communication at the County, State and Federal levels.
Hosted and supplied a robust team of volunteers for three large-scale food distribution events, each serving more than 1000 families. One event was sponsored by Governor Cuomo's NourishNY initiative in partnership with the Food Bank of Central New York, while the other two events were a combined distribution from several agricultural organizations.
PARTNERSHIPS KEY PERFORMANCE INDICATOR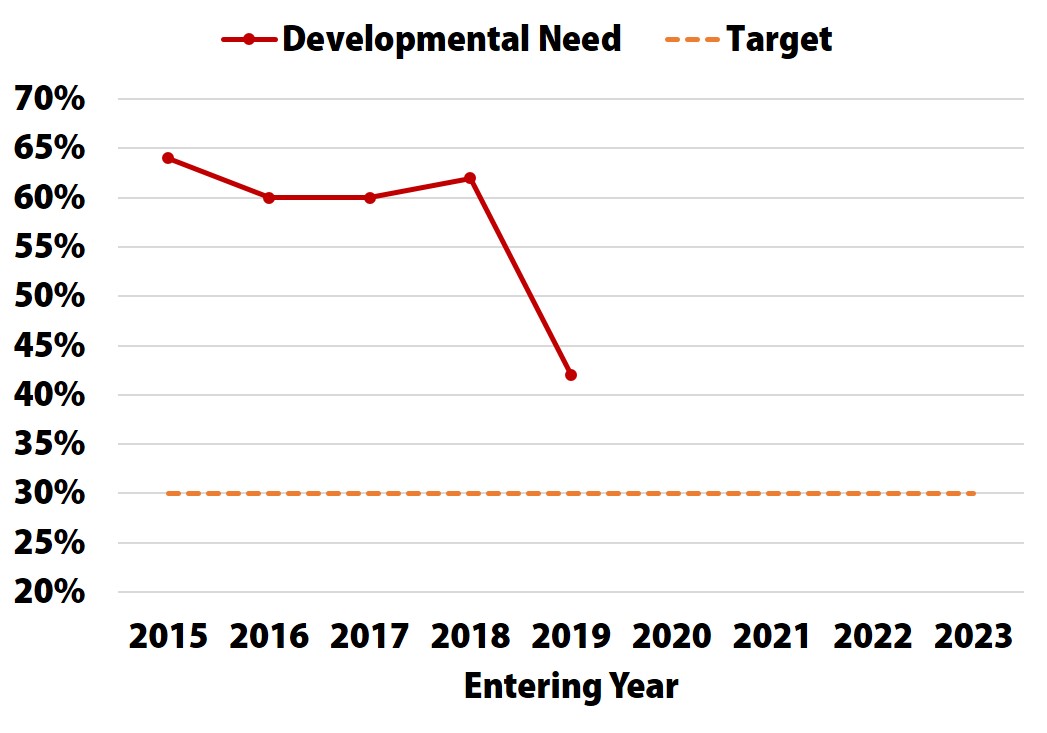 Goal: Reduce the number of students who require one or more developmental courses.
Why? The requirement to complete development coursework can delay graduation.
Target: 30% by 2023
Incorporated equitable outcomes-focused professional development into existing training series and the College's Professional Development Day. Utilized the Center for Professional Excellence (CPE) to host discussions related to equity in the classroom and in student outcomes.
Held sessions on race and equity with the President, students, faculty and staff.
Created an equity workgroup to specifically address achievement and persistence disparity concerns related to marginalized or underrepresented groups within the campus community
Conducted focus groups to obtain qualitative data related to student perception and identify ways the College can improve student perception.

Held monthly "Ty Talks" between students and the president. Data collected was shared to improve programming format and student communication outreach.
Implemented "college safe zones" where students from various backgrounds (race, religion, LBGTQ+, gender) have an opportunity to discuss their concerns, challenges, and to gain support from our professional staff.
Implemented bi-monthly chat with students living on campus to gauge student feelings about the residential and overall student experience. Data collected has been used to enhance engagement opportunities with students in the Residence Hall.

Embarked upon a rebrand of the athletics logo and development of a College mascot to increase student recruitment and retention. The workgroup involved students, alumni, faculty/staff and community members in the process which included focus groups and surveys. The mascot and athletics rebrand will be revealed and launched in the Fall 2020 semester.
Produced the College's first ever virtual Commencement Ceremony and virtual Nurse Pinning Ceremony in May.
STUDENT EXPERIENCE KEY PERFORMANCE INDICATOR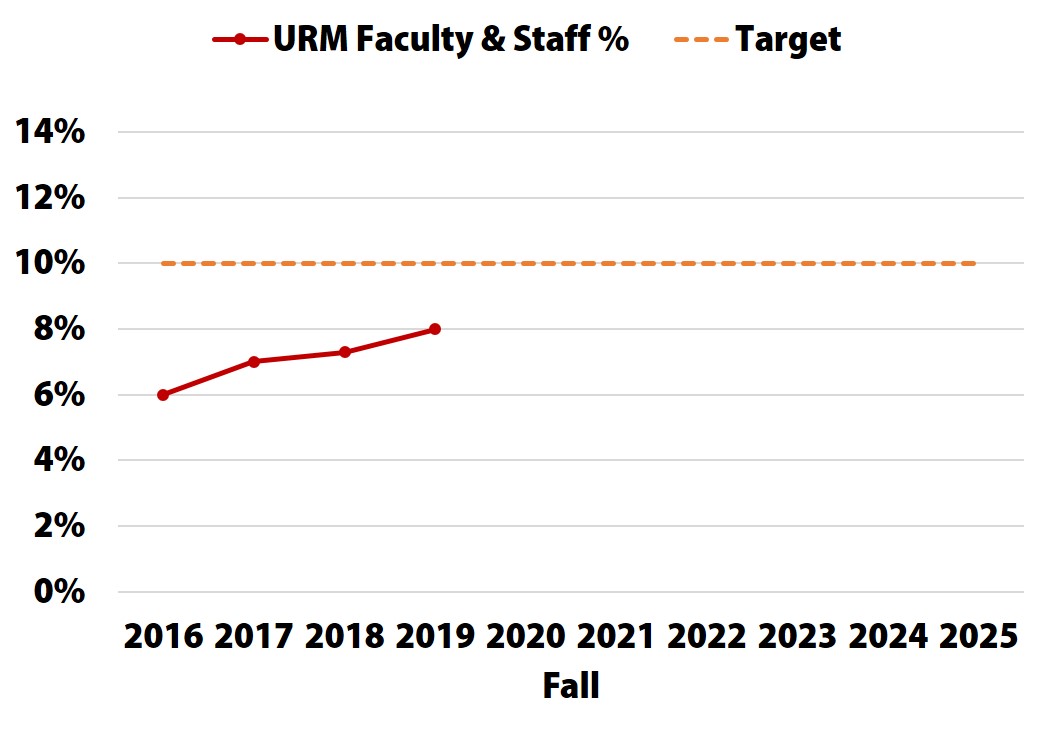 Goal: Increase the percentage of faculty and staff who belong to a racial or ethnic minority group.
Why? A diverse faculty and staff supports an inclusive campus climate.
Target: 10% by 2025
Created a culture of data assessment to include financial analysis, monthly budget reviews for Administrative Cabinet, long-term planning and project proformas.
Added alternate revenue streams for the College including a partnership with the North Country Family Health Center which provided rental revenue along with a decrease in expenses of roughly $250,000. Additionally, we rented classroom space on Jefferson's main campus to BOCES.
Launched Jefferson's interactive chatbot, Jeffie, a new communication tool for advising and enrollment. Jeffie uses artificial intelligence to answer submitted questions on the admissions related pages of the College's website. In addition, Jeffie provides a texting app to communicate with prospective students. Over 5500 contacts have been cultivated since Jeffie's implementation in September, contributing to an increase in yield from applicant to enrolled student of nearly 8%.
Developed and implemented a comprehensive "drip marketing campaign" to communicate with prospective students, customized by type of prospective student (i.e. high school senior, military related, adult leaner, etc.) through utilization of the SLATE customer relationship manager (CRM) software. Over 32,000 emails have been sent with over 13,500 interactions. Evaluation of fall application count and yield will be used to determine effectiveness.
Collaborated with Onondaga Community College and Cayuga Community College on a shared marketing campaign to communicate the value of a community college education. A small, static digital campaign began in the spring, followed by a comprehensive and successful (in terms of industry standard metrics) digital promotion plan that ran from April through June.
Practiced Emergency Response Planning through table top and active shooter exercises coordinated with several community partners including the Watertown Police & Fire Depts., NYS Police, and Guilfoyle Ambulance.
SUSTAINABILITY KEY PERFORMANCE INDICATOR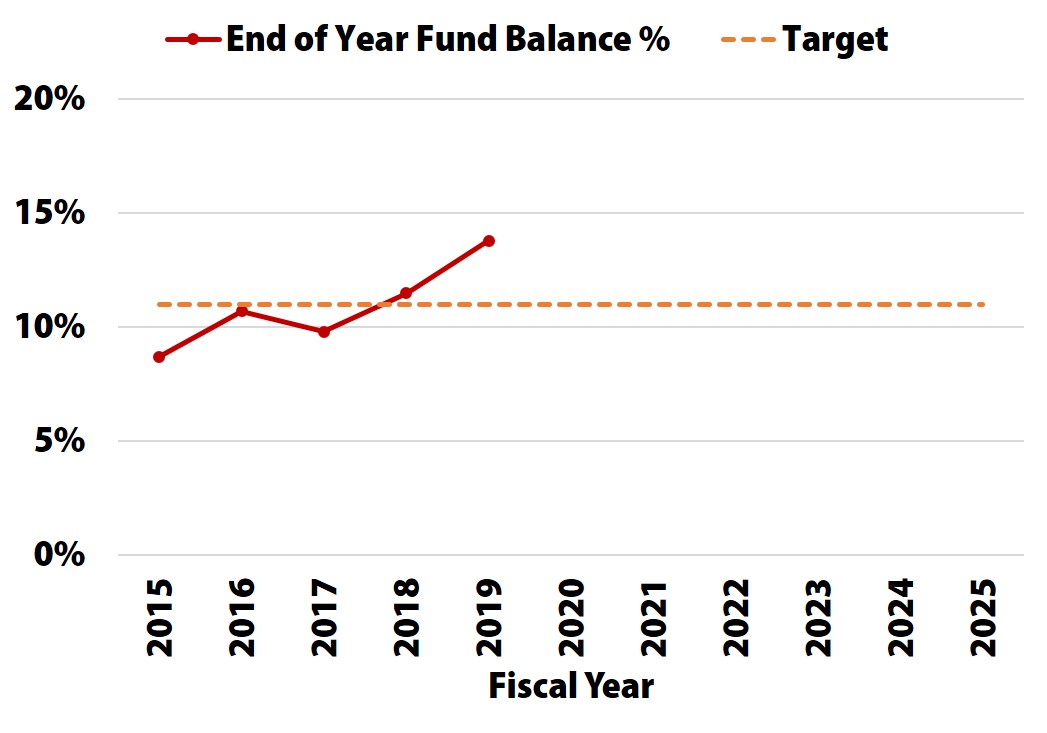 Goal: Increase the percentage of fund balance in relation to the operating budget.
Why? Fund balance is indicative of the financial health of the institution.
Target: 11% by 2025
Grant/Funding Awards
Collegiate Science, Technology and Engineering Program Grant from the New York State Department of Education - $997,500.
Title III Strengthening Institutions Grant from the U.S Department of Education - $2,125,000.
TRiO Support Services Grant from the U.S Department of Education - $1,294,505
Truth Initiative's Tobacco/Vape-Free College Program - $17,118.
Awards & Recognition
Presented on Capitol Hill as part of the National Humanities Alliance showcase – one veteran student along with a faculty member and a staff member discussed the College's NEH-Grant funded course Dialogues on the Experience of War.
Ranked as #2 Nursing Program in New York by RegisteredNursing.org.
Ranked 51st in the nation – of 710 community colleges rated - for Best Community Colleges by WalletHub.
Earned Top Ten placement in Military Times 2020 Best for Vets
Competed in the NJCAA Regional Championship – Volleyball Team.
Celebrated the 20th anniversary of Jefferson's Center for Community Studies
For More Information
Karen Freeman
Special Assistant to the President
kfreeman@sunyjefferson.edu
(315) 786-2404