Esports Team Wraps Up First Season of Play
Published: December 21, 2022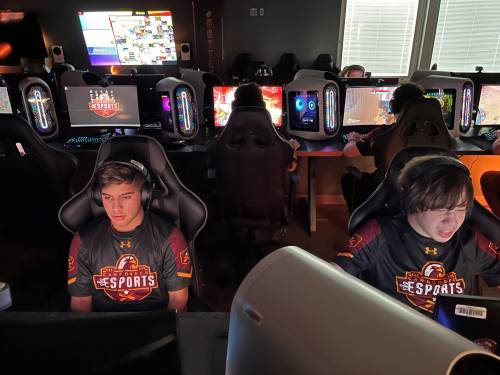 Jefferson Community College's (JCC) inaugural esports team concluded its first-ever season of play. Sanctioned by the National Junior College Athletic Association (NJCAA), JCC's esports program currently includes five teams: Overwatch, CoD: Warzone, Vanguard, Rocket League and Rainbow Six. A highlight of the esports fall season is five consecutive wins!
At the conclusion of fall semester, the Overwatch team made the NJCAA playoffs with a strong second half of the season, but were eliminated in the first round. The Valorant intramural team finished in the Top 8 and advanced to the NJCAA playoffs. The Rocket League intramural team finished the season in second place in the leaderboard and advanced to the championship game.
Joey Wargo, JCC esports coach says, "We had an amazing first semester. All teams saw great success and experienced significant growth. After a tough start to the season, the Overwatch team overcame many challenges to make the playoffs in the team's first semester together. Additionally, all intramural teams made the playoffs, and the Rocket League team made it to the championship game. We look forward to having intramural teams in the invitational season in the spring, and continuing to grow as a program."
Jeffrey L. Wiley, Director of Athletics, says, "After a successful Overwatch and intramural season in the fall, we are excited to compete in multiple titles this spring."
Members of JCC's inaugural esports team include Roberto 'Flu1d' Acevedo, Carthage, Riley 'L3SS' Carter, Watertown, Jacob 'El Sueno' Flores, Richmond, Texas, Abigail 'Artemis' Gorrill, Waterford, Ian 'Axo' Jarrard, Black River, and Hunter 'MisterNorse' Moran, Watertown.
JCC esports competitors include Finger Lakes Community College, Dallas College Richland (Texas), Lakeland Community College (Ohio), State Fair Community College (Missouri), Western Nebraska Community College (Nebraska), Pratt Community College (Kansas) and St. Clair College (Canada).
Watch the Cannoneers battle online.
To join the JCC esports team, current and prospective JCC students should complete the athlete interest form.
The JCC esports team will return to the screens next semester, after January 23, 2023.