JCC and SUNY Morrisville Sign Transfer Agreement
Published: November 30, 2021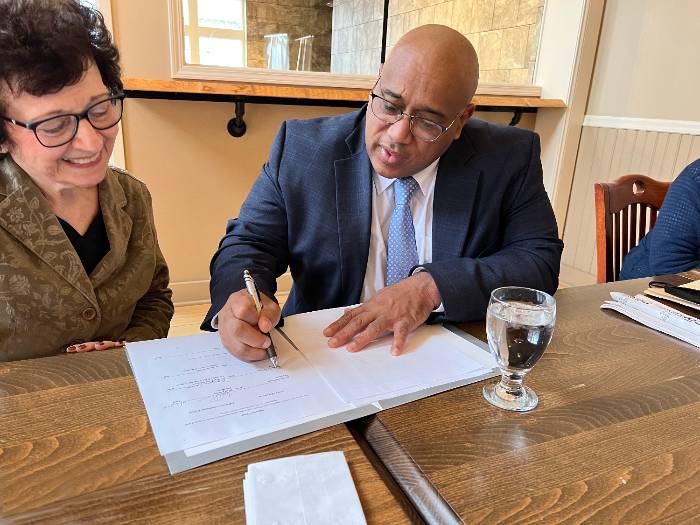 Jefferson Community College (JCC) is pleased to announce an articulation agreement with SUNY Morrisville that will allow for a virtually seamless transfer from Jefferson Community College's Agri-Business program to SUNY Morrisville's Bachelor's of Business Administration (BBA) program in Agriculture Business. By matching coursework between SUNY Morrisville and Jefferson, the agreement is designed to guarantee college credits completed at JCC are accepted at SUNY Morrisville, ultimately helping students maintain a direct college path to their 4-year institution without acquiring a surplus of credits unrelated to their 4-year program of study.
"Jefferson's agreement with SUNY Morrisville provides an outstanding and powerful transfer pathway for Jefferson students who want to continue their education in an agriculture field of study," said Dr. Maryrose Eannace, Interim Vice President for Academic Affairs at Jefferson. "This agreement presents a straightforward and economical pathway to a four-year degree."
Prospective JCC students should contact JCC Enrollment Services office at 315-786-2437 or email admissions@sunyjefferson.edu. Spring 2022 semester classes at JCC begin January 24, 2022. Registration is open. Students should act now to apply for admission (free) and submit their housing application to receive a $1500 scholarship applicable to room and board. Students must be New York State residents and starting college in January 2022 to receive the housing scholarship.
Current Jefferson students interested in transferring to SUNY Morrisville should contact Shaunna Arnold, Coordinator of Hospitality and Tourism, at 315 786-2345 or the JCC Enrollment Services office at 315-786-2437. JCC students must meet SUNY Morrisville admission requirements.
Related Articles
Kori M. Nichols Named Athlete of the Week

Freshman guard, Kori M. Nichols, of the Jefferson Community College (JCC) women's basketball team was named JCC athlete of the week for the week ending December 3, 2023. JCC's athlete of the week program is sponsored by Victory Promotions.